Are you an experienced videographer with a relentless sense of adventure?
Do you have experience shooting and editing amazing footage?
Are you passionate about the great outdoors?
---
Well, this may just be the perfect role for you. We are looking for experienced videographers to join a number of our international expeditions in 2022 on a freelance basis. At Earth's Edge, we lead high altitude treks to a number of locations worldwide, from Kilimanjaro to Everest Base Camp, Machu Picchu to Aconcagua.
We run expeditions to some of the beautiful places on the planet, and this year, we want to send videographers along to capture just how incredible they are. The successful candidates will get to experience first-hand how it feels to stand on the summit of some of the world's tallest mountains, and produce world-class footage along the way.
If this sounds like your dream role, please read the following details carefully. If you are interested in applying fill in the criteria below.
Role Summary
Film and edit promotional videos of our expeditions
You must supply all of your own filming equipment
Work alongside our Creative Director to plan the content for each trip
Edit footage using the brief provided
Skills / Experience Requested
Experience in adventure photography/videography is necessary
Proficiency with industry-standard editing software
Physical fitness/stamina to work long hours while trekking at altitude
Prior experience at altitude is encouraged
Experience inserting closed captioning, graphics, or other on-screen text into a video
Strong organisational skills and ability to work to a deadline
Experience operating a drone
Content Required for Each Trip
3 short video testimonials (1 minute each). View an example here.
Postcard photo of the entire group, as per the below…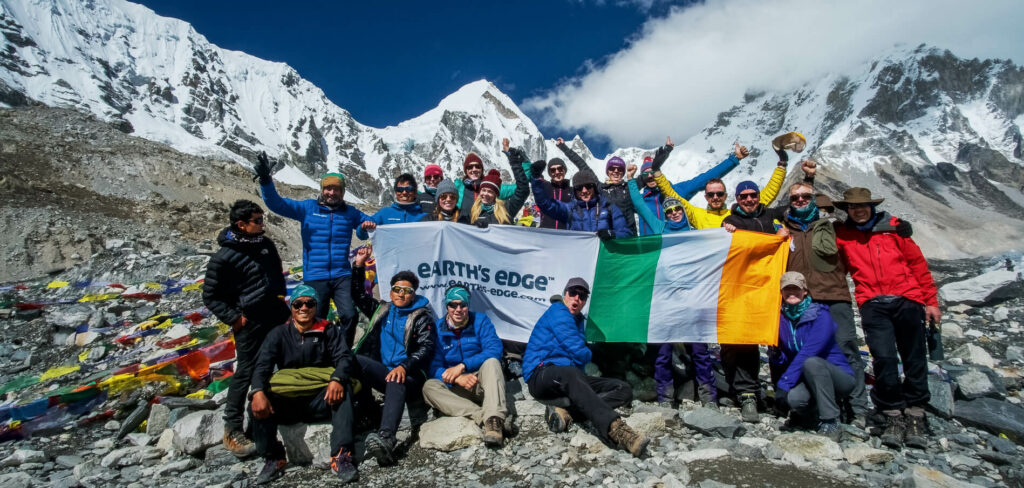 B Roll video and drone footage of the landscape, trekkers, porters. View an example here.
Photos of trekkers, local staff, the landscape.
Payment
Free expedition and €2,500 per expedition for content.
About Us
As a B Corp and the 2021 winner of the overall Chambers Ireland SBIA Award we are an excellent small business to work for. To learn more about our story visit our Responsible Travel and About us pages.
Earth's Edge Inclusion Statement
At Earth's Edge, we are passionate about exploring every inch of the planet, and meeting all kinds of people along the way. We celebrate diversity, and we welcome and support people of all backgrounds, nationalities and identities, be they our clients or our co-workers. Within the workplace, we know that a diverse team creates the best scope for new ideas and perspectives, to help us to reach our common goals. If you share our passion for exploration and sustainability, you will be a welcome part of our team, no matter your race, gender, sexual orientation, religion, nationality or age.
Videographer Role Application Form