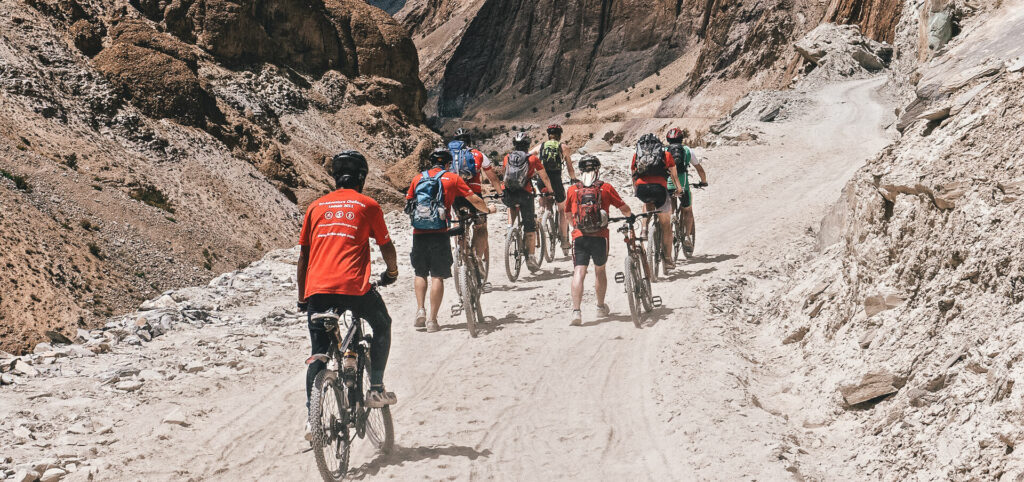 If you've done a few other expeditions in your time, the Ladakh Tri-Adventure probably looks really appealing. But in comparison to trekking trips, this one throws a few more challenges in the air. After all, you're not just trekking. You're also cycling and rafting. This multi-discipline expedition is a fair old challenge! If you're wondering, 'how hard is the Ladakh Tri-Adventure?' here's a post to answer your questions…
How hard is the Ladakh Tri-Adventure?
Encompassing three different disciplines, the Ladakh Tri-Adventure is a different kind of challenge. You need to have a very good level of fitness, as you're hiking, cycling and rafting for long distances.
At Earth's Edge, we give all of our expeditions a difficulty level, so you know what to expect. The Ladakh Tri-Adventure is a level 6, which means you can expect to trek…
An average of 6 to 8 hours per day at altitudes not usually exceeding 6,300 metres. Typical elevation gain per day would be 500 – 1000 meters, with at least one day over 1000 metres. As a rough guide, you should be comfortable hillwalking for 8 hours per day for two days in a row.
What about the biking and rafting?
Of course, that level relates more to the trekking. The longest day of biking is six or seven hours, but the shorter days also have a fair climb involved. When we're rafting/kayaking, the days are six hours long.
There's also another element thrown into the challenge…
Altitude sickness in Ladakh
All of this trip takes place in high altitude, which adds another element of challenge to proceedings. The highest point we reach while trekking is Sengge La base (4436m). But don't worry – we design our itinerary to adjust slowly to the altitude. And we have an expedition doctor on this (and every other expedition) to treat any signs of AMS. The most important thing to do is take your time, drink plenty of water, eat well and let the doctor know the moment you feel unwell.
If you want to read more about the Ladakh Tri-Adventure, click here. And if you have any questions at all about how hard it is, do let us know!