We are pleased to announce a fantastic new addition to our Machu Picchu trek itinerary – A one night stay in the wonderful Wajaqui Ecolodge, located just outside of Cusco, on day 3 of our 16 day itinerary!
Why wE've added the ecolodge to our machu picchu trek
This change is very dear to our hearts here at Earth's Edge, for a few reasons: firstly, the Ecolodge is owned by Edgar, our amazing Machu Picchu expedition leader! Edgar has poured the same passion he has for helping our clients experience the rich culture and gorgeous sights of Peru, into developing this sustainable lodge.
In addition, Earth's Edge was proud to financially assist with the inception of the Ecolodge in 2020 when, with the help of our dedicated clients, we sent our team in Peru a loan of $5000. This money was intended to facilitate the establishment of a project or business, in order to help support them and their families while the tourism sector was disrupted by the pandemic.
What will your stay at the ecolodge be like?
Immerse yourself in tradition in this cosy, rustic setting, surrounded by stunning views, while you relax in innovatively-designed furniture crafted from recycled materials – including a seating area made from reclaimed bus seats!
Spend time admiring the beautiful geranium gardens, visiting the little on-site museum of donated local treasures, or grabbing a drink in the bar area! If a Pisco Sour isn't your style, why not enjoy a mug of coca tea by the fire pit, before retiring to bed for a very comfortable sleep beneath sheep's wool blankets?
An additional, heartwarming fact: All of the wall decor was hand-painted by Edgar's brother-in-law's 21-year-old daughter, just one of the many familial contributions which has made the lodge what it is today!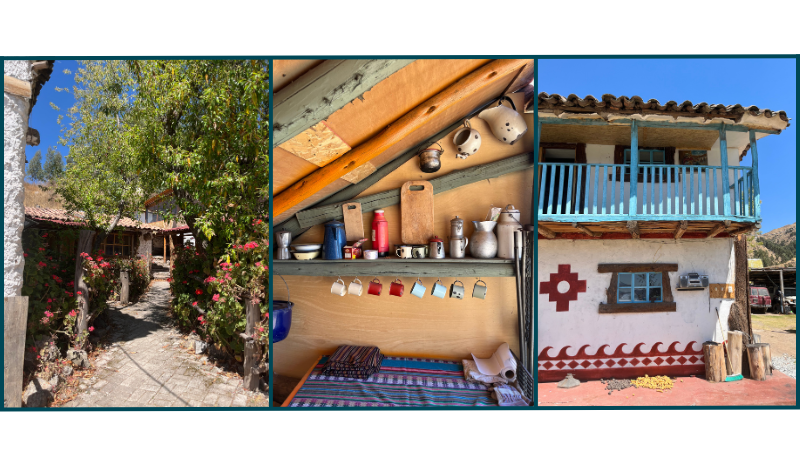 We are delighted to be able to add the hidden gem that is Wajaqui Ecolodge to the roster of incredible experiences we offer on our Machu Picchu trek, the rest of which you can read about in more detail on the expedition page.