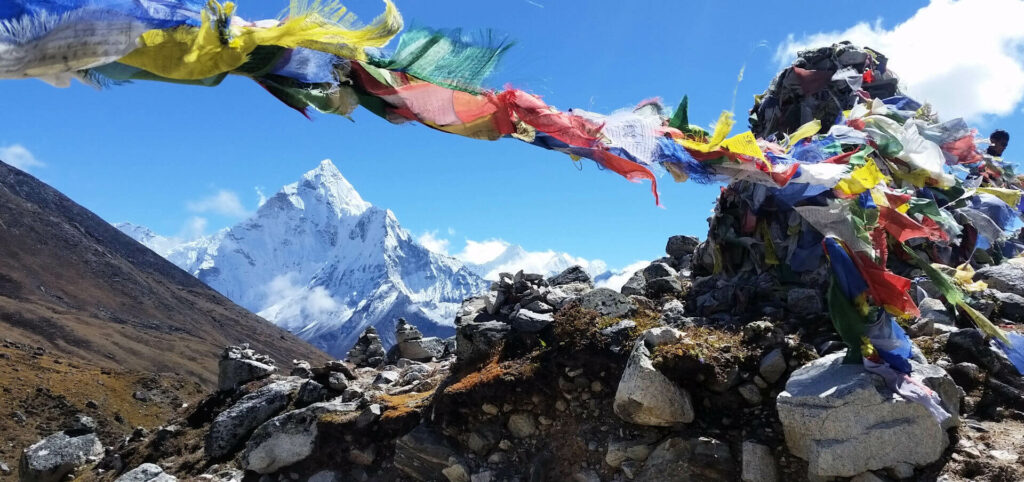 Let's face it – when you're planning a trip to climb Island Peak, there's a lot you need to think about. You're going to be trekking through the Khumbu Valley, right up to Everest Base Camp, and then up one of the most striking mountains around. That's not a trip we pack for every day! But don't fret – when you book with us, we send you a comprehensive Island Peak packing list so you know exactly what you need to get. To give you a headstart, here's a taste of our Island Peak packing list to get you going…
The Ultimate Island Peak Packing List
Equipment
Synthetic mountaineering boots*
Gaiters if your boots do not have a built-in gaiter (Rental boots typically do not come with built-in gaiters)
12 point crampons*
Walking ice axe *
Sling (approx size 120cm x 10mm) x 2 (If you don't have slings, we will provide them for you.)
Climbing harness & two screw gate carabineers (If you do not have a climbing harness & two screw gate carabineers we will provide them for you.)
Trekking boots
Runners or sandals (to wear in transit & at lower altitude when not trekking)
Clothing
Mid-weight hiking socks x at least 3
Heavyweight hiking socks x 2
Lightweight liner socks (for summit night)
Underwear! Synthetic rather than cotton underwear is advisable.
Shorts x 1
Lightweight trousers x 1
Synthetic/wool/silk long johns (for night time use and summit night)
Waterproof trousers
Long sleeve base layers x 2 (silk, wool, or synthetic)
Short sleeve base layer x 2 (as above)
Mid-weight fleece x 2
A down jacket. It must be heavy weight with a hood (at least 600 grams in weight)
Waterproof jacket
Waterproof poncho
A fleece hat to wear in the mornings and evenings
A balaclava/a buff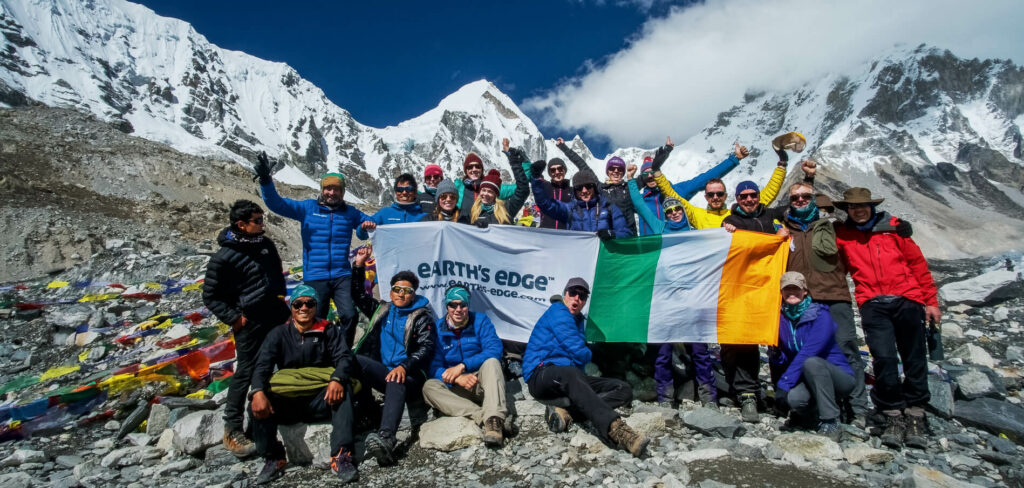 Accessories
Category 3 or 4 sunglasses
A sun hat
A pair of lightweight wool or synthetic liner gloves
One pair of heavy mountaineering gloves
A pair of down mitts
Walking poles
Small rucksack (30 to 35 litres) for day use
Duffel bag (90 litres) or large rucksack to carry your equipment while trekking
Dry bags
Other bits
Water bottles: Three wide mouth 1 litre water bottles
A warm sleeping bag (comfort rating of -15°C or lower)
A sleeping bag liner
Suncream at least factor 30
SPF lip balm
Insect repellent (deet based products are best)
You'll also need personal toiletries and other small items, but we will give you a comprehensive packing list well ahead of departure.
Remember, when you book with Earth's Edge you automatically are eligible to a loyalty card at Great Outdoors, which will get you a 15% discount prior to your expedition.
To read more about our expedition to Everest Base Camp and Island Peak, click here.