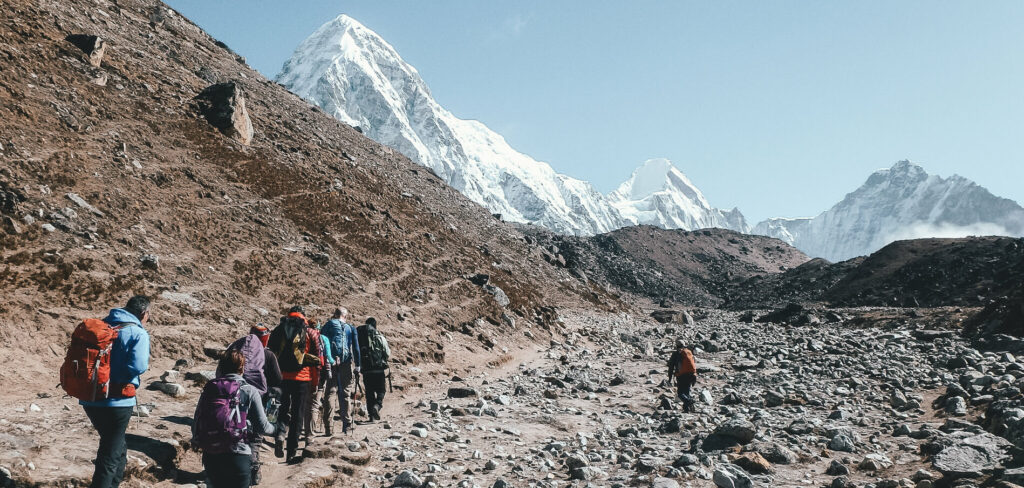 If you've never gone on a multi-day expedition before, you may well be curious about how the days pan out. Aside from the actual trekking, what else do you do in the day? When do you have to get up and go to bed? Is there any free time? Well, if you're curious, we've written a piece about a typical day on the Everest Base Camp trek…
A typical day on the Everest Base Camp trek
The amount of time we spend hiking can change quite a lot on this trip. On some days, we only hike for 3 hours. Other days we can be trekking for 9 or 10 hours. It all depends on the ground we have to cover. But most of the time, our days take on a similar pattern…
Rise and shine!
We generally get up fairly early at around 7am. We're sleeping in tea houses, so that's where we have breakfast. It's always a treat to get up for breakfast, and not just to eat! Most of the time, the bedrooms are fairly chilly. Whereas in the main hall there's a stove burning, so things are nice and toasty. There, you can order whatever you want for breakfast from the menu. There might be porridge, muesli, eggs… the stuff that will fill the tank for the day ahead!
Get moving
We start trekking for the day, but not without filling up with water first. Sometimes we might stop along the way, but other times we might keep going. Remember to pack your snacks with you, so you can have an energy bar or bit of chocolate on the hop.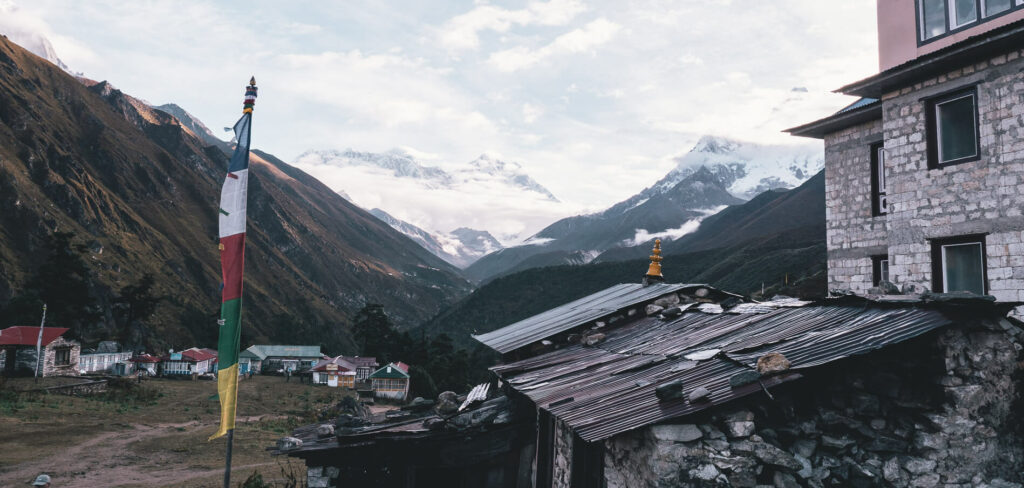 Lunchtime
We'll eat our lunch in a tea house too, whether it's where we're stopping for the night or if we're hiking after lunch. This is where you can get a big feed of either Nepalese or Western cuisine. Think Dal Bhat, with curries, rice and dhal, or even egg and chips! We actually have a blog post all about what you'll eat on the Everest Base Camp trek. And here's one thing to pique your interest… you might even find a deep fried snickers bar along the way.
Afternoon
We'll either be walking some more, or will have free time to explore. There are so many incredible places to discover along the route, from the sherpa museum to picturesque villages. In a lot of places, you'll find a German bakery where you can buy yourself some cake. It is very important to eat cake on an expedition, because… OK, OK. We just like to eat cake.
Back to the tea house
In the evening, we'll have dinner in our tea house and settle in for the night. Some of them have hot showers, so if you're really keen to have one try and be one of the first. Otherwise the hot water might run out. We might hang out by the stove, play some games, have a bit of chat. Then it's time to turn in, usually around 10pm or so. You'll need to get good and cosy in your sleeping bag, then get a good night's rest before doing it all again tomorrow.
To read more about our expedition to Everest Base Camp, click here. Or you can read our Ultimate Guide to Everest Base Camp.