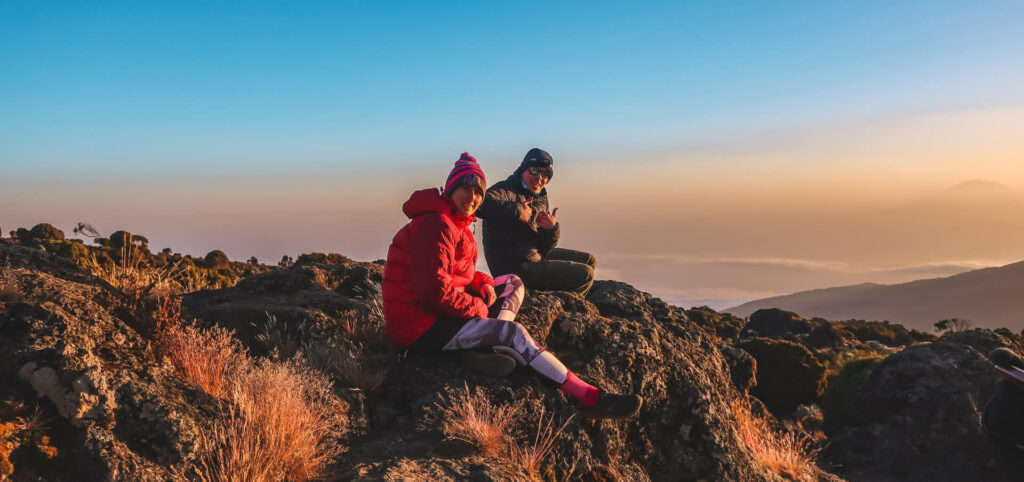 So, you want to climb Kilimanjaro. You've seen the itinerary, you've read the guides, and you want to take it on yourself. But if you're never done a multi-day trek before, you might be curious as to how the days actually pan out. After all, if you're only trekking for five hours some days, what do you do for the rest of the time? Well, if you're wondering what a typical day on Kilimanjaro is like, here's a post that might help…
What's a typical day on Kilimanjaro like?
Though the timings of the day might look a little different, each day generally looks fairly similar.
Wake up and breakfast
We generally wake up at about 7am (apart from on summit day). One of our amazing porters will bring some hot water to your tent, so you can have a little wash. Then we eat a hearty breakfast, drink a good bit of water and go to the loo. If you want to avoid pooping on the trail, try and go before you leave camp!
The morning trek
Once we're all ready to go, the trek begins. Remember, the key to Kili is walking slowly. Keeping a slow and steady pace will help you to acclimatise and conserve your energy. We will occasionally take a break but generally it's a good idea to eat your snacks when you need to. This is why it's a good idea to bring things that are easy to eat on the hop, like protein bars.
Lunchtime!
The best time of the day! Sometimes we eat lunch at our camp, and other times we eat on the way. Whether you're hiking afterwards or not, it's important to have a big feed. You can read about the type of things you'll be eating on Kilimanjaro in our blog post.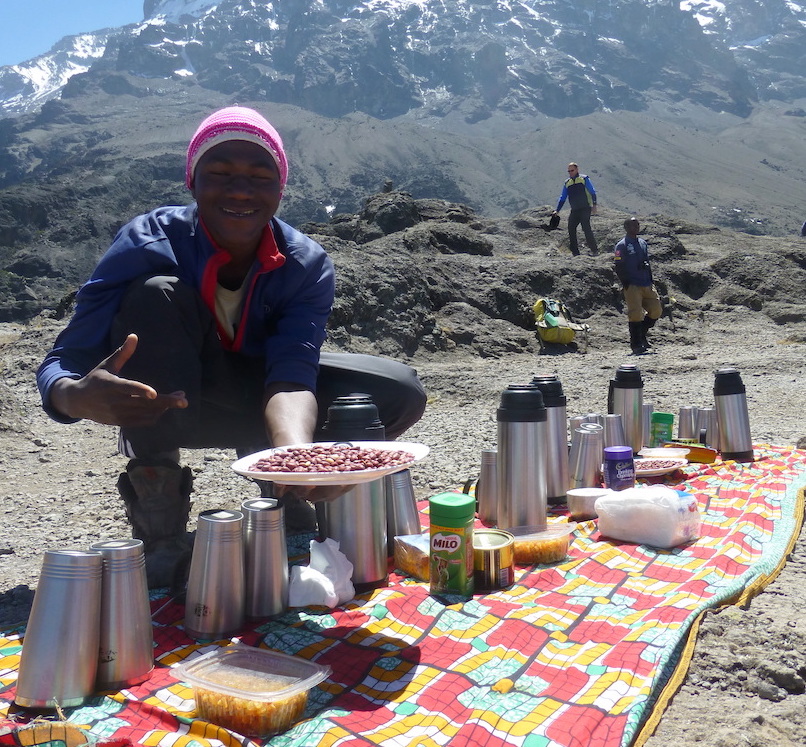 An afternoon of leisure
When we get to our camp, the time is yours to do with as you wish. You might want to take a bit of a rest, or even have a nap. Often there are amazing photos to be taken, so you can wander around with your phone or camera. There's also the mess tent, where you can play cards, have the chat and generally blow off some steam. There's always a bit of craic to be had in the mess tent!
Dinner time
Time for another feast! You'll probably be ravenous at this stage. And as well as replenishing your nutrients you need to fuel up for the following day. Remember, sometimes the altitude can affect your appetite. But it's really important to keep eating, even if you're not hungry. After dinner, we have a brief about what we're doing the next day.
Off to bed
Time to bundle up and get cosy in your tent! Generally we go to bed at around 10pm. A word of advice – try to stop drinking water at dinner time, to try to prevent having to get up in the night for a pee. Trust us, getting out of your tent at that hour is no fun at all! Hopefully you're all set for a great night's sleep, ready for tomorrow's adventure.
To read more about our expedition to Kilimanjaro, click here. Or you can read our Ultimate Guide to Kilimanjaro.