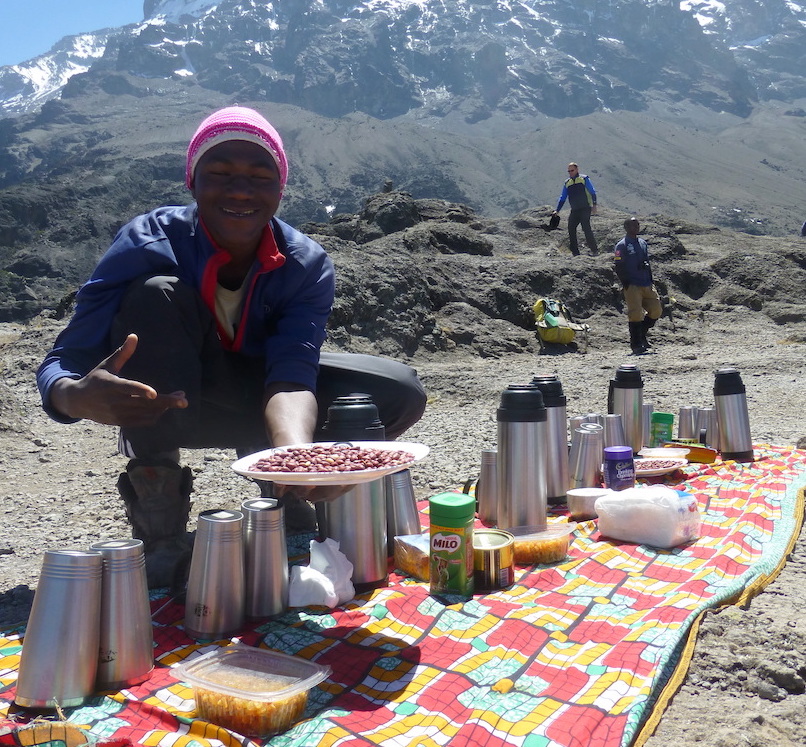 If you're planning a trek to Kilimanjaro, you're probably curious about what kind of food you'll be eating along the way. We have a great blog post all about the things you'll eat on Kilimanjaro, which you can read here. But there's nothing like a food diary to give you insight into a trip! This trip report from one of our expedition leaders, Brian Bateson, includes his very own Kilimanjaro food diary, so you'll know exactly what to expect…
Kilimanjaro food diary
Night One
"That first taste of soup. It doesn't matter how the day has just gone, there's no better potion to lift the mood. It's the first night on Kilimanjaro and everyone is tired and weary after a 5-hour hike, as well as the previous days travelling. As is a daily custom Muti and the kitchen porters announce the meal to the group, telling us that it's cucumber soup. There are some puzzled looks around the tent. People are unsure but one spoonful in and a hush descends over the mess tent. 16 warm bellies later and the craic is getting going. The main course is due out and people are keen to see what they're going to get. Whatever it is, you can be sure they'll be asking for seconds."
Night Two
"Another big day on the trail as people get to grips with increasing altitudes and the process around climbing a big mountain. We arrived into camp much earlier today and we were greeted by a snack of popcorn and tea. It's tasty and it fuels an hour of jokes, riddles, puzzles and table quizzes. A short nap later and we're back into the mess tent for the evening's main event: dinner. The soup's been in the belly a few minutes and the main course is announced – rice, beef and veggie stew. We're currently sitting in a mess tent 3.5km up in the sky, in East Africa. The reality of the situation is wasted on nobody, and as the hot meals are placed on our plate I can hear murmurs around the tent. Genuine appreciation for the high quality of the food given what little the chefs have to work with. I feel a sense of pride in my job and the company I work for."
Day Three, Lunchtime
"We're at Lava Tower camp and the group arrive in good shape, but hungry. Normally arriving at Lava Tower there can be a few dodgy bellies, nausea putting people off their lunch, but not this group. They're strong and fit and nothing's keeping them from their grub. There's no need to worry though, as lunch is a delicious hot meal of potato stew for the vegetarians and stew and chicken for the meaties. It's wolfed down pretty quick and there's no shortage of people opting for seconds. It's another two hours into Barranco camp from here, just in time for dinner."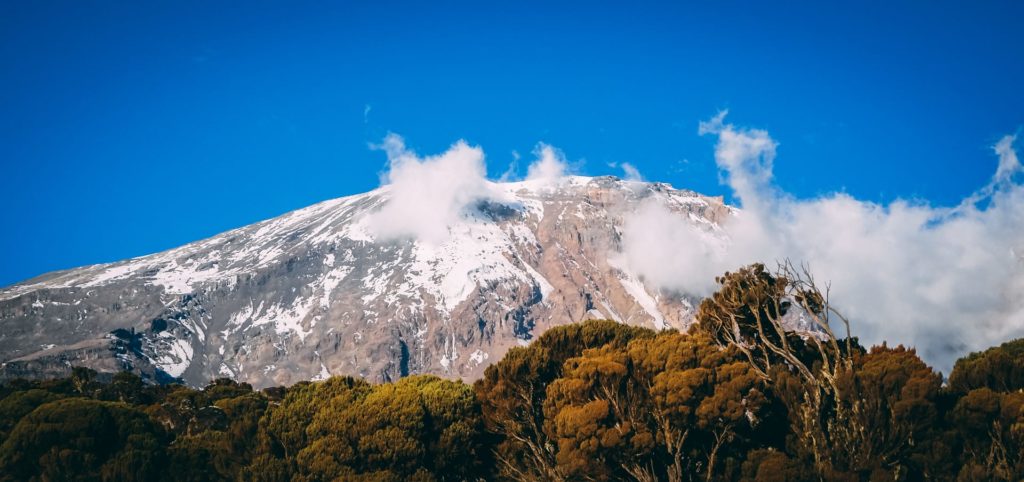 Day Four: RESUPPLY!
It's a resupply day as we are relatively close to one of the national park gates and the porters are able to re-stock fresh foods. There's been a buzz around the group all day as rumours abound that we're getting chips for lunch. Not only is it everyone's favourite day on the hill, but there's also the possibility of real chips! We climbed the super fun Barranco wall in the morning, chilled out in sunshine at the top, and then had relatively easy walk into Karanga camp for lunch. The intrigue is on everyone's minds; just how exactly are the kitchen crew going to cook chips 4 kilometres up in the sky? The chips come out, and they're super tasty. They come with chicken or veggie salad or both. They are awesome. Life is awesome."
Night Five: CARBS!
"We're about 5 minutes from leaving for the summit attempt. Today has been all about the carbs and getting lots of fuel into the tank. We have a long night ahead of us. All we are bringing with us are snacks and water, so the base of fuel inside us will have to be solid and nutritious. And it is. We've had carbs for lunch, followed two hours later by carbs for dinner, followed three hours later by carbs for late supper before we walk. It's common for people to be nervous about what's ahead of them. It's the fear of the unknown… fear of failure after months of preparation and training. A lot is invested in this."
Day Six
"It's 10am the morning after summit night. Something quite exceptional has just happened. The group are all back in bed in their tents and sleeping soundly on the back of all 32 members of the group achieving summit success and getting to Uhuru peak. A 100% success rate. The preparation and the execution have all worked perfectly. It didn't come easy, many had to push hard and fight for their prize, but that's behind them now. A mug of orange juice greeted each person on their return to camp, its fruity taste as good as any champagne right now."
Day Seven
"We wake feeling better than any morning so far on the expedition. There's been a buzz around camp for quite some time as the porters and chefs prepare our final mornings breakfast. It's no different to any other morning, but it definitely tastes better. Maybe the pressure's off and the relaxed mood helps us enjoy breakfast all the more. Plenty of tea, coffee and hot chocolate help us wash down our porridge, pancakes and toast.
The sun is strong already and we can all feel the heat of the day through the mess tent's thin fabric walls. The sheer levels of logistics and planning it took to ensure this large group of people were given every opportunity to achieve their dream isn't wasted on me. The chefs and kitchen porters are also proud. They have played no small part in this and we gather to thank them and the rest of their group for everything they've done.
Bellies are full once more as we set off on our final push, down the hill to Mweka gate and our bus home. Downhill all the way, with sun on our backs… it's going to be a great day."
If you enjoyed this Kilimanjaro food diary and want to read all about our expedition, click here!