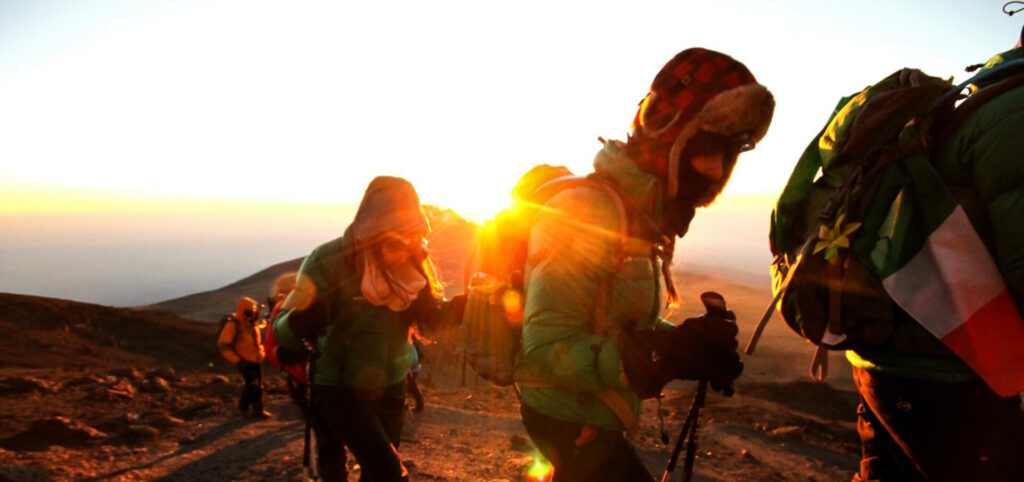 If you're planning an expedition to climb Kilimanjaro (or are just thinking about it) you'll likely have a lot of questions about what to expect. And that's not surprising! After all, this is likely one of the most physically demanding treks that a lot of people have ever undertaken. If this is a challenge that you're up for, we've got the answers to all of your questions in our bumper post below…
The ultimate guide to climbing Kilimanjaro…
How hard is it to climb Kilimanjaro?
We give all of our expeditions a difficulty level, so you know what to expect. Kilimanjaro is a level 5, which means you can expect to trek an average of 6 to 8 hours per day at altitudes not usually exceeding 6,000 metres. Summit day is particularly challenging, at around 14 hours. But if you train properly, take it slowly and prepare yourself, it's a challenge you can take on.
Read more about how hard it is to climb Kilimanjaro in our blog post.
How long does it take?
Our expedition takes 12 days in total, with 7 days of hiking. This pace means we summit the mountain in the safest possible way. Taking things slowly means you acclimatise to the altitude slowly, and stand the best possible chance of reaching the summit.
Read more about how long it takes to climb Kilimanjaro in our blog post.
What is the food like?
In short, delicious! Good nutrition is so important when you're undertaking a trek such as this. What you eat will give you the fuel to trek for hours and hours each day. And it also helps you acclimatise to the altitude. Expect things like hearty soups, salads, stews, even chicken and chips! If you're a vegetarian, or coeliac, you don't need to worry – those things can be catered to, if we're told in advance.
Read more about what the food is like on Kilimanjaro in our blog post.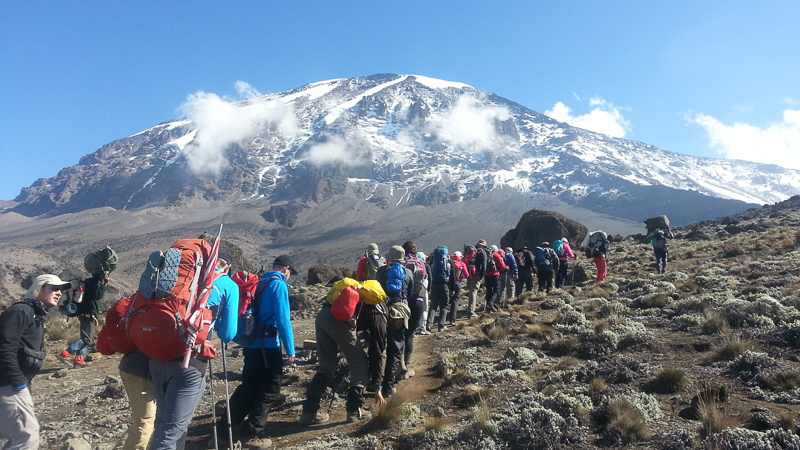 How much does it cost?
The Earth's Edge expedition currently costs €4,699. When you're booking an expedition, it's important to know exactly what is covered. Our expedition covers basically everything, bar travel insurance, vaccinations, visas and a bit of spending money. 
Read more about how much it costs to climb Kilimanjaro in our blog post.
How do I cope with altitude sickness?
Altitude is one of the biggest hurdles when it comes to climbing Kilimanjaro. And altitude sickness can affect anyone, no matter how fit or healthy they are. There are many ways to combat the altitude, though. Going at a slow pace, drinking lots of water, eating regularly and getting good sleep all help. The most important thing is to tell our expedition doctor the moment you feel unwell. The quicker you treat AMS, the better.
Read more about coping with altitude on Kilimanjaro in our blog post.
Is it safe to climb Kilimanjaro?
Safety is of the utmost importance here at Earth's Edge. It's one of the reasons we send an international doctor on every single one of our expeditions. When you're climbing Kilimanjaro, it's super important to have a good team with you. You must climb with a team of porters and guides. In fact, you legally can't climb Kilimanjaro on your own. We have an excellent team for our expeditions, including a leader, guides, porters and the doctor.
Read more about if it's safe to climb Kilimanjaro in our blog post.
What do I need to pack?
We give you a comprehensive kit list when you book our expedition. But the most important things are good (worn in!) hiking boots, runners or sandals for camp, hiking socks, synthetic, breathable clothing, fleeces, buffs, hat, waterproof jacket. You'll also need walking poles, a rucksack, duffel bag, dry bags, and water bottles. We provide the tents, but you'll need a sleeping bag.
For the full equipment list, read our packing list blog post.
What is summit day like on Kilimanjaro?
Summit day is the toughest part of the challenge. It's around 14 hours long, and it starts long before sunrise! We set off from Kosovo Camp at around 12.30am.
Read all about summit day on Kilimanjaro in our blog post.
How do I train for Kilimanjaro?
It's really important to have a very good level of fitness before climbing Kilimanjaro. The best way to do this is to combine hillwalking with cardio fitness training. Remember, the more prepared you are, the more fun you will have!
Read about training for Kilimanjaro in our blog post.
If you want to read all about our expedition to climb Kilimanjaro, click here to go to our expedition page.