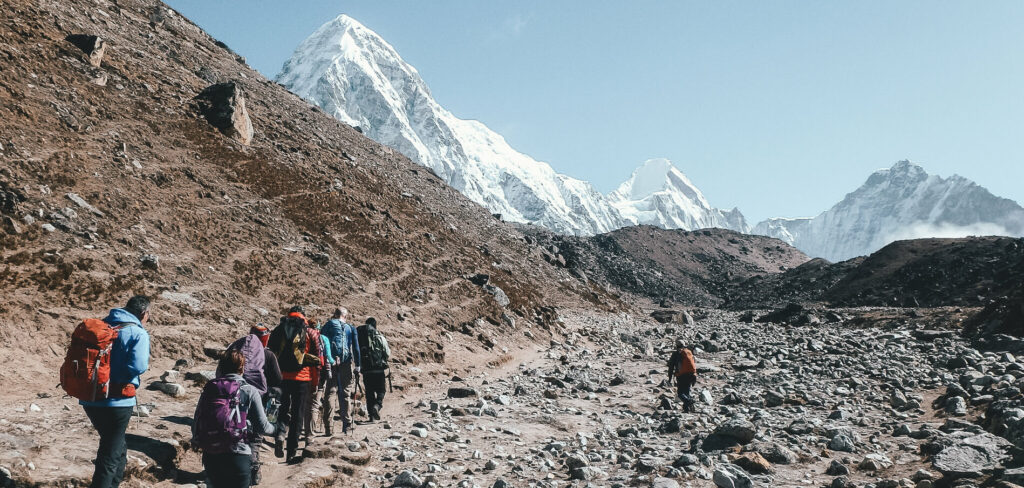 While those who are climbing Mount Everest are subject to limited (and expensive) permits, that's not the case for those who trek to Everest Base Camp. If you're thinking about visiting this incredible spot, and are wondering: Can anyone climb to Everest Base Camp? This is the post for you…
Can anyone climb to Everest Base Camp?
Technically, yes! And in comparison to some treks, there are far fewer regulations. For example, you can trek to Everest Base Camp on your own. You don't need to be accompanied by a guide, like on Kilimanjaro or Machu Picchu. However, it's recommended that you do, for a few reasons. One of the most important though, is to support the local community of Sherpas.
Do I need a permit?
No. Unlike Everest, Kilimanjaro and Machu Picchu, you don't require a permit to trek to Everest Base Camp.
Is it hard?
While you don't need any technical skills to trek to Everest Base Camp, that doesn't necessarily mean it's an easy trek. It's a multi-day trek that gains height quickly. That means altitude sickness can be a concern. But we have 2 rest days built into our itinerary to help you acclimatise to the altitude. We also have an international doctor on every single expedition.
How fit do I need to be?
You will need to be physically fit (you can read our post about how to train for Everest Base Camp here). For many people, this will be the toughest challenge of their life. Trekking for long periods of time each day is very tough. Basically, the fitter you are beforehand, the more enjoyable the expedition will be.
If you want to read more about our expedition to Everest Base Camp, including 2022 dates, click here. You can also read our Ultimate Guide to Everest Base camp here.