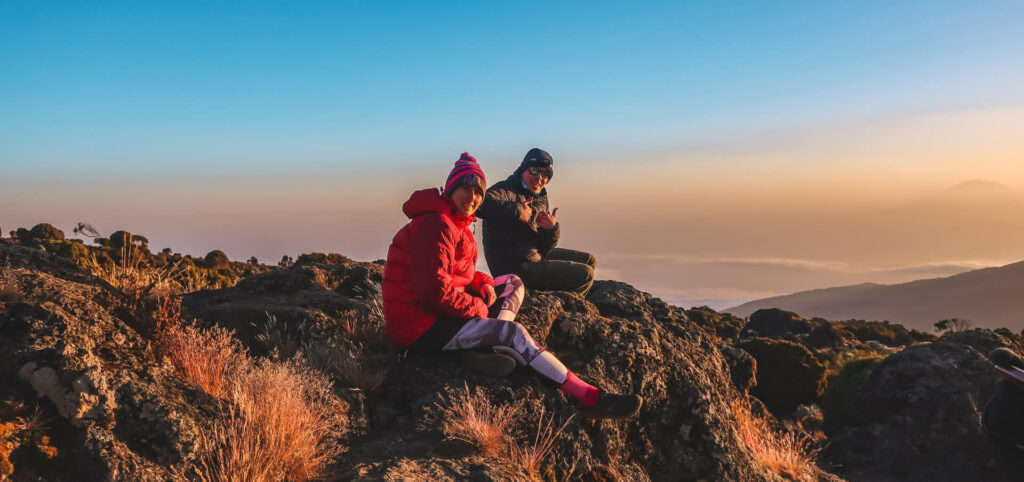 Now is the time to start thinking about the epic adventures we want to have next year. And Kilimanjaro is one of the most epic of all! The trek to the roof of Africa, one of the Seven Summits, is one of the greatest adventures you could ask for. If you want to climb Kilimanjaro in 2022, we've put together this mammoth post with all the information you could possibly need. We also have all of the 2022 dates of our expeditions, too. If there's a question you have that isn't answered below, feel free to get in touch!
Climb Kilimanjaro in 2022
How hard is it to climb Kilimanjaro?
We give all of our expeditions a level rating, to help you determine its level of difficulty. Our Kilimanjaro expedition is ranked as a level 5. A level 5 trek means you can expect to climb an average of 6 to 8 hours per day at altitudes not usually exceeding 6,000 metres. Typically, it will involve one long day of 10 to 15 hours to reach a summit. Typical elevation gain per day would be 500 – 1000 meters, with at least one day over 1000 metres. As a rough guide, you should be comfortable hillwalking for 7 hours per day for two days in a row.
Can beginners climb Kilimanjaro?
Absolutely. But, like with any trekking expedition, you need to train. We have plenty of advice about how you can train for climbing Kilimanjaro in our blog post here. And we'll give you lots of advice before you set off. Don't forget, we have a training weekend in Ireland too, so you can get a taste of what the expedition will be like.
Is it difficult to climb Kilimanjaro?
In terms of the technicalities, no. You don't need specialty climbing equipment, or training in techniques like ice climbing or using crampons. But that doesn't mean it's an easy feat. Although this is not a technical climb, it is very steep in places and you will be gaining height very quickly. For many people it will be the hardest physical challenge of their lives.
How hard is summit day?
Summit day on Kilimanjaro is notoriously long. We set off in the very early hours (usually rising at around midnight) and trek for six hours in the dark. While tough, reaching Stella Point by dawn and watching the sunrise makes up for it! From there, it's a two-hour hike, often on the snow, to the summit of Mount Kilimanjaro. All in all, you'll be hiking for 15-18 hours. But don't worry – the day before summit day includes plenty of time for rest (and an early night!)
There's no doubt that climbing Kilimanjaro is a huge challenge. But if you're dedicated, committed to training and ready to take it on, the mountain is right there waiting for you.
How long does it take?
There's no set answer as to how long it takes to climb Kilimanjaro. In fact, the fastest ascent ever was by Swiss ultra-runner Karl Egloff in 2014, whose round-trip ascent of Kilimanjaro took a shocking 6 hours and 42 minutes. However, this is of course far quicker than most people! Our expedition is 12 days in total, and the trek to the top of Kilimanjaro takes seven days.
How we climb Kilimanjaro
We have years of experience leading hikers to the top of Kilimanjaro, and we know the best way to make it happen. Our 12-day itinerary includes seven days of trekking on the Machame Trail. This time-frame allows for greater acclimatisation and increases the chance of a successful summit. If you tried to do it any faster, you run the risk of falling victim to high altitude and having to turn around.
What is the food like?
Let's face it – when you're climbing the world's highest freestanding mountain, you're going to be looking forward to meal times. Apart from the snacks that'll keep you going, good nutrition is so important when it comes to multi-day treks. When you're trekking for hours every day, you need to keep your energy levels good and high. Which is why what you eat and the food on Kilimanjaro is so important.
All of our meals are designed to give you the best nutrition, as well as the best taste. Expect to eat things like…
Hearty vegetable soups
Rice, beef and vegetable stews
Chicken and chips
Big veggie packed salads
Loads of carbs
Snacks like popcorn
Porridge, pancakes and toast for breakfast
Plenty of hot chocolate, coffee and tea (a mug of which is delivered to your tent each morning)
Our amazing chefs
The best part of all of this? You won't need to lift a finger. Our team of hard working chefs create incredible dishes for you every day. What's even more impressive is that they do it from a tiny tent. Really, they're miracle workers! Would you be able to make amazing chips with just a little camping stove?!
How much do I eat?
In short? A lot! Take the day before summit day, for example. You'll have plenty of carb-laden meals, for lunch, then a couple of hours later at dinner, and a couple of hours after that for an additional late supper. Your body needs to carb load as much as possible for the long and arduous summit the following day. These delicious carbs are like rocket fuel for your body.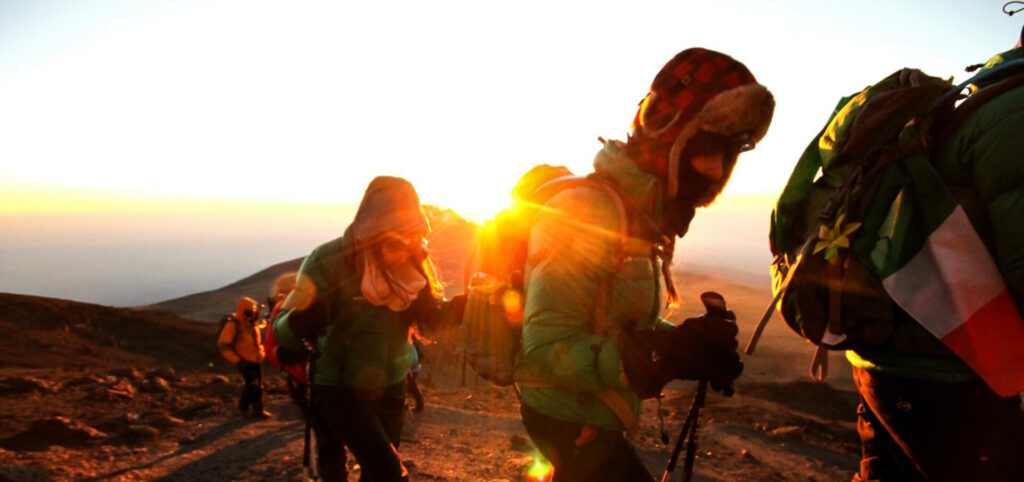 What about dietary restrictions on Kilimanjaro?
If you have dietary restrictions, that's not a problem. We will try our best to cater for those with dietary restrictions, whether you're a vegetarian or coeliac. What's really important though, is to tell us in advance. When you've booked your expedition, you can complete your medical declaration. That's where you can put your dietary needs. However, we can't source specialist gluten or dairy free products locally. We try our best to provide carb alternatives like potatoes and rice, but if you do need gluten-free bread, or lactose-free milk, you'll need to bring this with you.
How much does it cost to climb Kilimanjaro in 2022?
The best way to climb the mountain is on an expedition such as ours. That way, everything you need is included. And safety aside, you're actually not permitted to climb the mountain without a guide. When you're looking for an expedition, you want to make sure it includes absolutely everything. That way, there are no hidden surprises along the way.
Our expedition to climb Kilimanjaro in 2022 currently costs €4,699*.
What does that include?
Our expedition includes…
Your return flights from Dublin
An experienced guide AND doctor, from either Ireland or the UK
A training weekend in Ireland
Local guides, porters and support staff
All accommodation
All meals (except in Arusha where accommodation is B&B)
A celebratory dinner at the end of the expedition
All transport and transfers
National Park fees & local VAT
All group gear consisting of first aid kits, mountaineering equipment, cooking equipment etc.
Use of state of the art tents and thermarests
If you are joining the expedition to Kilimanjaro from the UK, you can book our trip without flights, for €3,999*. Then you can organise your own flights from the UK. We'll look after your transfers from the airport to the hotel.
What isn't included?
Our expedition doesn't include personal travel insurance, vaccinations, tourist visas ($50) and your own kit. You'll also want to bring a bit of spending money for souvenirs, a post-expedition beer and tips. We recommend you bring $350 in small notes, to make life easier.
How much do I need to tip?
The welfare of our porters is of huge importance to us. And, trust us, you're going to want to tip these guys at the end of a trip! Earth's Edge is a proud partner of KPAP (Kilimanjaro Porters Assistance Project). They recommend a tip of $170 per person. Your expedition leader will divide this among the local team. This amount is included in the $350 we recommend above, so you'll be left with $180 for personal use.
Can I pay in instalments?
Absolutely! We don't require payment in full up front. To secure your place, you'll need to pay a deposit of €399. The remainder is due six weeks before departure. But if you want to pay in instalments, you can. You make payments directly via your Earth's Edge account, so whenever it suits you to put more in, you can.
How do I cope with altitude sickness?
Trekking up Kilimanjaro is a dream for many people. But climbing the tallest mountain in Africa isn't a walk in the park. As you work your way up the mountain, and the oxygen gets thinner, altitude sickness can strike. And it doesn't matter who you are – it can affect anyone, no matter how fit they are. That doesn't mean there's nothing you can do about it, though – with our tips and tricks, you'll know exactly how to tackle altitude sickness on Kilimanjaro.
Take your time
This isn't a race – when you're climbing Kilimanjaro, you'll get used to the words "pole, pole" (which means "slowly, slowly"). That's the best way to conquer the mountain, but it's also the best way to avoid altitude sickness on Kilimanjaro, too. Maintaining a slow pace keeps the heart rate and breathing nice and even, giving the body the best chance to adapt gradually. Take your time, walk slowly and channel the energy of the tortoise, not the hare.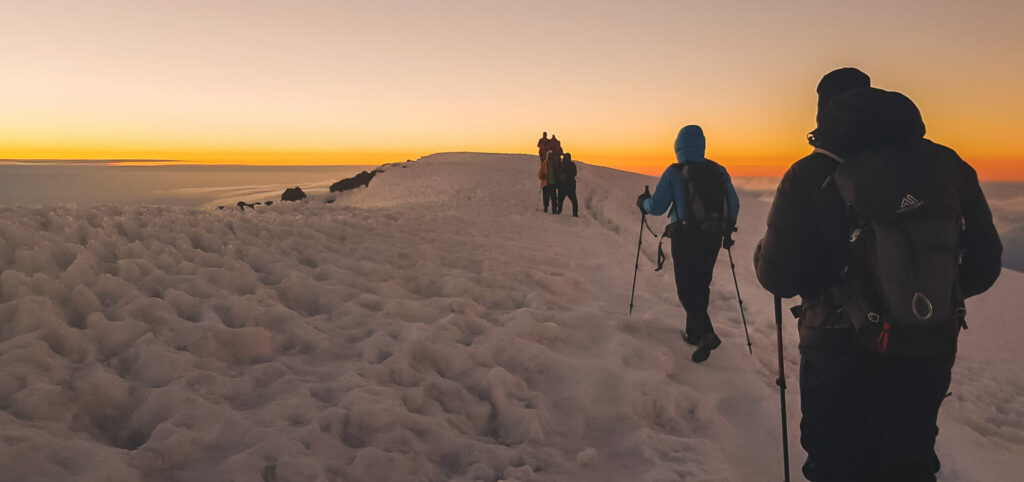 Climb high, sleep low
On an expedition with Earth's Edge, we carefully calculate the route and sleeping locations, giving you the best opportunity to acclimatise. The general rule? Once you're more than 3000m high, you should increase your sleeping altitude by no more than 300m each day. Climbing higher each day than the altitude we sleep at each night is beneficial as it introduces the body to the more demanding environment higher up the mountain, but then drops you back to a more oxygen rich environment to rest at overnight. The altitude the following day is then no longer a 'shock' to the system. We plan our days to allow us to move at a slow, manageable pace, and we do that for a reason.
Stay hydrated
It's a good tip for any time, but it's so important when trekking at altitude to keep hydrated – we recommend 3 to 5 litres a day. This really helps with acclimatisation, particularly as you pee more when you're at altitude as your body adjusts. It's a good idea to say no to that in-flight glass of wine, too! Good hydration should start before you set foot on the mountain.
Keep eating
Here comes the good part! As with any multi-day trek, you need to keep your energy up. But that also becomes super useful when preventing altitude sickness on Kilimanjaro. Mealtimes are a treat, but sometimes you can lose your appetite at altitude. Don't let this stop you eating, though! Bring along some of your favourite snacks to make sure you get your calories in. And when we get to camp each evening, relax, have a cup of tea and unwind. Settling in helps you acclimatise, too.
Know the symptoms
Even if you do everything right, altitude sickness can still strike. But that's why we have a doctor on every one of our expeditions. They know exactly how to handle it, but it's important to let them know how you're feeling early on. If you have a headache, a dry cough, feel a little nauseous or have trouble sleeping, let them know as soon as the symptoms strike. The earlier you treat it, the better! Don't worry about holding up the trek, or putting anyone out – our itineraries are planned to accommodate flexible days for this very reason. People worry that 'confessing' to symptoms means they'll be marched back down the mountain, but that's not the case! Nipping the symptoms in the bud early (sometimes all you need is a litre or water or an ibuprofen) will prevent an escalation which requires a more serious response.
Is it safe to climb Kilimanjaro?
Like everything in life, there are usually safe ways to do something, and not so safe ways. When you're climbing Kilimanjaro, it's super important to have a good team with you. You must climb with a team of porters and guides. In fact, you legally can't climb Kilimanjaro on your own. If you have a good team behind you, you're in a far, far safer scenario.
How to find good porters
The Earth's Edge expedition to Kilimanjaro has the best possible team you could ask for. We've worked with our local guides and porters for years. They know every inch of the mountain inside out, and are highly experienced.
We also send an expedition leader and doctor from the UK or Ireland with every single trip that we run. They are with you for the duration, and look after you every step of the way. We are the only company in the world that sends a doctor on every expedition, while keeping groups sustainably small. Which means our levels of safety are unparalleled.
What if I get sick?
That's why we have an expedition doctor! Our team knows that prevention is better than cure, which is why we climb Kilimanjaro in a specific way. We take things slow (which is why you'll hear "pole, pole" at regular intervals!) Our doctors want you to keep them informed. If you do suffer from a bit of altitude sickness, it's far less of a problem if you deal with it right away. So if you get a bit of a headache, tell the doctor immediately. Sometimes, all you need is a bit more water and some painkillers. Leave it later, and it could be worse. Our doctors have a full medical kit with them for the climb.
What if I fall behind?
Climbing Kilimanjaro isn't a race. It's a trek that you take slowly. This means you acclimatise gently and don't wear yourself out. But remember, everyone walks at a different pace. We have a guide for every 2 clients climbing, so there's always a ratio of 2:1. So someone will always be walking at the back. You'll never get left behind!
What if I can't make the summit?
Climbing to the summit is amazing, but it shouldn't be your only goal. On expeditions all around the world, making the summit isn't guaranteed. What's more important is the journey to get there. If you feel unwell, or unable to continue, you don't need to worry. One of our guides will walk down with you.
What is summit day like?
Much like any summit, it is a physical and mental challenge! It's a long, tough day, and we start off way before dawn…
How long does it take to summit Kilimanjaro?
Our summit day is around 14 hours long. It actually starts just before midnight, when we rise, eat breakfast and set off at around 12.30am. By the time we reach Stella Point, the sun is rising and we break for tea. From there, it's only around an hour to the summit.
After we stand on the Roof of Africa, we head to Barafu Camp for lunch, before beginning the descent to Millennium camp.
How long is the journey to summit day?
When we attempt summit, we do so from Kosovo Camp. There are five days of trekking before we reach Kosovo Camp. These days vary between five and seven hours of trekking each day. But for the last two days before summit, the days are around five hours long. We climb at a slow pace, to help you acclimatise to the increasing altitude.
What happens if I can't summit?
We never leave anyone behind on an Earth's Edge expedition. If you or your leader feel like you cannot continue, a porter will accompany you down to a lower level.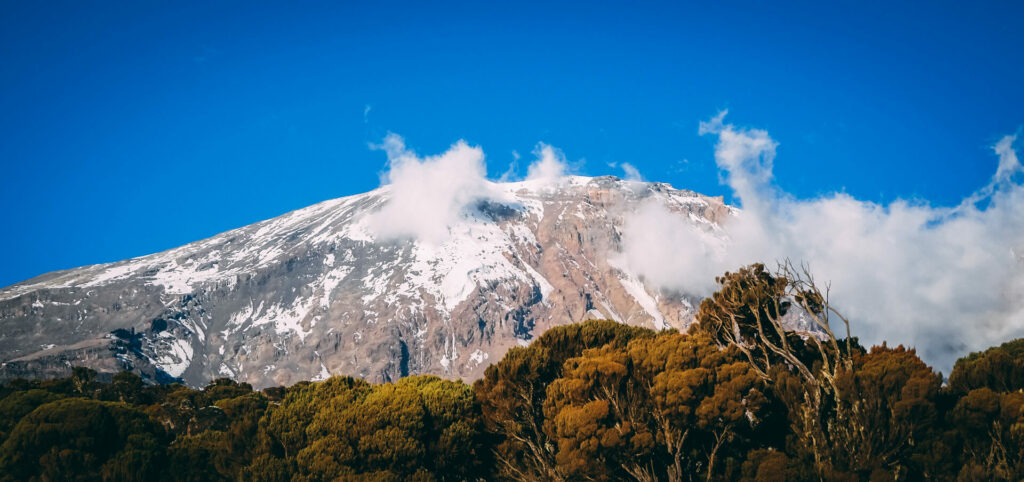 How do I train for Kilimanjaro?
Whenever you plan a big expedition, one of your first thoughts will likely be about training. After all, a high altitude expedition is a big physical challenge. And for many people, climbing Kilimanjaro will be the greatest physical challenge that they've ever taken on.
Every person is different, and there is no "one size fits all" when it comes to training. As a general rule, you need to make sure that you have a very good overall level of fitness. The fitter you are, the more enjoyable the expedition will be. It's a good idea to do a mix of cardiovascular training and hillwalking.
Hillwalking
It's important to train on the hills, so you're used to the kind of trekking that you'll be doing on Kilimanjaro. We recommend hiking at least twice a month in preparation for this expedition. It's also a good idea to include two long training hikes, on consecutive days, within the three months prior to your expedition. You'll want to hike 6 to 8 hours at a comfortable, steady pace, with an 8kg rucksack.
Cardiovascular Training
It's also a good idea to include cardiovascular training to improve your general level of fitness. We suggest at least three cardio training sessions per week. The aim is to elevate your heart rate for 45 minutes to an hour. Whether you want to do this by running, cycling, circuit training or spin, it doesn't matter! The important thing is elevating your heart rate.
Training Weekends
When you book an expedition with Earth's Edge, a training weekend in Ireland is also included. This means you can meet all the people you'll be travelling with, including your expedition leader and doctor. While these are a lot of fun, they're also fantastic for getting a sense of how the expedition will feel. You can also swap training tips, and get fitness advice from the expedition leader.
When can I book to climb Kilimanjaro in 2022?
We currently have the following dates scheduled to climb Kilimanjaro in 2022…
5 February 2022 – 16 February 2022
12 February 2022 – 23 February 2022
19 February 2022 – 2 March 2022
11 June 2022 – 22 June 2022
2 July 2022 – 13 July 2022
23 July 2022 – 3 August 2022
6 August 2022 – 17 August 2022
20 August 2022 – 31 August 2022
3 September 2022 – 14 September 2022
17 September 2022 – 28 September 2022
8 October 2022 – 19 October 2022
15 October 2022 – 26 October 2022
To see which trips currently have availability, go to our main Kilimanjaro page. This also has all the other information about the trip that you may be looking for!
*Prices are subject to change