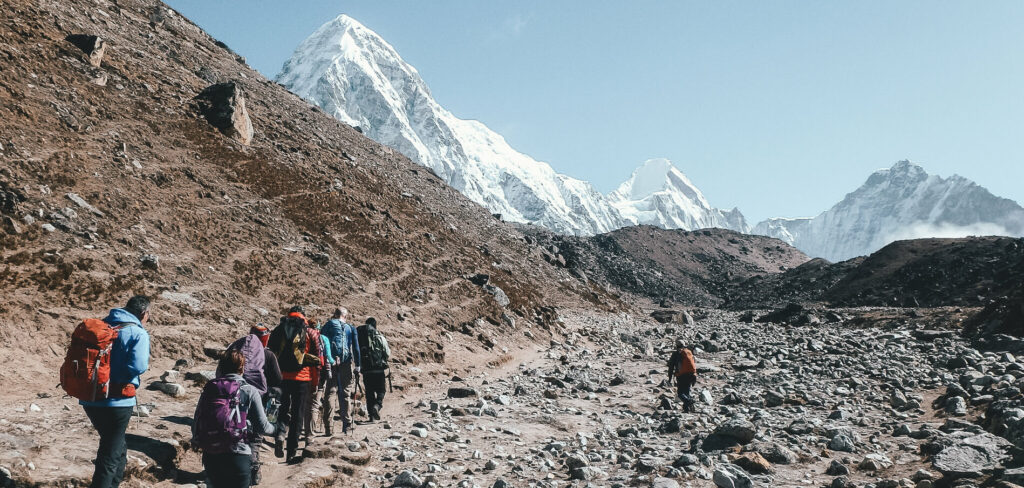 The hike to Everest Base Camp is one of the most beautiful in the world. As you walk through the Khumbu Valley, you pass through charming villages, learn about the Sherpa community and, of course, see some incredible mountains. But how do you get to Everest Base Camp? Where is it, and how long does it take to get there? Let us fill you in…
How do you get to Everest Base Camp?
Everest Base Camp is at the base of Mount Everest. This is where those climbing Everest on the Nepalese side start their journey. Mount Everest itself is actually located between Nepal and Tibet.
Which airport do I fly to?
The closest airport to Everest Base Camp is Lukla. Flying into Lukla is an adventure in itself! Widely regarded as one of the most exciting landings in the world, the views from the 14-seater planes are incredible. From Dublin, we fly to Kathmandu, spend a night there, before transferring to Lukla the following day.
Where does the trail start?
Our trek begins in Lukla. After a short flight (35 minutes) we trek to the village of Phakding. This takes around 3 hours.
How long does it take?
We take 8 days to reach Everest Base Camp. However, this includes two rest days for acclimatisation. These rest days may include hikes for sightseeing and further acclimatisation, but really they are designed to help us recuperate and adjust to the increasing altitude. Once we reach Everest Base Camp, the trip isn't over! There are still 5 days of trekking to head back to Lukla, with some incredible sights along the way. If you have the energy, there is even the option to add on an extra climb to Kala Patthar (5,550m) one day, if you really fancy some amazing Everest views.
You can read all about our expedition to Everest Base Camp here. We also have the Ultimate Guide to Everest Base Camp, which answers all your questions!