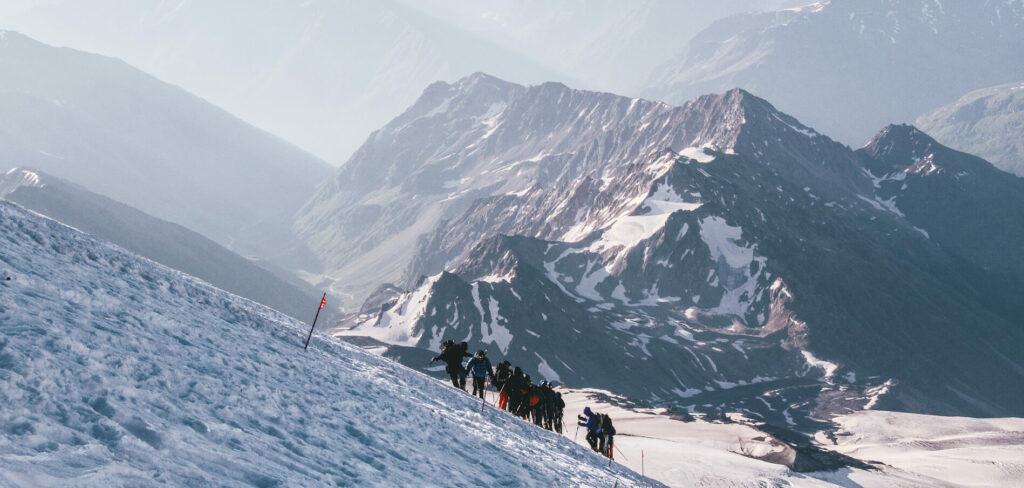 The highest peak in Europe, Mount Elbrus is an incredible mountain. Standing at a height of 5,642m, Elbrus is one of the Seven Summits and is a gorgeous climb. If you're thinking of taking on the challenge, but are wondering how many days to climb Elbrus, here's a post that will answer all of your questions…
How many days to climb Elbrus
On the Earth's Edge expedition to Mount Elbrus, we spend five days trekking before our first attempt at the summit. We have two days built into the itinerary to attempt the summit, as the conditions can vary wildly. Of those five days, one is a rest day for acclimatisation, and another an acclimatisation hike to Lentz Rocks. We also have another rest and skills day, where we practice our skills on the snow and ice.
Can you hike up faster?
Technically, Elbrus is a quicker mountain to climb, as the journey from base camp isn't as long as other mountains. But the key to a successful summit is climbing slowly, adjusting to the altitude as you go and allowing the space for a space summit day. Our rest and acclimatisation days are vital to the success of a summit.
What is summit day like?
We climb Elbrus on the North Side of the mountain. This means that the highest place we can sleep on the mountain is at 3,700m. In turn, that makes the summit day extremely tough with 1,900m elevation gain in one day. The summit day is 16 hours long and is a tough physical and mental challenge.
Which is better, North or South Side?
A much quicker way to the summit is on the South Side of Elbrus. On this route, you use cable cars, car lifts and piste machines to reach 4,700m and then walk the last 942 metres to reach the summit. However, that kind of climb isn't really our style. Which is why we climb the much more authentic route on the North Side, which is far more remote and has far fewer climbers.
How long is the whole expedition?
In its entirety, the expedition to Elbrus is 14 days long. That includes travel from Dublin to Russia, travel to Pyatigorsk and Emmanuel Meadows, then the whole lot in reverse at the end of the trek. We also have an afternoon free in Pyatigorsk to sightsee.
If you want to read more about our expedition to Elbrus, including 2022 dates, click here. We also have an Ultimate Guide to Elbrus that will answer any other questions you may have.