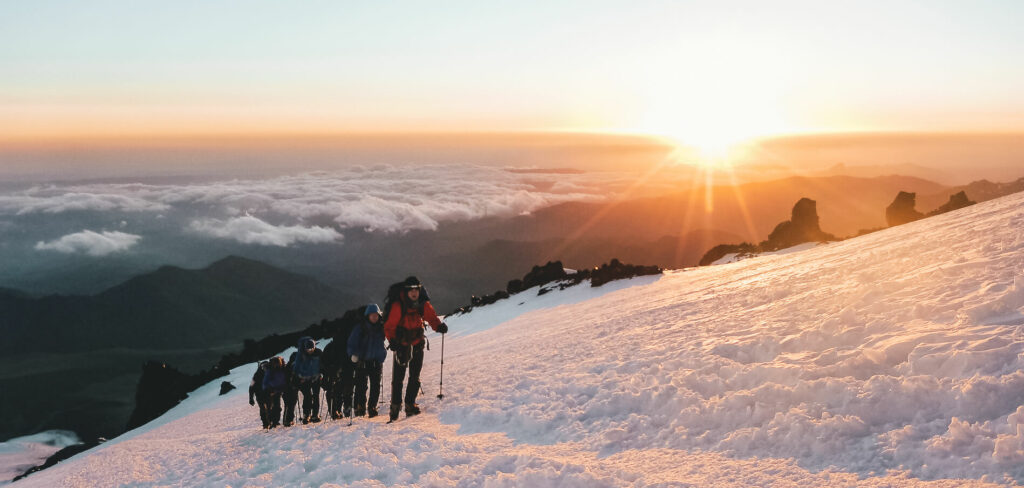 Fancy an epic adventure? Mount Elbrus is just the ticket! One of the Seven Summits, Elbrus is the highest peak in Europe. Standing at 5,642m, the views from the summit are out of this world. If this sounds like it's right up your alley, you may be wondering how to climb Elbrus. This blog post has all the information you need…
How to climb Elbrus
There are actually two routes to the top of Elbrus. Most trekking companies use the South Side to ascend Elbrus. But this route is essentially a ski resort. Climbers use car lifts and cable cars to get to the 4,700m mark. Then they walk the final 942m to the summit.
But that's not quite our style! Instead, we climb on the North Side. There are only a fraction of the climbers you find on the South Side, which means it feels like a real adventure. However, the highest point we can camp on the mountain is at 3,700m. This means the summit day is extremely long and tough. But hey, that's what adventure is all about!
Can I climb Elbrus on my own?
Technically, you can. Unlike other mountains, you don't legally need a guide to take you to the summit. However, we strongly recommend you climb with a guide and crew. Finding your way on the mountain along with acclimatising, organising camp and even getting by without speaking Russian is extremely difficult. The safest way to summit Elbrus is with an experienced team.
Do I need a permit?
Yes. Permits are allocated depending on how long you're trekking. But on an Earth's Edge expedition, all of this is taken care of for you and included in your fee.
Where is Elbrus?
Mount Elbrus is located in the northwest of the Caucasus in Russia. To get there from Ireland, we fly to Moscow then on to Pyatigorsk. We then drive to Emmanuel Meadows where we begin our adventure.
What should I look for in an expedition?
When booking a trek to Elbrus, it's important to know exactly what your fee includes. You should always book with a trusted and licensed company. At Earth's Edge, our fee is transparent and includes almost everything, except for personal costs and kit. We also send an international guide and doctor on every expedition, while keeping the group size sustainably small.
To read more about our expedition to Elbrus, click here, or read our Ultimate Guide to Elbrus here.