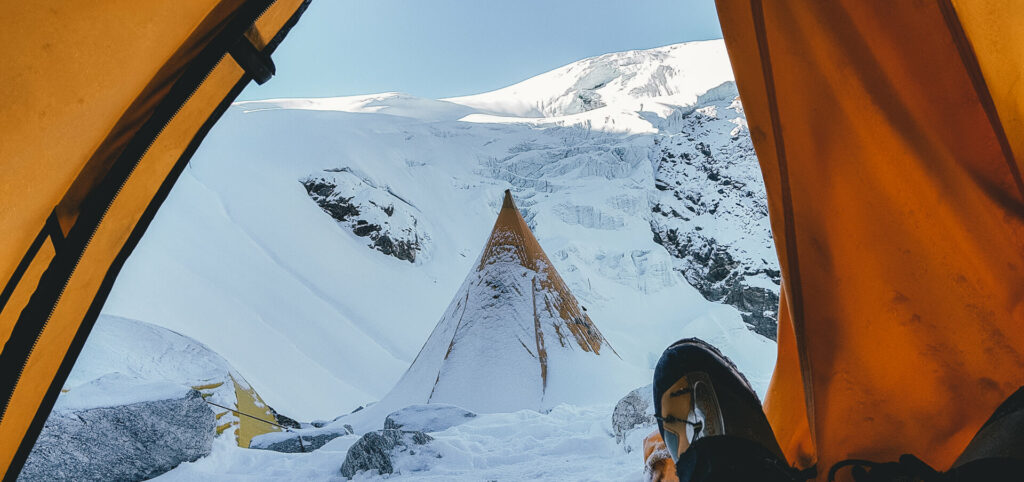 Getting yourself organised is always a good idea when you're camping. As soon as you pitch the tent, you want to make sure you know where everything is, so you're not stumbling around in the dark looking for your head torch or cosy hat. Our very own James is definitely an expert in the field, and has some brilliant tips for how to organise your tent on expeditions. If you want all of his insider info, we've got it for you!
How to organise your tent on expeditions
First and foremost – it's always a good idea to set up your tent in the day, if you can. Everything becomes a lot harder in the dark!
Mattress and sleeping bag
Get these sorted out first. You'll want to get this area nice and neat, so it's ready for you to crawl into after you've had your dinner. Remember, a good night's sleep is vital on high altitude treks, so you want to make this as comfy as you can!
A homemade pillow
Here's a great tip – pop your down jacket into the 'carrier' bag of your sleeping bag, to create a handy little pillow for your head. Put this into the hood of your sleeping bag, and it's like a cosy little cocoon.
Stash your electronics
Put your phone and camera into the sleeping bag with you, too. Batteries drain much quicker in the cold, so keeping them nice and toasty will help.
Head torch
Before it gets dark, make sure you get your head torch out and keep it on you. This isn't something you want to be looking for when it's dark!
Use your pocket
Your tent has great little pockets for easy access, so put the bits you'll need throughout the night there. Think your toothbrush, water bottle, earplugs etc.
Get organised
Put your pack and duffel in the little porch of the tent, to keep them out of your way. Keep your boots there too – that keeps your main tent area clean.
Vent your tent!
There's a big dip in temperatures at night on most treks, which creates a big difference in the temperatures inside and outside the tent. To reduce condensation, open vents and zips near the top of the tent.
There you have it! If you want to read about all the expeditions we offer, click the link.