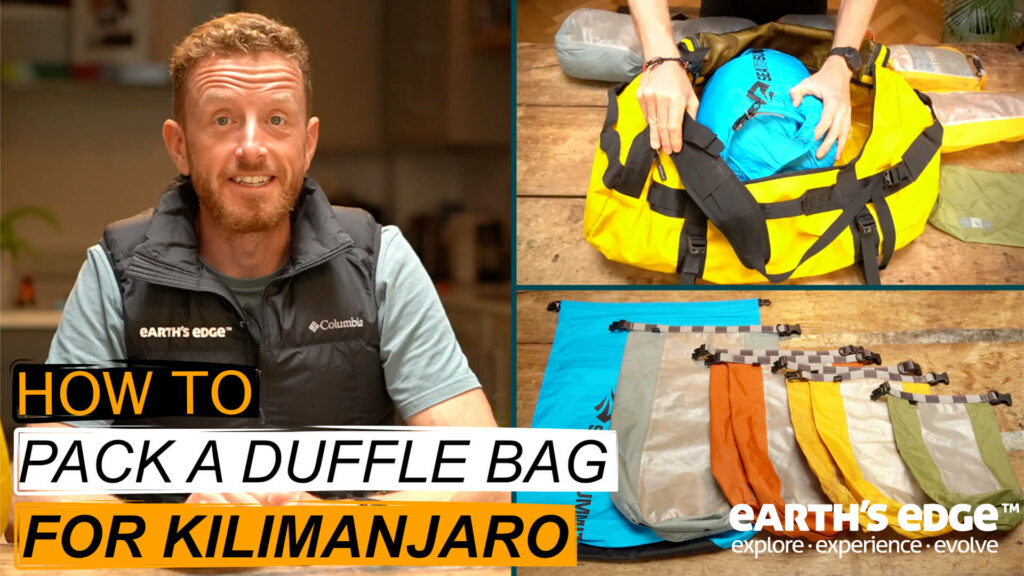 When you're climbing Kilimanjaro, you'll have your own day bag to carry (with water, snacks, your jacket, camera etc.). But your duffle bag, with your sleeping bag, clothes, toiletries etc., is carried by our amazing porters. It can be tricky to think about how to pack this bag. But our very own James has come up with a brilliant video, telling you exactly how to pack a duffle bag for Kilimanjaro…
How to pack a duffle bag for Kilimanjaro
"Despite what the manufacturers say, duffle bags aren't actually fully waterproof. So in really heavy rain, they will fail. What you need to do is pack all of your equipment into individual dry bags, and then put them inside the duffle. Lots of smaller dry bags, rather than one big one, make it much easier to fit everything into your duffle bag. Here's how I do it…
Dry bags
"I put all my socks, underwear and thermals into one bag. Then I put my spare pants, shorts and fleeces into another one. My down jacket and down mitts go into another bag. My spare shoes I put into a bag by themselves. I put my spare snacks, book, toiletries and quick drying towel into another.
Sleeping bag
"Your sleeping bag needs to go into a dry bag too, as the stuff sack isn't actually waterproof. I bring one spare dry bag to put dirty clothes in as I use them.
"Make sure you squeeze all the air out of the dry bags, and seal them properly prior to packing them into the duffle bag.
"Once everything is packed into your dry bags, they're ready to go into your duffle bag."
There you have it! Everything you need to know about how to pack a duffle bag for Kilimanjaro. To read more about our trek, click here for the info page on the Earth's Edge expedition to Kilimanjaro.