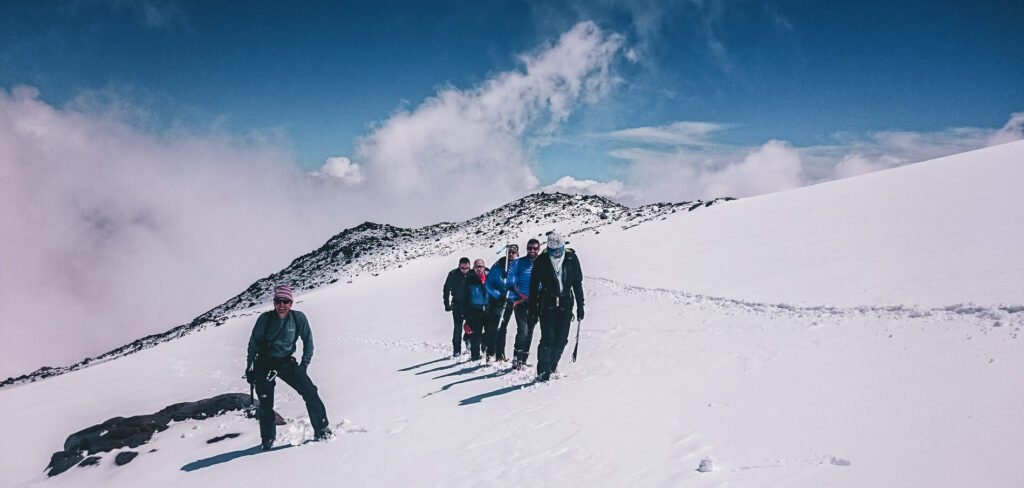 If you're planning a trek to the top of Mount Elbrus, you're probably wondering how on earth to train for it. After all, this is a tough old expedition. Standing at 5,642m, Elbrus is the highest peak in Europe. It's also one of the Seven Summits, so stand at the top and you'll be able to tick one mountain off the list! If you have the expedition in your sights, but are wondering how to train for Elbrus, let us fill you in…
How to train for Elbrus
The key thing to know is that there are two different routes to get to the summit of Elbrus. The Southside of the mountain is essentially a ski resort. To get to the top on that side, you use cable cars, car lifts and piste machines most of the way, before climbing at the end. At Earth's Edge, we go on the Northside, which means things are infinitely more challenging (but more authentic and adventurous!)
How fit should I be to climb Elbrus?
To summit from the Northside, you need to have an excellent level of physical fitness. While the trek to the summit is completely covered in snow and ice, it's not a technical climb. We do recommend you have experience on snow and ice, but it's not essential. We provide the training on our own expedition.
We give all of our expeditions a level, and Elbrus is a level 8. This makes it one of the toughest we offer. It's on a par with Aconcagua, if that helps. In short, you need to make sure that you have an excellent level of fitness and train accordingly…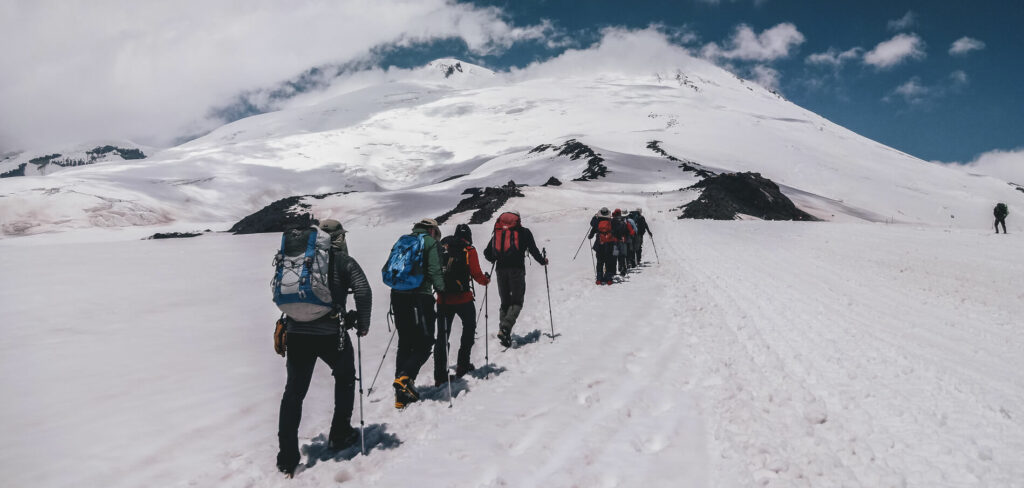 How should I train for Elbrus?
The best way to train is a combination of hillwalking and cardiovascular training. You need to make sure that you are as strong and fit as you can be. There is no fixed training schedule or technique that will work for every person. But mixing both hillwalking and cardio training is definitely your best bet.
Hillwalking
We would recommend hiking at least twice per month in preparation for this expedition. In the three months prior to departure try to include two long training hikes (6-8 hours at a comfortable, steady pace) on consecutive days with an 20kg rucksack.
Cardiovascular training
Your main aim with cardio training is to raise your heartbeat for 45 minutes to an hour. You should aim to complete at least three cardio training sessions per week. How you do this isn't important, so choose what you love! If you have weaker leg muscles, it's important to mix in some strength training, too. Developing muscle mass will protect your joints and this is very important especially on long descents.
Training weekends
When you sign up to an Earth's Edge expedition, there is a training weekend included. This takes place in Wicklow, and you will meet all of your fellow climbers, as well as your expedition leader and doctor. It's a great way to suss out your skills, swap tips and get excited for the adventure that lies ahead of you!
To read more about the Earth's Edge expedition to Elbrus, click here.