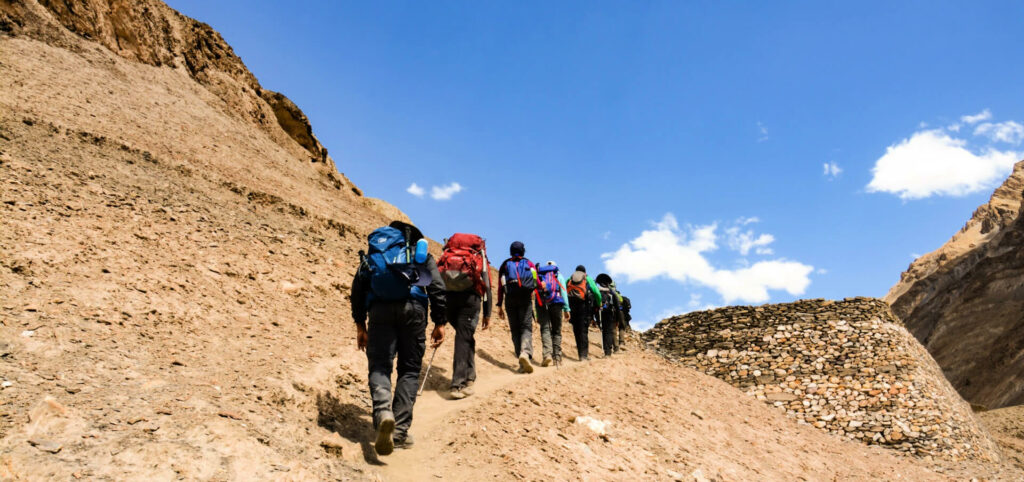 Kang Yatse II is a mountain for serious trekkers. The highest trekking peak in the Indian Himalayas, Kang Yatse II is a tough challenge. Standing at 6,250m, you spend time on snow as well as dealing with altitude. Which is why it's so important to train properly. If you're wondering how to train for Kang Yatse II, here is some advice…
How to train for Kang Yatse II
In order to best prepare for Kang Yatse II, you need to combine hillwalking with cardio training. It's a good idea to incorporate strength training, too. Every person is unique, so you need to find what works for you.
How fit should I be to climb Kang Yatse II?
We rate Kang Yatse II as a level 6 expedition. That means you can expect to trek an average of 6 to 8 hours per day at altitudes not usually exceeding 6,250 metres. The summit day is 12 hours long and a tough challenge. Therefore, you need to have a very good level of fitness to climb Kang Yatse II.
How should I train for Kang Yatse II?
The best way is to combine hillwalking and cardio. If you have low muscle mass in your legs, we suggest that you add strength training to your schedule. Developing muscle mass will protect your joints and this is very important especially on long descents.
Hillwalking
We recommend hiking at least twice per month in preparation for Kang Yatse II. In the three months prior to departure try to include two long training hikes (6-8 hours at a comfortable, steady pace) on consecutive days with an 8kg rucksack.
Cardio training
The most important thing is to workout regularly, at least 3 times a week for 45 minutes to an hour. However you elevate your heart rate will do the trick, whether it's running, boxing, rowing, cycling… whatever you please!
Training weekends
The Earth's Edge expedition includes a training weekend in Wicklow. This will give you a great taste of trekking life. You'll also meet your fellow climbers, your leader and doctor.
To find out more about the Earth's Edge expedition to Kang Yatse II, click the link!