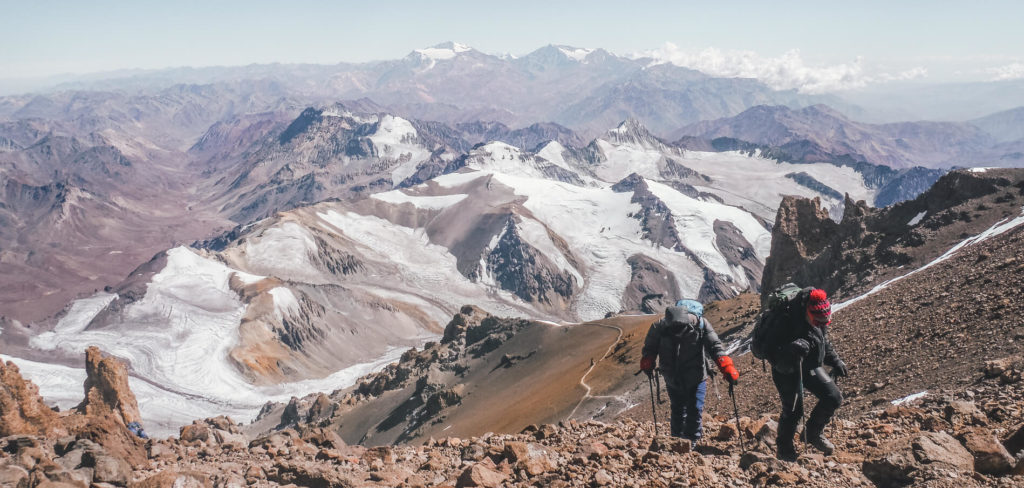 Climbing Aconcagua is one of the toughest challenges there is (as well as one of the most incredible). One of the Seven Summits, Aconcagua is the highest mountain in both the Western and Southern hemispheres. At 6,962m, it's also the highest mountain outside of Asia. While there's no technical mountaineering required to reach the summit, it's still a formidable challenge. But is it safe to climb Aconcagua? We've put together a post to answer some questions you might have…
Is it safe to climb Aconcagua?
The challenges of Aconcagua are plentiful. You have to deal with high winds and extreme cold, as well as a long and arduous summit day. On top of that, you're dealing with high altitudes and gains.
All of which means it's vital to climb with a highly experienced team. At Earth's Edge, we send an international guide and doctor on every single one of our expeditions, while keeping group sizes sustainably small. We also work with a team of local porters and guides, who are with us every step of the way and know the mountain (and its challenges) inside and out.
What's the best way to climb?
Our expedition is 21 days long, which includes 16 days of trekking. We take this at a sustainable pace, with plenty of time for acclimatisation along the way. There are also spare summit days included, which gives us the flexibility to change our plan if the weather isn't on our side. Every decision we make is based on the safety of our guests and team. We might also change the plan depending on the health and fitness of the group, as well as the conditions.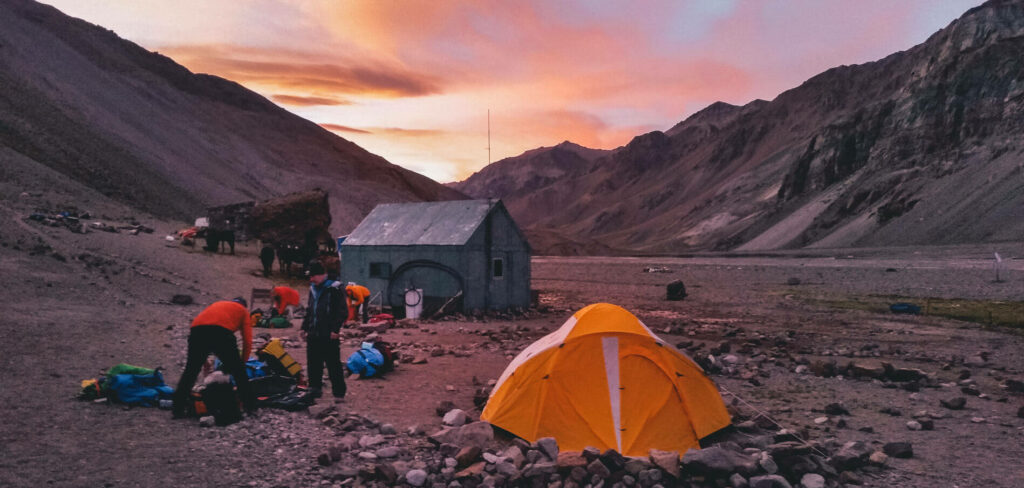 What about altitude sickness?
At 6,962m, it's fair to say that altitude on Aconcagua is something to be taken seriously! But it's also why we take the route that we do, allowing time for proper acclimatisation. When dealing with high altitudes, there are steps you can take to reduce the risk of Acute Mountain Sickness (AMS)…
Stay hydrated (at least 3 litres of water a day, preferably 5)
Keep eating (even if you're not hungry, you need to maintain calorie input)
Rest (this means a good night's sleep as well as plenty of breaks)
Take your time (this isn't a race – going slowly helps you acclimatise)
The most important thing? Tell the expedition doctor as soon as you start to feel unwell. AMS is much easier to treat the earlier you catch it. If you have a headache, or feel sick, tell the doctor immediately. It's what they're there for! The sooner you treat AMS, the better the chance of a simple and quick recovery.
What if I'm not up to it?
It doesn't matter how fit you are, or how experienced you are. The physical challenge of high altitude, and even the climb itself, can take it out of anyone. But that's why we have our Summit Policy in place.
Our goal on this expedition is for the entire group to reach the summit and return safely. Due to the difficulty of the summit day on this mountain and the importance of maintaining a good guide to guest ratio, it is essential we attempt the summit with a strong team. Any guests who are deemed by our expedition leader as not fit enough to reach and return from the summit safely, will not be allowed to attempt the summit. This ensures we have a strong team for summit and that those guests who are fit enough are given the best opportunity to attempt it.
But, as with any mountain, the summit shouldn't be your only goal. Sometimes, reaching the summit just isn't meant to be. But even if you don't make it to the top, you will be among the greatest scenery on the planet. The views at camps one and two are breathtaking, and there's plenty of local wildlife in Mt. Aconcagua Provincial Park.
The most important thing isn't the summit. It's your safety.
If you want to read more about our expedition to Aconcagua, click here.