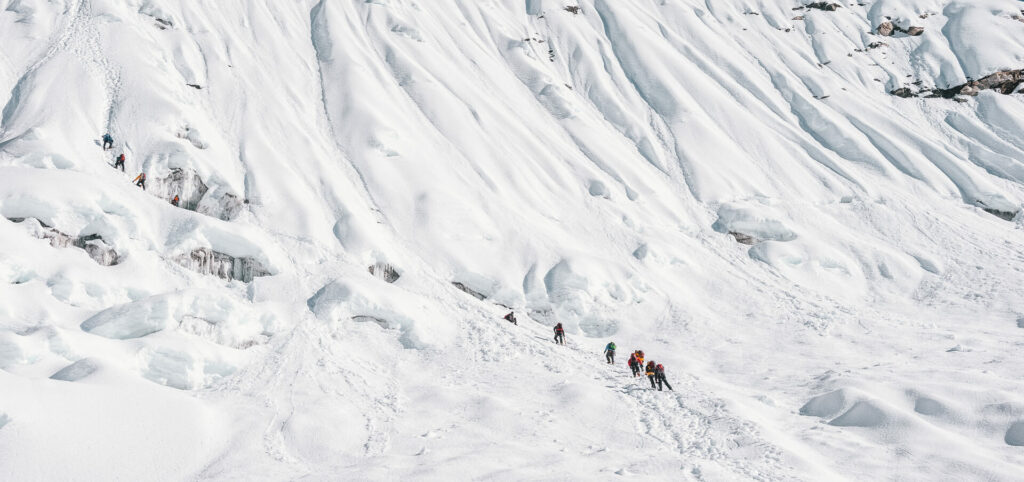 The trek to Island Peak is a little different to other expeditions. That's because you get two for the price of one, trekking first to Everest Base Camp. Then, once you're standing among the foothills of the giants, you carry on and climb the majestic Island Peak. But while this mountain is undoubtedly beautiful, it's a tough challenge. And with any tough challenge comes a certain amount of risk. If you're wondering if it's safe to climb Island Peak, we've got a blog post to answer your questions…
Is it safe to climb Island Peak?
While the trek to Everest Base Camp is relatively straightforward, the on-going climb of Island Peak is much tougher. After all, this is a mountain that is commonly used as a training peak before people climb Everest. While this isn't a technical climb, we do recommend people have experience of scrambling and abseiling. We use fixed ropes and crampons on summit night, which is spent on snow and ice. It's also hugely important to be physically fit enough to take on the challenge.
Choosing a good team
The most important thing is to climb with a team who are knowledgeable, trained and responsible. At Earth's Edge, safety is our number one priority. We will only ever climb if it is safe to do so. Our well trusted team of local sherpas know the mountains inside and out. We also send an international guide and a doctor on each expedition, while keeping group sizes sustainably small. Remember, you are only as safe as the team around you.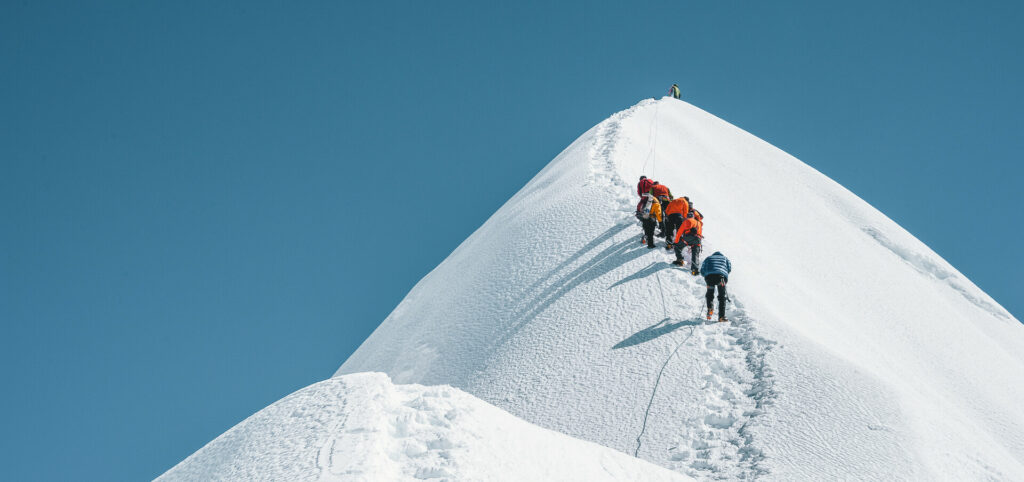 What about altitude sickness?
Acute Mountain Sickness (AMS) is a concern on many expeditions. We follow a route that was chosen to help us best acclimatise to our increasing altitude, and take rest days before the ascent of Island Peak. The best thing you can do to lessen the risk of AMS is to go slowly, drink plenty of water, stay well fed (even when your appetite drops) and get a good night's sleep. If you do start to feel unwell, tell the doctor immediately. The sooner you begin treatment (which can be as simple as a painkiller and water) the better your chances of improving quickly. Don't suffer in silence!
What if I can't keep up?
It's super important to make sure you are physically fit prior to this expedition. That means plenty of training, to make sure you are well able for the physical challenge ahead of you. But sometimes things happen that are out of our control. If for any reason you can't continue, our support team will stay with you and assist.
To read more about our expedition to Island Peak, click here.