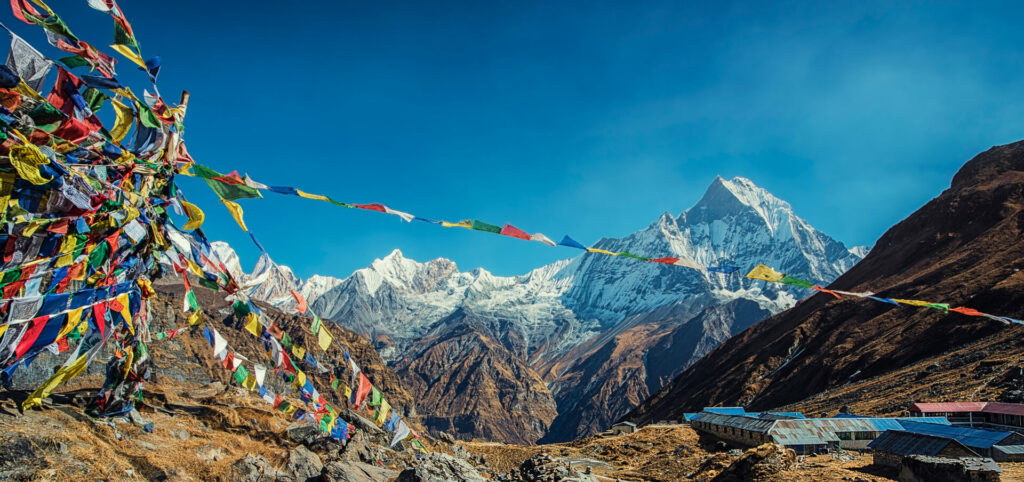 The Annapurna peaks may be notoriously treacherous, with one peak over 8,000 metres, thirteen peaks over 7,000 metres, and sixteen more over 6,000 metres. But the trek to Annapurna Base Camp (4,130m), by comparison, is a far more manageable hike. The expedition weaves through beautiful scenery, like alpine forests, picturesque villages and past waterfalls. At Base Camp itself, you are surrounded by incredible views of the giant peaks – without having to set off and climb them! On every expedition, you should always be aware of safety. If you're wondering if it's safe to trek to Annapurna Base Camp, this post should answer your questions…
Is it safe to trek to Annapurna Base Camp?
Despite the fact that the Annapurna Mountains themselves are fairly dangerous, the trek to Base Camp is far safer. This mostly comes down to the relative ease of the trek. We give all of our expeditions a difficulty level, and the trek to Annapurna Base Camp is a level 3. This means, in terms of altitude, durations, climbs and conditions, it's one of the more accessible treks we do. In comparison, Everest Base Camp is a level 4, and Kilimanjaro is a level 5. That said, you still need to make sure you are physically fit enough for the climb.
Choosing a good team
With any expedition, it's vital that you pick a good team. At Earth's Edge, we send an international doctor and expedition leader on every trek, while keeping group sizes sustainably small. That means you have a doctor with you at every step of the way, whether you need to deal with altitude sickness or blisters. We also have an excellent local team, who know this region inside and out.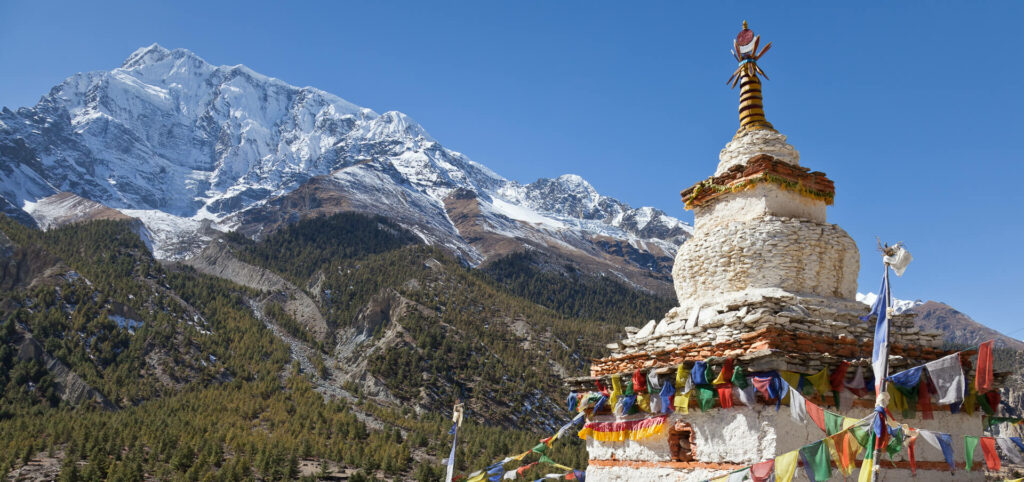 What about altitude sickness?
Acute Mountain Sickness (AMS) is a concern on many expeditions. While the final elevation of Annapurna Base Camp isn't as high as some others (Everest Base Camp is 5,364m, for example), altitude is still a possible concern for trekkers. However, there are a number of things you can do to help yourself acclimatise…
Stay hydrated (at least 3 litres of water a day, preferably 5)
Keep eating (even if you're not hungry, you need to maintain calorie input)
Rest (this means a good night's sleep as well as plenty of breaks)
Take your time (this isn't a race – going slowly helps you acclimatise)
Remember, your expedition doctor is trained to deal with altitude sickness. Tell them as soon as you feel unwell, and the treatment is usually far easier. They know exactly how to treat AMS.
What if I get sick?
Again, that's where the doctor comes in! If you have an injury or a dippy tummy, they are there to help. The most common source of illness on a trip is usually gastroenteritis (Delhi Belly). The good news is, this is easily avoided by washing your hands regularly, particularly before and after eating. But hey – we're all well used to hand sanitiser now!
If you want to read more about our expedition to Annapurna Base Camp, click here.