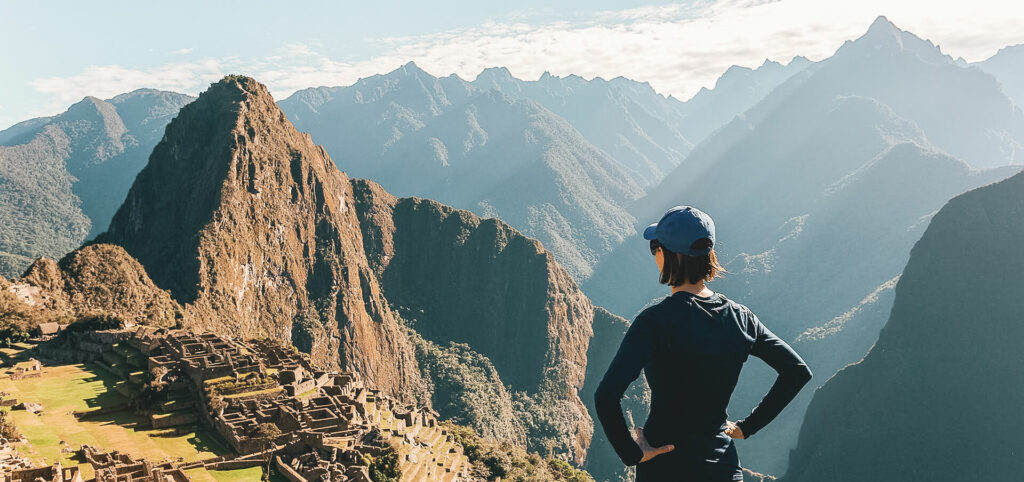 There's nowhere on earth quite like Machu Picchu. And part of what makes it special is how remote it is. Sure, you can get a train or a bus close enough to the park gates, but the real joy comes in a multi-day trek. You go through the beautiful Peruvian Andes, trekking through the luscious peaks before you reach this sacred mountain. And after a closure in 2021, Machu Picchu is open once again for trekkers. If you're looking to trek Machu Picchu in 2022, here's all the information you need…
Trek Machu Picchu in 2022
How hard is it to trek Machu Picchu?
When most people trek to Machu Picchu, they walk on the Inca Trail. This journey generally takes about 4 days and is a little touristy. However, the route we take to Machu Picchu is a little different. This means that we enjoy more peaceful trails, with fewer trekkers and incredible sights that are off the beaten track. However, this route does mean that our itinerary is a little tougher. Though the maximum elevation isn't as high, we do have huge height gains on several of the days. It's tougher than the Everest Base Camp trek, and on a similar level to Kilimanjaro.
What level is it?
We give all of our trips an Expedition Level, so you know exactly what to expect. Our trek to Machu Picchu is a Level 5, which means…
"An average of 6 to 8 hours per day at altitudes not usually exceeding 6,000 metres. Typically, it will involve one long day of 10 to 15 hours to reach a summit. Typical elevation gain per day would be 500 – 1000 meters, with at least one day over 1000 metres. As a rough guide, you should be comfortable hillwalking for 7 hours per day for two days in a row."
It's not the toughest, but it's not the easiest.
How long does it take?
As we said, the Inca Trail is often incredibly crowded and somewhat unadventurous. If you want to make that long flight from Dublin worthwhile and have a proper adventure, there are alternatives that provide a much better experience.
What are the alternative routes to the Inca Trail?
When we launched our original Machu Picchu expedition, we followed the remote Salkantay route for five years. It's a beautiful route, but we felt that there were better options available…
A longer trek to Machu Picchu
With all that in mind, we worked with our local partner in Peru and knowledgeable Quechua guide, Edgar. Together, we worked on a route that incorporates the ancient Inca site of Choquequirao. Choquequirao is the much lesser known sister city to the world-famous Machu Picchu. It's twice the size, but it only gets a handful of visitors in comparison.
How long does it take to trek from Choquequirao to Machu Picchu?
On our Machu Picchu expedition, we spend a total of 8 days trekking from Choquequirao to Machu Picchu, along with other trekking days. This route takes in some of the most stunning places in the Andes, from riverside trails through thick jungle, deep river canyons and incredible mountain views. The best part? There are only a fraction of the other hikers you'll find on the Inca Trail.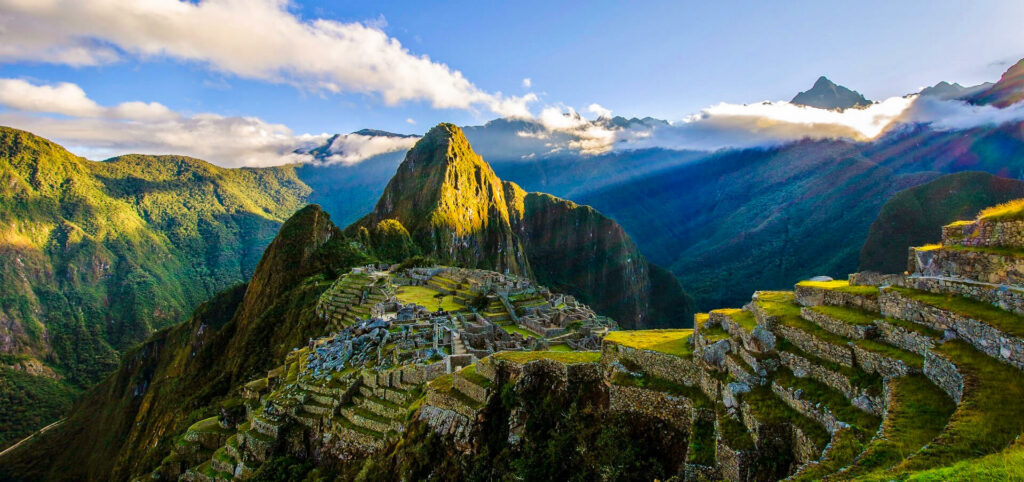 What is the food like?
Just like all the food in Peru, the food on our trek is unreal! You can expect lots of hearty Peruvian dishes, like Metasca beef stew with jungle potato, Carapulcra, Rocoto Relleno and huge sweetcorn kernels. All of the food is designed to keep your energy levels up. And we can cater to dietary requirements too, if you tell us in advance. So worry not, vegetarians! Here is an example of the kind of things you might be eating along the way.
Breakfast
Coffee, tea or hot chocolate, with bread and margarine/jam
Hot porridge (sometimes with bananas or chocolate thrown in) OR
Pancakes with fried plantain, OR
Fresh omelette OR
Peruvian tostada (roasted corn with cheese)
Plenty of fresh fruit (bananas, papaya, melon, mango, kiwi and pineapple, all Peruvian)
Lunch
Soup
Fried fish with mashed potatoes and leeks OR
Cauliflower slices with cheese OR
Roast chicken with olives
Platters of salads of all descriptions, packed with fresh, local ingredients
Dinner
Chicken, tomato and carrot sauce with salsa picante
Metasca beef stew with jungle potato in batter, yellow rice and noodles
Rocoto Relleno (stuffed hot peppers) with pasta and tomato sauce.
Quinoa with noodles
Fat corn kernels with yellow sauce
Carapulcra, a mildly spiced pork stew
On one day, there's a celebration lunch, called a Pachamanca – this dish is covered in banana leaves, buried with hot stones that have been heated on a fire and covered in soil to cook. It's usually made of roasted pork and chicken, roasted jungle and sweet potatoes, and sides of mushroom ceviche, guacamole with crackers and beetroot salad.
Dessert is usually like mango pancakes, fruit salads, chocolate cake and apple pie.
How much does it cost to trek machu picchu in 2022?
The Earth's Edge expedition currently costs €4,399*. That fee includes…
International return flights from Dublin to Lima
Internal flights in Peru
Experienced Irish/UK expedition leader
Experienced Irish/UK expedition doctor
Entry fees into Machu Picchu and a full guided tour
All transport throughout the expedition
Training Weekend in Ireland
Local English speaking guides, local cooks and support team
All accommodation based on twin sharing in hotels in Lima, Cusco, Aguas Calientes and camping elsewhere
All meals and drinking water are included except in Lima, Cusco and Aquas Calientes where accommodation is 
based on B&B
A celebratory dinner at the end of the expedition
All group gear consisting of first aid kits, mountaineering equipment, cooking equipment etc
Use of state of the art tents and Thermarests
If you are joining the expedition to Machu Picchu from the UK, you can book our trip without flights, for €3,199*. Then you can organise your own flights from the UK. You'll also have to book your internal flights, but we'll tell you which ones to book. We can also organise your airport transfers, if you like.
Is it safe to trek Machu Picchu?
Generally speaking, it is very safe to trek to Machu Picchu. That said, there are some precautions you can take to ensure the safest possible visit (which, in fact, is true of wherever you go in the world). If you're concerned about altitude sickness, hiking injuries or conditions on the trail, read on for some of the answers to your questions…
Every year, thousands of people trek to Machu Picchu. But as it's sacred ground, there are restrictions over who can trek. There is a daily limit of 500 people on the Inca Trail, for example – 200 trekkers, and 300 guides and porters. This is why you have to book a trek in advance – you have to get a permit to do so.
You also can't trek without a guide – which means you have to book through a government mandated tour operator (like Earth's Edge). So no one can pick up and decide to trek it alone! This not only helps to protect the trail, but it also keeps visitor numbers at a safe level.
Choosing a good team
As you cannot trek alone, it's vital that you pick a good team. At Earth's Edge, we not only send an international doctor and expedition leader on every trek, we also have an excellent team on the ground in Peru. We've worked with our porters and guides for years, and they know this landscape inside out. Put simply, you couldn't be in better hands.
What about altitude sickness?
Acute Mountain Sickness (AMS) is a concern on many expeditions. On this trek, we actually start at a higher altitude than our end point of Machu Picchu, but we pass through varying altitudes along the way. But there's a reason we take the route that we do, and why we take a certain amount of time to complete the trek. The most important things to remember are…
Stay hydrated (at least 3 litres of water a day, preferably 5)
Keep eating (even if you're not hungry, you need to maintain calorie input)
Rest (this means a good night's sleep as well as plenty of breaks)
Take your time (this isn't a race – going slowly helps you acclimatise)
Remember, our doctor is on the expedition for a reason. If you tell the doctor as early as possible if you don't feel well, the solution will likely be simple. The longer you wait, the worse it can get.
What if I get sick?
That's why the doctor is there! The most common source of illness on expeditions is gastroenteritis (Delhi Belly). But the good news is this can easily be avoided! You just need to maintain good hand hygiene – always wash your hands and apply hand sanitizer after going to the toilet and before touching food. Let's face it – we're all old hats at this now. So thanks, Covid! Also, remember to only use drinking water to brush your teeth. This is true almost everywhere in Peru. Oh, and don't open your mouth in the shower. Trust us (and maybe Charlotte from SATC) on that one.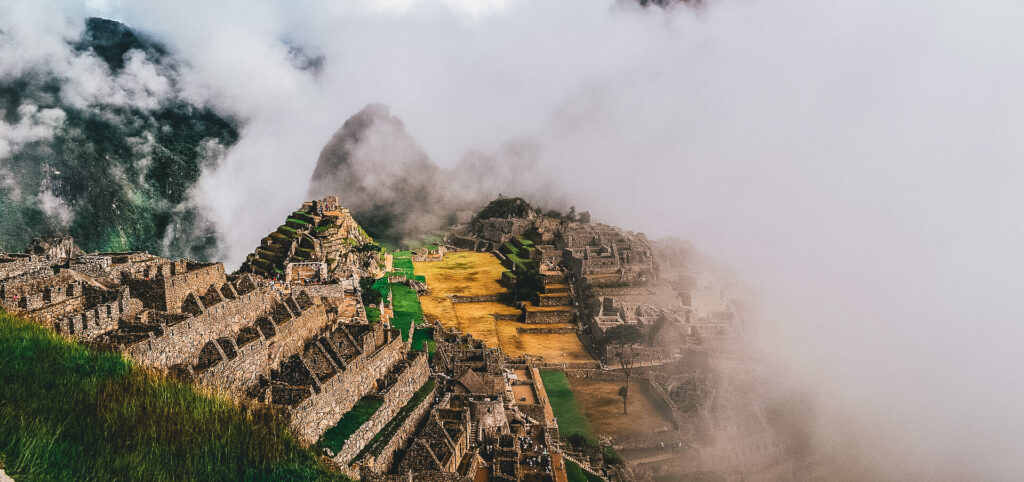 What do I need to pack?
So, you're all signed up and ready to head to Machu Picchu! Our expedition is an absolute beauty – you'll see parts of the Peruvian Andes that other treks don't even come close to. But if you're spending your days trekking, and your nights by the campfire, you're probably wondering what on earth you'll need to pack. To give you a hand, here's our ultimate Machu Picchu packing list, so you'll know exactly what you need to bring…
Clothing
Unless you're ready to hike in the nip, your hiking gear will be the first thing to think about. We recommend…
Walking boots (make sure they're well broken in)
Runners or sandals (to wear in transit & around camp)
Mid-weight hiking socks x 3
Underwear (synthetic rather than cotton)
Shorts x 1 (knee length or below)
Lightweight trousers x 1
Synthetic/wool/silk long johns
Waterproof trousers (N.B. make sure the trousers have zips to the knee at least).
Long sleeve base layer x 1 (silk, wool, or synthetic)
Short sleeve base layer x 2 (as above)
Mid weight fleece x 1
Outerwear
The weather can be changeable in Peru, with hot days and chilly nights. Be prepared for any outcome with the following…
A down jacket (at least 600 grams in weight)
Waterproof jacket
Waterproof poncho
Accessories
And no, we don't mean a jazzy scarf or fedora. These little bits will be a lifesaver…
A fleece hat to wear in the mornings and evenings
Sunglasses (category 3)
A sun hat with a wide brim to cover the face and neck
A pair of lightweight wool or synthetic liner gloves
A pair of waterproof gloves or mitts (down mitts are preferable)
Hiking Gear
The technical bits you'll need throughout the trek. Don't worry, there's nothing too tricky…
Walking poles
Small rucksack for day use (30 to 35 litres)
A large suitcase or holdall carry your equipment to Peru
Dry bags or plastic bags
Water bottles and water bladder – you must have the capacity to carry three litres of water while walking
A warm sleeping bag (comfort rating of -15°C or lower)
Suncream at least factor 30
SPF lip balm
Insect repellent, deet based products are best
Hand sanitiser – you need to have enough supplies for the duration of your expedition. Remember, it's better to be looking at it than looking for it
Toiletries (as few as possible! Wet wipes and a nail brush are very useful)
How do I train for Machu Picchu?
When you're training for the Machu Picchu trek, it's important to have a good level of physical fitness. After all, for a lot of people this will be the toughest physical challenge of their lives. High altitude makes things more challenging, too. So you need to make sure you have a good level of cardiovascular fitness, strength and stamina.
HOW FIT SHOULD I BE TO TREK TO MACHU PICCHU?
We give all of our expeditions a level, so you know what to expect on a trek. Machu Picchu is a level 5 (the same as Kilimanjaro) so you can expect to trek an average of 6 to 8 hours per day, at altitudes not exceeding 3,700 metres. What's unusual about the Machu Picchu trek is that we actually start off at a higher altitude, and decrease our elevation as we go (with one exception early on).
As a general guide, you should be comfortable hillwalking for 6 to 7 hours per day for two days in a row before you head to Machu Picchu.
How should I train for Machu Picchu?
It's important to combine hillwalking training with cardio sessions, to be as fit as you can be. But every person is different. There is no plan that will suit every person. And remember, the fitter you are, the more enjoyable the expedition will be. Here is some general advice…
Hillwalking
It's a good idea to get used to hillwalking before heading to Machu Picchu. This will get your body used to the sensation of hiking for long periods of time. We suggest hiking at least twice a month to prepare for Machu Picchu. And, in the three months before your trip, try to hike for two consecutive days with a rucksack on your back, for 6 to 8 hours.
Cardiovascular Training
You'll also need to make sure your cardiovascular fitness is as good as it can be. We suggest a cardio workout at least three times a week, for 45 minutes to an hour. It's really important to elevate your heart rate. This can be on the bike, in the gym, in a class, whatever suits you. But get that heart rate up!
Training Weekends
All of our expeditions include a training weekend in Ireland. These are fantastic way to get used to how an expedition will feel, particularly as you'll be meeting your fellow participants! You'll also meet your expedition leader and doctor, too. It's a great opportunity to swap training tips.
When can I trek Machu Picchu in 2022?
We have four expeditions scheduled for 2022, which are…
8 July 2022 – 23 July 2022
12 August 2022 – 27 August 2022
9 September 2022 – 24 September 2022
30 September 2022 – 15 October 2022
One of these is fully booked, but there are still spaces available on other treks.
If you want to read more about our trek to Machu Picchu, click here.
*Prices are subject to change