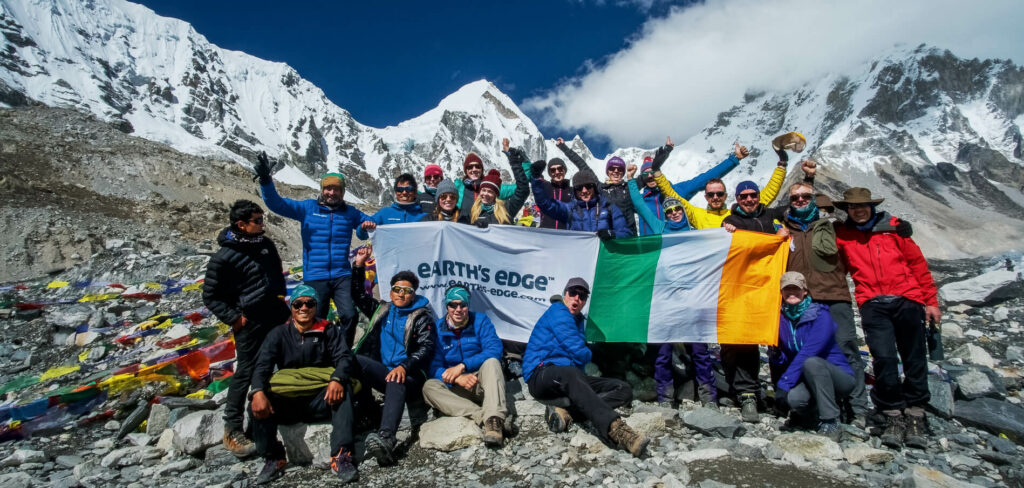 When you climb to the top of Island Peak, you're really getting two treks in one go. That's because you first have to reach Everest Base Camp. While this marks the finishing point for some, your journey continues! Island Peak has long been used by mountaineers as a preparation peak before summiting Everest. You can see why… it's a long and arduous summit, much of which is on snow and ice. If you're wondering what summit day is like on Island Peak, we've got the answers…
What summit day is like on Island Peak
The journey to the top of Island Peak is a tough one. We start in darkness in the early hours of the morning and ascend over 700m over mixed terrain. As most of the summit is on snow and ice, we use crampons and ice axes, which can be challenging.
The last 200m are the most demanding and we use fixed ropes and ascenders to conquer the headwall and reach the summit ridge. But the panoramic views of the 7,000m and 8,000m peaks surrounding you at the top make all the hard work worthwhile.
How long does it take to summit Island Peak?
The summit day takes around 14 hours, including our descent back to Chhukung.
How long does it take to get to summit day?
Obviously, there is a longer journey before you get to the Island Peak Base Camp. Our expedition is 23 days long, including travel. It takes seven days of trekking (with two rest days) to get to Everest Base Camp. From there, we have an additional five days of trekking before our summit attempt. We take a rest day too, to practice rope work.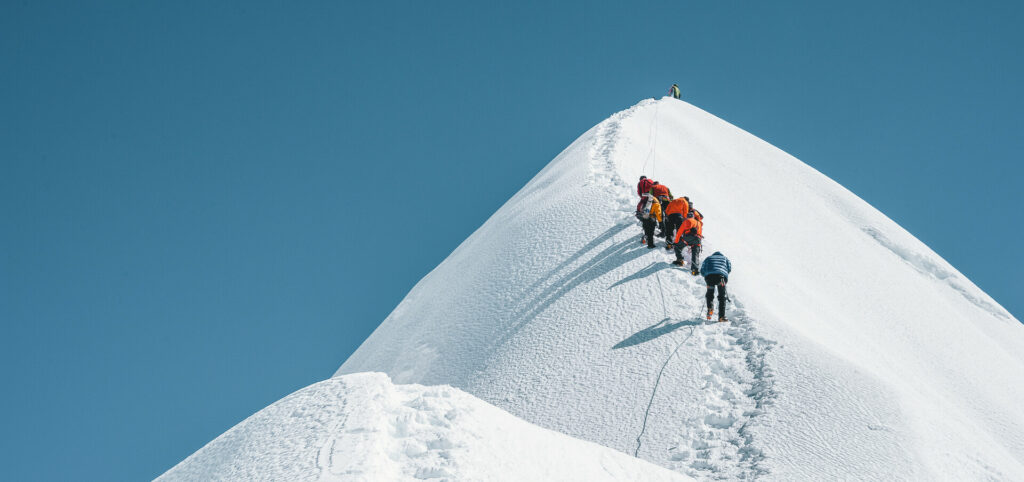 What happens if I can't summit?
We never leave anyone behind on an Earth's Edge expedition. If you or your leader feel like you cannot continue, a porter will help you to descend. This is often the bravest decision you can make.
How it feels…
If you want to know how it feels to summit Island Peak, here is an excerpt of one of our trip reports that will reveal all…
"Summit night is a big night. We start at 2 am and take on a brisk scrambly climb through rocky gullies and sometimes loose rock. A Kilimanjaro summit night veteran would've experienced this kind of climbing before. At crampon point we do the obvious and change into our winter gear and rope up as a team, moving together over glacial terrain, ladder crossings and steep icy snow for a couple of hours. All this to get to the base of the peaked section of the mountain itself. From here we pooled our bags in a makeshift base camp and carried lighter loads, just the basics, to make every gram of weight saving possible.
"We jumar'd our way up fix lines, slowly and steadily, putting a few steps together before needing a lung enforced rest, a full body workout. It took another couple of hours to get to the top, every step worth the effort though, to stand on a 6000+ peak in the Himalayas one of the coolest things I've ever achieved."
Read the rest of this incredible trip report here…
If you want to read more about our expedition to Island Peak and Everest Base Camp, click the link.