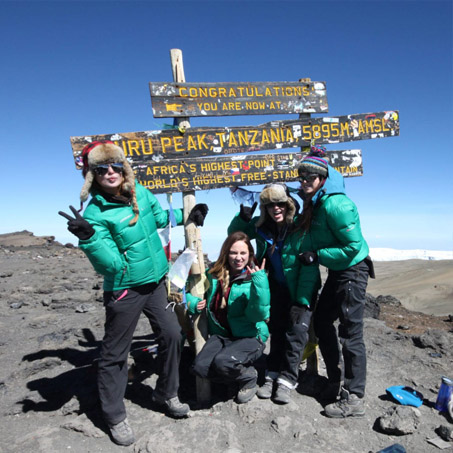 There's nothing quite like the feeling of standing on the top of a mountain. And when you stand at the summit of Kilimanjaro, you're not only standing at the highest point in Tanzania, but the highest point in all of Africa. The views, quite simply, are incredible. But how hard is the journey up there? How long does it take, and how tough is the trek? If you're wondering what summit day is like on Kilimanjaro, we've got all the answers…
What summit day is like on Kilimanjaro
Much like any summit, it is a physical and mental challenge! It's a long, tough day, and we start off way before dawn…
How long does it take to summit Kilimanjaro?
Our summit day is around 14 hours long. It actually starts just before midnight, when we rise, eat breakfast and set off at around 12.30am. By the time we reach Stella Point, the sun is rising and we break for tea. From there, it's only around an hour to the summit.
After we stand on the Roof of Africa, we head to Barafu Camp for lunch, before beginning the descent to Millennium camp.
How long is the journey to summit day?
When we attempt summit, we do so from Kosovo Camp. There are five days of trekking before we reach Kosovo Camp. These days vary between five and seven hours of trekking each day. But for the last two days before summit, the days are around five hours long. We climb at a slow pace, to help you acclimatise to the increasing altitude.
What happens if I can't summit?
We never leave anyone behind on an Earth's Edge expedition. If you or your leader feel like you cannot continue, a porter will accompany you down to a lower level.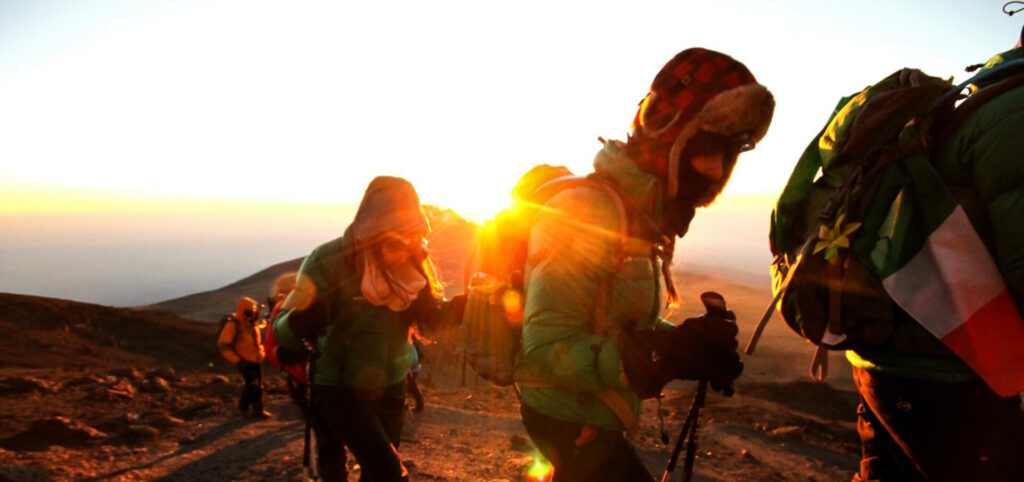 How it feels…
If you want to know how it feels to summit Kilimanjaro, here are some of our trip reports that reveal all…
"Summit night on Kilimanjaro is tough. It's a long haul up, a climb of over 1,400 metres to the summit. Walking through the night in the dark and the cold can be challenging but once the sun begins to rise over Mawenzi in the distance and you see your first objective, Stella Point, determination kicks in and the taste of success becomes tangible and real."
Expedition leader Ann Fitzpatrick, from a 2017 trek.
"Summit night always comes as a bit of a shock. Most people have never walked up hill in the dark for 8 hours to nearly 6,000m. It is hard, but then again, if it was easy it wouldn't be a challenge! Once we are at the top, there are smiles, tears, hugs and laughter, photos taken and then the walk home. The atmosphere at the final camp has changed; the air of apprehension has changed to content exhaustion. Having completed the final day, we head back to the hotel for the best shower ever and set of clean clothes."
Expedition leader Louise Lawrence, from a 2016 trek.
"Everyone makes it to Stella Point, the warm sunshine and the closeness of the summit dispelling any doubts that the altitude brought. Within an hour the team has arrived at Uhuru Peak, the roof of Africa. 100% success. A few minutes of celebration, photos, handshakes, tears, and hugs and we must descend."
Expedition leader John Healy, from a 2016 trek.
If you want to read more about our expedition to climb Kilimanjaro, click here.