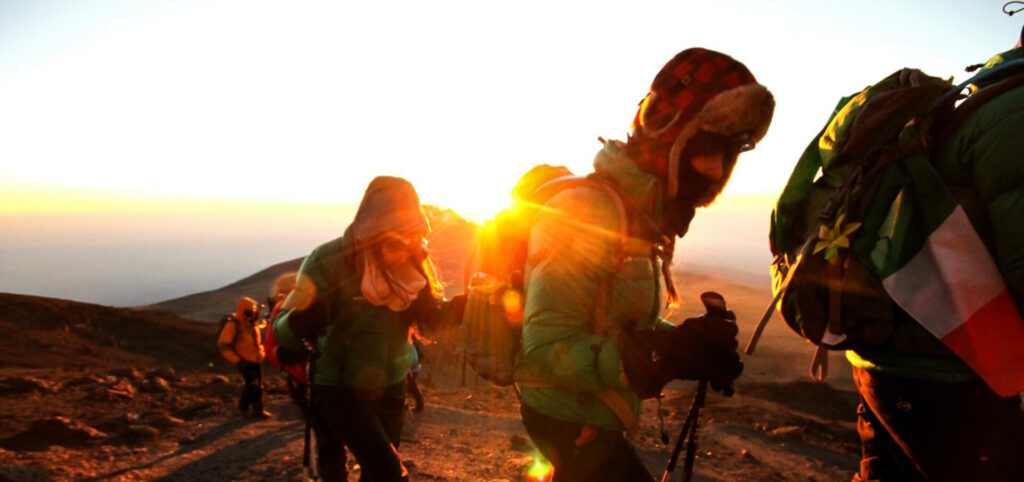 Summit Day is always the toughest when it comes to mountain trekking. On Kilimanjaro, Summit Day actually starts at night, because we leave camp at around midnight. However, unlike most companies, we actually stay in Kosovo camp rather than Barafu camp the night before summit, which shaves an hour off the climb time. The final trek to the summit takes around 14 hours, and there's no denying it's tough. But when you're at the top, standing on the Roof of Africa, it's all worth it. If you're wondering what summit day on Kilimanjaro is like, here is a segment from a former trekker's trip diary. Ellen Ryan climbed Kilimanjaro with Earth's Edge back in 2016, to raise money for Pieta House. Here is how she found Summit Day on Kilimanjaro…
Trip Report: Summit Day on Kilimanjaro
An incredible setting
"We had dinner early, as we were preparing for the summit that very night. John (the expedition leader) explained what we were doing, what to pack and how long it would take.
Before we went to bed, we all sat outside our tents looking up at the sky. I have never seen a clearer sky and so many stars. There are no words that could describe the beauty of it. There was a feeling of contentment, tiredness and happiness, sitting there looking at the sky, knowing I was nearly there. We went to bed very early as we were up at midnight to begin our attempt of the summit."
Why good guides make all the difference
"On the ascent, I really saw why Earth's Edge is a fantastic company. After a delay due to strong winds we started off in the pitch black, our head torches guiding us. It's tough. You can feel the cold and the altitude; you have to keep thinking 'I can do this'. Along the way, Oscar, John and Sarah had walkie-talkies to communicate with each other to ensure everyone was okay. Whenever there was an issue or someone was struggling, the guides would communicate and John or Sarah would go down to help. There is a nice sense of security knowing that there is a great team looking after you."
The toughest part of Summit Day on Kilimanjaro
We climbed for hours and it was tiring! The toughest part for me in the whole expedition was a steep climb that took about 20-25 minutes. I had to sit down and immediately a guide came over to me to make sure I was okay and got me back on my feet, motivating me to keep going. As I was walking up to the summit, people descending were cheering us on saying 'you are nearly there'.
Why an expedition doctor is important
"I remember seeing a man coming down with another company, his face was white as a ghost. His two guides were literally dragging him down the mountain. He was obviously suffering from altitude sickness. I asked the guides where his doctor was and I was informed there were no doctors on their expedition. I was relieved looking at my group thinking none of us have suffered yet and we had an excellent doctor with us."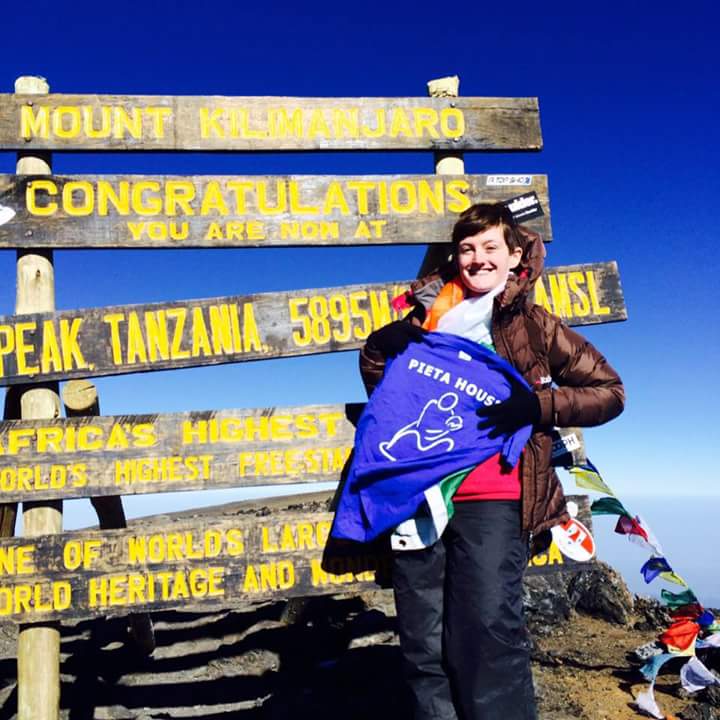 The Summit
"I will never forget the sheer delight and sense of achievement when I reached the summit. There are no words to describe how happy and how proud I was. I remember getting a photo of me on the summit with the Irish flag thinking, 'I actually did it'. After we got a group photo, we descended to Millennium camp. We flew down the mountain! Everyone was in high spirits as we all made it to the summit, thanks to Earth's Edge impeccable team. It's safe to say when we reached Millennium camp, we all demolished the dinner and slept like logs."
You can read more about the Earth's Edge expedition to Kilimanjaro here.