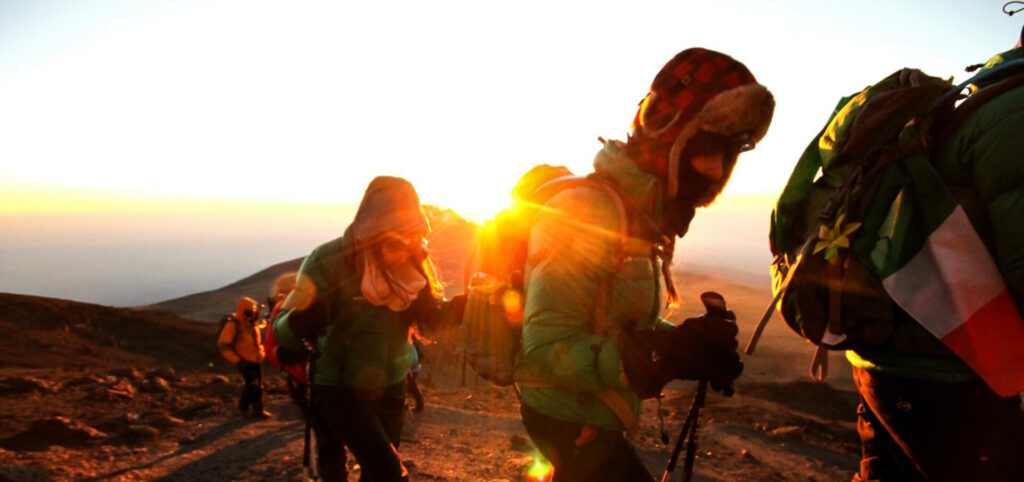 Often, it can be hard enough figuring out what to put in your backpack for a day hike in the Irish mountains. After all, you might have an unexpected rain shower, a chill you weren't prepared for, or even an urgent need for a bit of chocolate. Who knows what might come in handy?! When you're packing for a high altitude trek like Kilimanjaro, Everest Base Camp or Machu Picchu, you need to be a little more prepared as you're packing in advance. But don't worry! If you're wondering about what to put in your daypack for hiking Kilimanjaro, this blog post (and video!) will help you out…
What to put in your daypack for hiking Kilimanjaro
There are a few things that are applicable on mountains all around the world, whether you're climbing Lugnaquilla or Kilimanjaro.
Be prepared for all weathers
We never know what the weather is going to do on a mountain. That's why you need to be prepared for all kinds of temperatures, winds and rains. You'll need to bring a waterproof jacket and a warmer layer, in a lightweight fabric like fleece.
Think about the weight
On treks like this, every gram counts. You need to be prepared, but don't bring loads of excess bits that you'll regret halfway through the day. You need enough in your pack to keep you comfortable no matter what the conditions, but you don't want to be weighed down.
Handy items and essentials
A bandana always comes in handy. It protects the neck from the sun during the day, and the cold at night. And at higher elevations, you can use it to protect your airways from the cold air.
A pair of liner gloves, to keep your hands warm.
SPF lip balm to protect your lips from the sun, even in cold temperatures
Hand sanitizer – sure, we're all used to this at this stage!
Snacks that you really, really love eating. You need to keep your energy up even when your appetite drops, so tasty high calorie snacks are a must!
A poncho, for those super wet days
Nappy sacks – for your toilet paper or rubbish from the day
Sunscreen and insect repellent
Head torch and spare batteries, just in case
Dry bags, to keep all your gear dry in the rain
Toilet roll!
A water bladder
Waterproof pants and rain jacket
Long sleeve base layer
Fleece or a soft shell jacket
Small first aid kit for personal use
Wide brimmed hat that protects your face and neck
Sunglasses – category 3
Warm hat like a beanie
Water bottle
Summit jacket – this usually won't get used during the day, but it's really important to carry it with you, just in case
Walking poles are essential on any long mountain trek
So there you have it! That's everything you need to put in your daypack for hiking Kilimanjaro, Everest Base Camp or Machu Picchu. We've also got a handy video below that shows you how to pack it all in!
For more information on our expeditions to Kilimanjaro, Machu Picchu or Everest Base Camp, click the links.