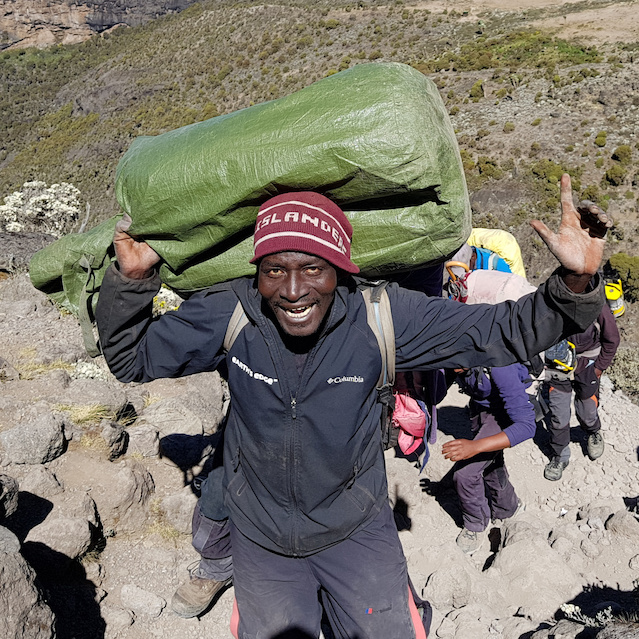 At Earth's Edge, we see first hand the amazing work that porters do on high altitude treks around the world. And that's also why we work so hard to make sure that porters are treated well and paid fairly for their work. In a throwback to a Kilimanjaro expedition from February 2020, one of our previous clients Dermot McKenna wrote a blog about his trip. Dermot was blown away by the work that Kilimanjaro porters do, and he wrote a little about his experience here…
Kilimanjaro Porters
"In December 2018, I paid the deposit for a trip to Kilimanjaro departing February 2020. I had planned to post about my story; the struggle to pay, getting physically prepared, etc… However, this was not the meat of the adventure. Instead, I decided to write about the amazing local guides and porters who keep the mountain alive.
All I knew about the Kilimanjaro porters before I went out was what I had picked up from the Earth's Edge website and their Irish guides…
"We have a core group of roughly 50 porters that work on almost all of our climbs. We provide transport for them from Arusha and back for each climb. If we have two trips on at the same time, we split the regular team between two climbs and hire in extra people who are recommended to us by our regular porters, often they are friends and family of the regular porters."
What the porters do
Porters are day workers. They gather and are picked or not, for each trip, so their work is not guaranteed. Earth's Edge are certified partners with the Kilimanjaro Porters Advocacy Project (KPAP). They also hire a higher number of porters for each expedition and restrict our bags to 15kg.
None of my research prepared me for the reality of meeting the porters and seeing how much work they do. Their generosity of spirit and willingness to help was humbling. Nothing was too much, and everything done with a smile.
The carrying limit set by the park for each porter is 20 kg which includes 5kg of their personal kit. Our personal duffle bags were only part of the load that must be carried up the mountain. All the other equipment; food, tents, tables, chairs medical equipment, etc, still has to be hauled up to the next camp each day before we arrive. It is extraordinarily hard work. Water must also be carried up and at some camps the river is over 800m away. A train of porter's ferry 20 litre buckets on their heads. Earth's Edge pays a supplement to porters who do extra work.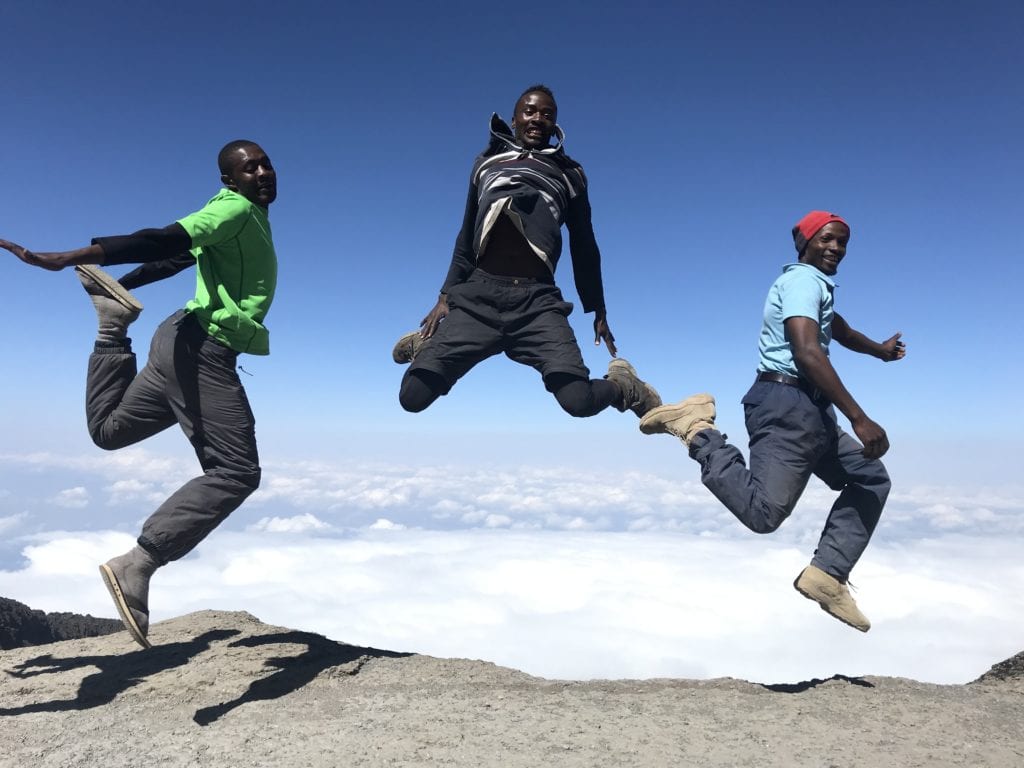 Female Porters on Kilimanjaro
Female guides/porters are few and far between. I am still in awe of one of our guides, Rahima, and her endless strength and generosity. On our descent from the summit, I was in a bad way. Although I had drunk 5 litres of water, I was dehydrated, exhausted and had a massive headache and nausea. Without asking (I was too proud!!) she took my backpack and walked with me back down to camp. All the while laughing and telling me "you are not Simba, you are a goat" (I got the name Simba from the beard, lion).
I'm glad and happy I did the trip, but truly this experience has left me "humbled" and "honoured" to have spent time with the local mountain teams.
The future
Porters can graduate to guides. The course is $900 which ends with a 7 day assessment on the mountain. The average porter wage paid is $60 per trip, $15 extra for other jobs plus around $40 in tips. Unfortunately for most porters the fee makes the course a difficult aspiration. Some companies will sponsor a porter and Earth's Edge sponsor one porter each year to attend the guide course.
Booking with a KPAP affiliate partner ensures better pay and conditions for the local staff. It also offers them chances to improve their education and skills. This has a huge knock on effect for their families and for the local economy. It is also possible to sponsor or help sponsor a porter on their journey to better qualifications."
Thanks Dermot! You can read more about how we work with Kilimanjaro Porters here, and you can find out more about the Kilimanjaro Porters Assistance Project here.