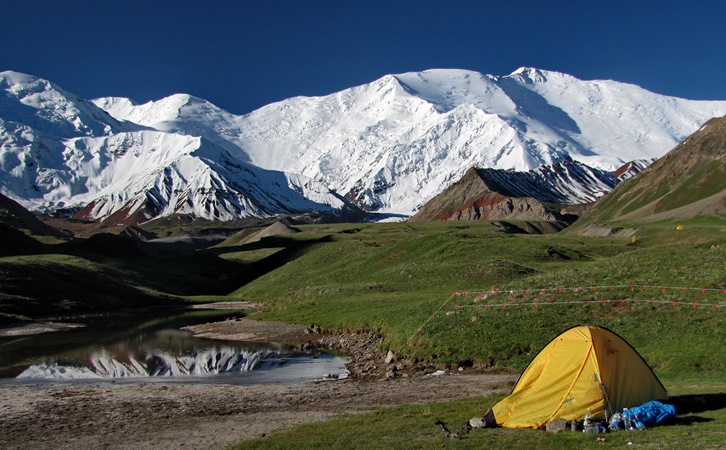 Whether you're training for this expedition, or simply want to learn more about this majestic mountain, we've got you covered. Peak Lenin is one of the most epic climbs in the world, and it's a fascinating spot to boot! So here are 6 facts about Peak Lenin, that will maybe give you the urge to add it to your bucket list…
6 Facts About peak Lenin
How high is Peak Lenin?
Peak Lenin is 7,134m high, and the second highest peak in Kyrgyzstan after Peak Pobeda (7,439m).
What is the Snow Leopard?
An epic challenge, is what it is! Peak Lenin, Peak Pobeda, Ismoli Somoni (7,495m), Korzhenevsky (7,105m) and Khan Tengri (7,010m) are the five 7000m peaks located in the former USSR. When you summit all five of those mountains, you are awarded the title of Snow Leopard. This is the highest award for climbing in all of the former Soviet Union.
Where is it?
The mountain is on the border of both Tajikistan and Kyrgyzstan. It is actually the second largest mountain in both countries.
How hard is it to climb?
Many people consider Peak Lenin one of the less technical 7,000m peaks in the world. In fact, hundreds of mountaineers summit Peak Lenin each year. Though, that doesn't mean it's easy! Far from it.
In the company of giants…
Peak Lenin is the tallest mountain in the Trans-Alay Range of Central Asia, and in the Pamir Mountains in Tajikistan it is exceeded only by Ismoil Somoni Peak (7,495 m).
Best time to climb Peak Lenin?
On our expedition, we attempt to summit in the summer. This way, the conditions are at their best. Daytime temperatures may vary from -10 to 30 degrees during the day and -30 to 10 degrees at night. However, the weather can change super quickly at altitude, so we have to be prepared for anything.
If you want to read more about our expedition to Peak Lenin, click here.