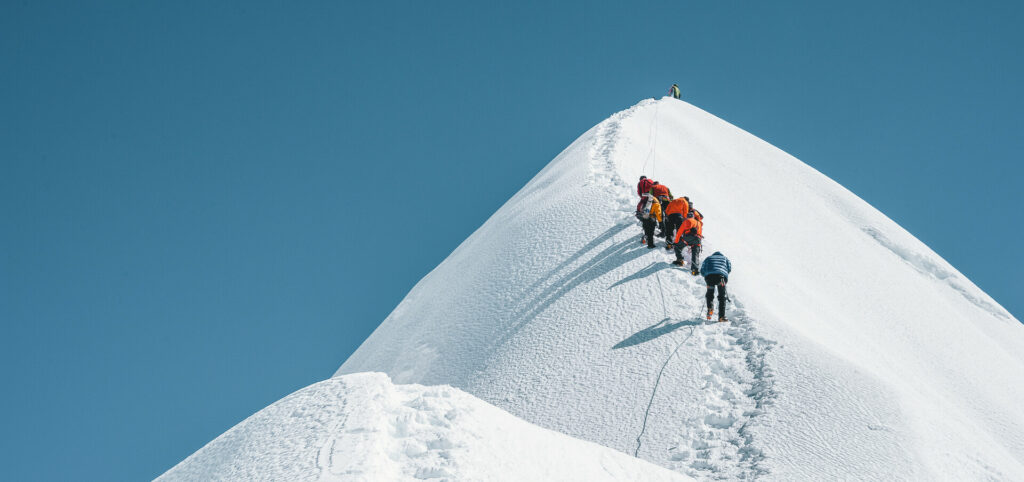 One of the most important elements of a trek is deciding when to go. You need to make sure that the conditions will be on your side… or at least as good as they can be. There's nothing worse than trekking for days in unrelenting rain! If you're thinking about heading out to climb Island Peak, this is even more important. This trek actually incorporates two locations, as you trek first to Everest Base Camp and then continue on. If you're wondering when the best time to climb Island Peak is, read on for the information you need…
Best time to climb Island Peak
Generally speaking, you want to climb Island Peak in the spring or the autumn. The best time to trek to Everest Base Camp and Island Peak is from March to the middle of May, and then September to mid-November. At these times, you'll have the optimum conditions for both trekking and views. In the summer months, there's generally too much rain for climbing. You'll also find that low clouds and fog can obscure the views of Everest.
When you're heading up to Island Peak, you have to contend with the snow and ice. At the summit, the temperature never rises above freezing – generally, it's -36C in winter and -19C in summer.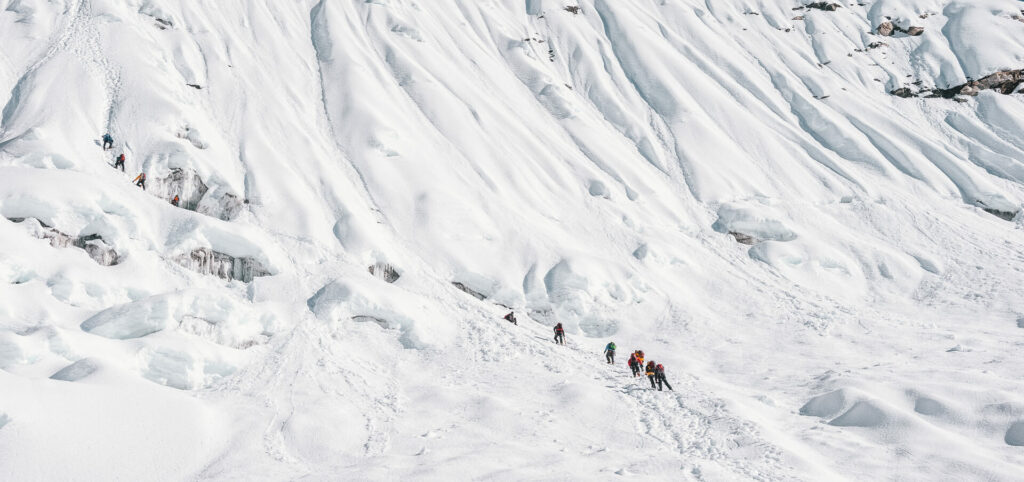 What equipment do I need?
This is a slightly unusual expedition in that you need to pack for the 10-day trek to Everest Base Camp, then the harder climb of Island Peak. While the EBC trek doesn't require any specialist equipment, you'll need specific gear for Island Peak. Much of the summit night is spent on snow and ice, so you'll need crampons and ice axes. But don't worry if you haven't used them before – we have a rest and skills day in Dingboche, where we practice our rope work.
You will need synthetic mountaineering boots, like La Sportiva G2SM, Scarpa Phantom 6000 or similar. You'll also need gaiters, 12 point crampons, two slings, a walking ice axe, a climbing harness and two screw gate carabiners. If you don't have any of these, they can sometimes be rented or we can provide them for you. You'll also need all of your regular trekking gear, including trekking boots for the Everest Base Camp portion of the trek.
When you sign up to one of our expeditions, you are entitled to a loyalty card with our equipment partner, Great Outdoors. The loyalty card entitles you to a 15% discount until the day your expedition departs. The staff there are also incredible knowledgeable about our treks and the gear that you need, so a visit to the shop is ideal if you need to pick up a few bits.
When can I climb Island Peak 2022?
We are running two trips to Island Peak in 2022. The first is from 15 April – 7 May and the second is 21 September – 13 October. We also have two dates scheduled for 2023, from 12 April – 4 May and on 23 September – 15 October.
You can read all about the dates and the expedition on the Island Peak page. We also have an ultimate guide to Island Peak, which you can read by clicking the link.