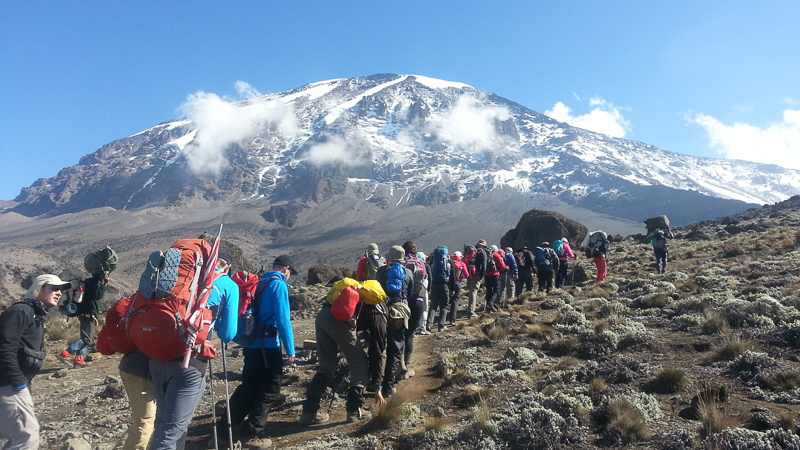 Sometimes it can seem like mountains like Kilimanjaro are only for experienced mountaineers. You know, people with all the gear who are highly trained experts in all things climbing. But something that may surprise you? Kilimanjaro is actually a super accessible mountain. If you're wondering: "Can anyone climb Kilimanjaro?" this post will be of interest…
Can anyone climb Kilimanjaro?
Technically? Yes. Of course, there are physical limitations. But if you have a good level of fitness, you can climb Kilimanjaro without any training or skills required. Kili isn't a technical climb. There are no ropes or crampons involved. However, that doesn't mean it's an easy feat… far from it!
Do I need to be fit?
Yes. There's no avoiding this one! While you don't need to have any special skills, you do need to make sure you have an excellent level of fitness before attempting to summit Kilimanjaro. This is a multi-day expedition that takes place at high altitude. You absolutely need to be as fit as you can be. Also, the fitter you are, the more enjoyable the trek will be! You can read our blog about how to train for Kilimanjaro here.
Do I need a doctor?
When you're climbing at altitude, AMS can affect anyone, no matter how fit they are. At Earth's Edge, we send an international expedition leader and a doctor on every expedition, while keeping group sizes sustainably small. This means that if you're feeling the effects of high altitude, you can be treated quickly. Often, this is just a case of drinking a lot of water and taking some paracetamol. But having a doctor on the trek is hugely important when it comes to safety. You can read our blog post about how to deal with altitude here.
If you want to read more about our expedition to Kilimanjaro, including 2022 dates, click here. You can also read our Ultimate Guide to Kilimanjaro here.