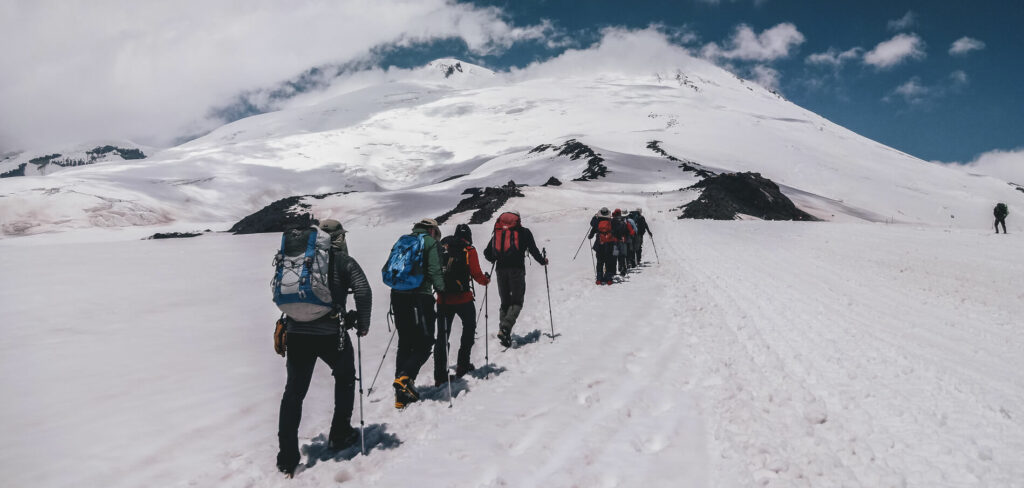 The world is filled with some incredible mountains, just begging to be climbed. And Elbrus is one of the finest. Standing at a height of 5,642m, Mount Elbrus is the highest mountain in Europe and therefore one of the Seven Summits. But can beginners climb Elbrus? Are you better off climbing another mountain first? Just how hard is it? Let's dive in…
Can beginners climb Elbrus?
The short answer is… probably not. The longer answer is a little more complicated. The most important thing to know about Elbrus is that there are two ways to get to the summit. You can climb via the South Side of the mountain, or the North Side. The South Side is a bit of a ski resort. People take cable cars, car lifts and piste machines to reach 4,700m, and then walk the last 942 metres to reach the summit. This means that it's much more beginner friendly, though still challenging towards the summit. However, the North Side is a different story…
Climbing the North Side of Elbrus
At Earth's Edge, we are all about having a proper adventure! That's why we climb the North Side. There are only a fraction of the number of climbers on this side. However, it is a hell of a lot harder. The highest place we can sleep on the mountain is at 3,700m, which makes the summit day extremely tough with 1,900m elevation gain. You can read about what it's like on summit day in our blog post.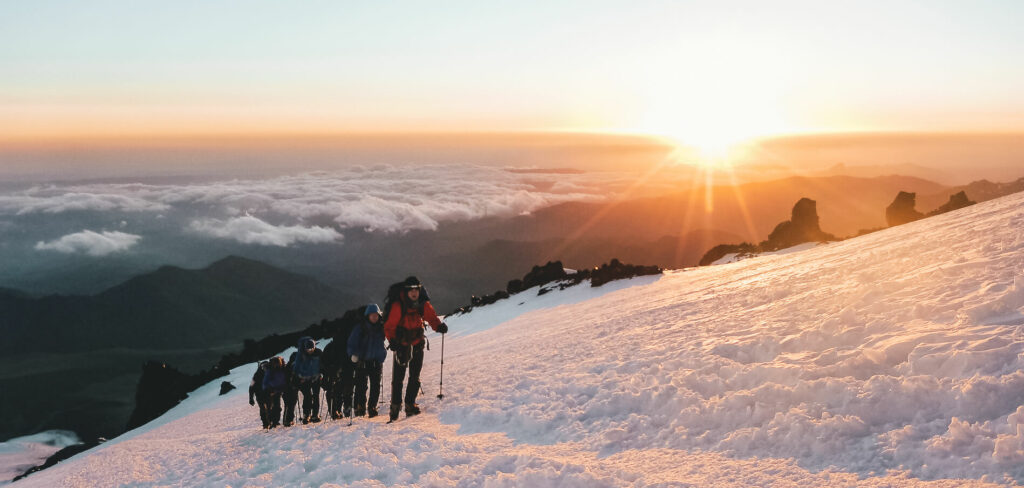 So, exactly how hard is it?
We give all of our expeditions a level, so you know what you're up against. Elbrus is a level 8 expedition, which means it's one of the toughest we offer. To give you an idea, Aconcagua is the same level. Peak Lenin is a level 9, and Everest is a level 10. So it's pretty tough!
If you're new to the world of high altitude trekking, it's generally a better idea to start off at a lower level. A mountain like Kilimanjaro is perfect for beginners. It's a level 5 expedition, so it's by no means easy, but it's a great introduction to the world of multi-day treks at altitude. Another good example would be the trek to Everest Base Camp, which is a level 4.
If you want to read more about our expedition to climb Elbrus, click the link and head to the expedition page. We also have a blog post with everything you need to know about climbing Elbrus.