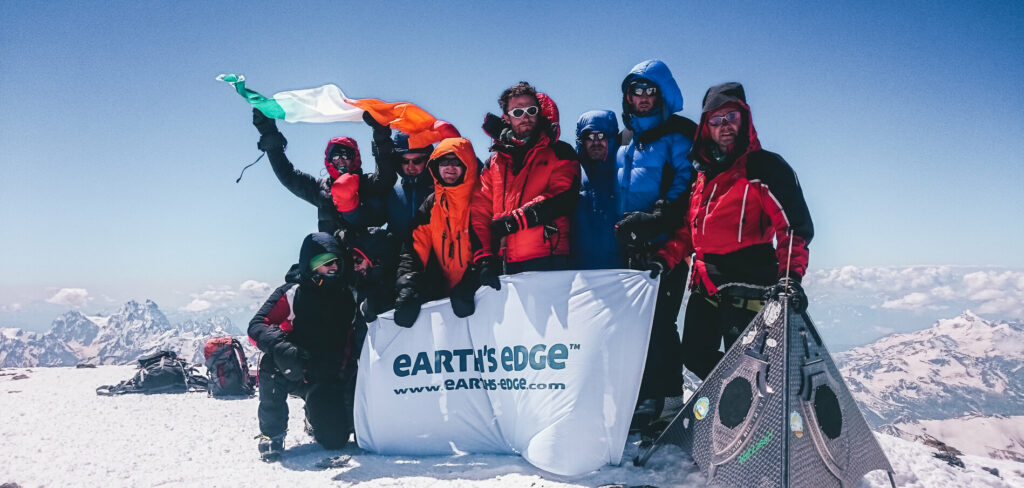 One of the Seven Summits, Mount Elbrus is Europe's highest peak. There are two main paths to the summit – the Northside and the Southside. The Southside of the mountain is a bit like a ski resort. Climbers use cable cars, car lifts and piste machines to reach 4,700m and then walk the last 942 metres to reach the summit. At Earth's Edge though, that's not our style. We climb via the Northside, for that proper mountain climbing experience. And it definitely makes for a tougher challenge. If you're wondering what summit day is like on Elbrus, read on…
What summit day is like on Elbrus
Summit day is a long one, taking roughly 16 hours. Early in the morning, we head to Lentz rocks. This is a significant gain in altitude, but we will have completed an acclimatisation hike to this very spot two days earlier.
After a break, we pass through an area of rocky outcrops and then start to traverse to the west towards the saddle. We take another break at the saddle and then ascend up the Western summit. We spend a short while at the summit (5,642m) for photos before descending back to Camp 1. The route from Camp 1 to the summit is completely covered in snow and ice but it is not technical. We would recommend you have experience on snow and ice but it is not essential as we will provide training on the expedition.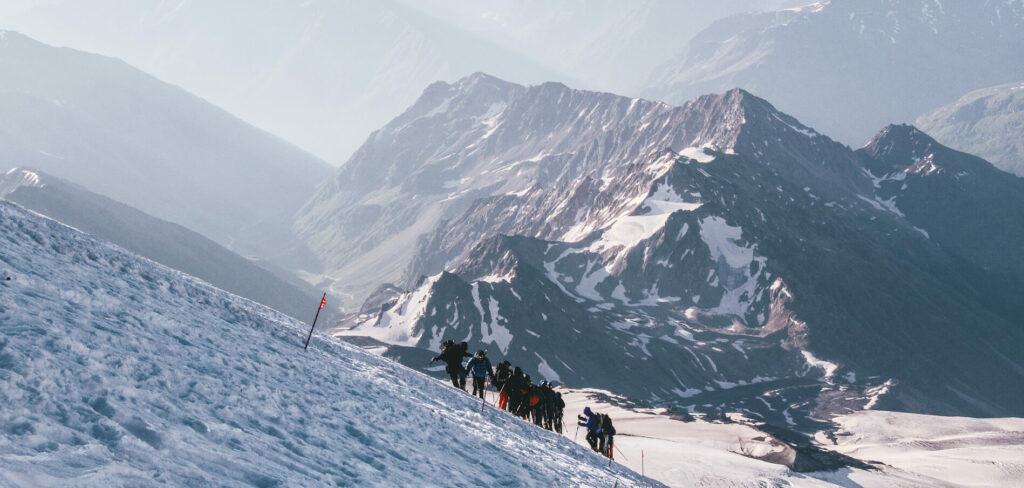 What conditions impact attempting summit?
The weather in this region is famously tricky. Getting a clear window in the weather is key to making an attempt at the summit. We have a spare summit day built into the itinerary, just in case the conditions are too dangerous on our allotted day. But on mountains like Elbrus, you're at the mercy of the weather. At this altitude, if the weather isn't on your side, it can be incredibly dangerous. Because of this, there is no guarantee in reaching the summit. If it's not safe, we won't climb.
How long does it take to get to summit day?
Our total expedition is 14 days long, including travel time. Once we begin hiking, there are five days before our first summit attempt. Those days include an acclimatisation hike to Lentz Rocks, as well as rest and skills days. These are vital to both acclimatise and learn the skills you need on the snow and ice for summit day.
What happens if I can't summit?
We never leave anyone behind on an Earth's Edge expedition. If you or your leader feel like you cannot continue, a porter will help you to descend. This is often the bravest decision you can make.
How it feels…
If you want to know how it feels to summit Elbrus, here is an excerpt from one of our trip reports that reveals all…
"After 6 days of acclimatising to altitudes as high as 4800m, it was time for our summit push. Already aware of the deceptively distant slopes that stood between us and the summit, one of our team members made the courageous and humble decision not to make an attempt. Our ascent began at 1 am. After 7 long hours, we had made it back to our previous high point. It was shortly thereafter, at around 5000m, that two of our team members descended. Exhausted, with nothing left in the tank, they both did themselves proud.
"After a further 4 hours under a burning sun, the rest of us made it. The overall feeling was one of tiredness, but we were elated to be at the highest point in Europe and soaked up the sights for as long as we could."
Expedition leader Alex Kay, who led a trip in 2017.
If you want to read more about our expedition to Elbrus, click here.