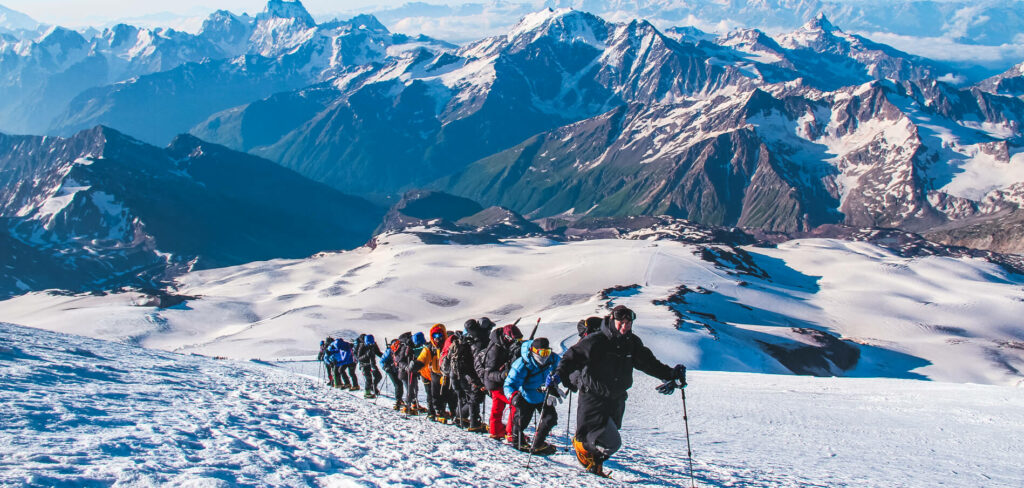 The tallest mountain in Europe and one of the Seven Summits, Mount Elbrus is a peak that's on many a trekker's bucket list. And for good reason, too – this is a spectacular mountain! Our expedition is a proper adventure, taking in the North Side of the mountain and drinking in views of the beautiful Caucasus range. If you want to climb Elbrus in 2022, now is the time to make a plan and get excited! Here is everything you need to know, all in one place…
climb Elbrus in 2022
How hard is it to climb Elbrus?
If you've climbed Kilimanjaro or Everest Base Camp and fancy something more challenging, Mount Elbrus (5,642m) is perfect.
The trek up Mount Elbrus is a serious climb. At Earth's Edge, we give all of our expeditions a level. Everest Base Camp is a Level 4, Kilimanjaro is a Level 5. We have ranked Mount Elbrus as a Level 8. This means…
"An average of 6 to 8 hours per day at altitudes not usually exceeding 7,000 metres. Typically, it will involve one extremely long and/or tough day to reach a summit. Typical elevation gain per day would be 500 – 1000 meters, with at least one day over 1200 metres. Added to this will be the remote location of the expedition and the fact that you will typically need to carry your own equipment. You should be comfortable withstanding harsh mountain conditions for several days in a row. The itinerary is likely to change due to weather conditions. As a rough guide, you should be comfortable walking for 8 hours per day carrying a 20kg pack for two days in a row."
What are the conditions like on Elbrus?
The route from Camp 1 to the summit is completely covered in snow and ice, making it different to other expeditions. However, it's not technical. We recommend you have experience hiking on snow and ice, but we also hold a training day within our expedition.
What's the weather like?
Extremely fickle. Getting a clear window is the key to a successful summit attempt, which is why we allow plenty of room for adjustments in our 14-day itinerary. The nature of high altitude peaks such as Elbrus means that sometimes we don't get a window of good weather, which allows us to attempt the summit. But that doesn't mean the experience is anything less than incredible. It's just the nature of the beast.
How long does it take?
The Earth's Edge expedition is 14 days long. This includes a couple of rest and skill days, where we practice our snow and ice skills. We also have a spare summit day, in case bad weather prevents a summit attempt. The weather in this region is notoriously tricky, so a spare summit day gives us the best chance of reaching the top.
Is it safe to climb Elbrus?
Whenever you climb a mountain, you need to be sure that you're doing it in the safest way possible. The safest way to tackle Elbrus is with a solid and expert team around you. On our Earth's Edge expedition to Mount Elbrus, you're surrounded by an impeccable team of leaders, porters and guides. We also send an international doctor on every one of our trips. The team all know the mountain inside out, and know how to summit in the safest way possible. Picking the right team means you're putting yourself in the safest possible position.
Which way to go
There are two routes to the top of Elbrus. The South Side is effectively a more touristy ski resort. Those reaching the summit this way use cable cars, car lifts and piste machines to reach 4,700m, before walking the last 942 metres to reach the summit.
We take the lesser travelled path, and head to the summit on the North Side. There is only a fraction of the climbers on this side, and it's a much more authentic journey. This makes it tougher, of course, but we take our time, leaving days to acclimatise along the way.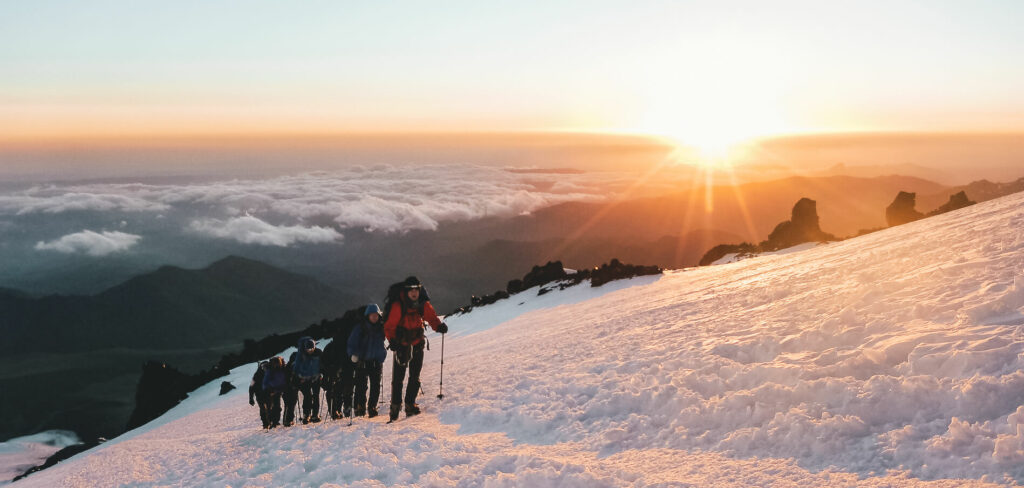 How much does it cost to climb elbrus in 2022?
When you're planning the trip of a lifetime, you need to know exactly what it will cost you. And when you're planning an expedition, that's even more important. Between international flights, permits, accommodation and guides, there are many different elements that make up the final cost. That's why, at Earth's Edge, we keep things simple. The expedition cost includes almost everything you'll need, with no nasty surprises.
The Earth's Edge expedition to Elbrus currently costs €3,999*, including flights from Dublin. Our 14-day expedition includes…
International flights from Dublin to Moscow (Economy Class) (UK flights not included)
Internal flights in Russia
Experienced Irish/UK expedition leader
Experienced Irish/UK expedition doctor
Training Weekend
Local guides, permits and park fees
All accommodation based on twin sharing in hotels in Moscow and Pyatigorsk and camping elsewhere
All meals and drinking water except in Moscow and Pyatigorsk where accommodation is based on B&B
A celebratory dinner
All transport throughout the expedition
All group gear consisting of first aid kits, mountaineering equipment, cooking equipment etc
Climbing Mount Elbrus from the UK
If you're joining us from the UK, you can simply choose to book the expedition without international flights, then book your own. The expedition currently costs €3,499 if you want to book it without international flights. We'll then tell you exactly what flights you'll need to book from the UK. Your internal flights in Russia are still included in the expedition cost.
What's not included?
There are a few things that aren't included in that fee. That doesn't include your own personal travel insurance, vaccinations, and tourist visas. It also doesn't include your own gear, like hiking boots etc. You'll also need to bring a bit of spending money, too…
How much cash do I need to bring?
We recommend you bring €300 in cash, in mixed notes. This will cover any personal expenses (like treats and alcohol at the end) as well as tips. We pride ourselves on the ethical relationship we have with our team of porters and guides. As such, the recommended local tip is €70, which is included in that amount of €300 we suggest bringing.
Can I pay in instalments?
Of course. An initial deposit of €399 will secure your place on the expedition. After that, you can pay in segments in your account as frequently as you'd like. The full amount is due two months prior to the expedition.
How do I cope with altitude sickness?
The summit of Elbrus is at 5,642m (Kilimanjaro is 5,896m, for reference), so you need to be aware of the symptoms of altitude sickness. We send a doctor on every single one of our expeditions, who is trained to deal with the effects of altitude. We also take the climb at a considered and sensible pace, including rest days and acclimitisation hikes. What can you do? Drink plenty of water, go slowly, eat plenty and be sure to tell our expedition doctor the second you feel unwell.
Read more about coping with altitude in our blog post.
Do you need special equipment to climb Elbrus in 2022?
There's no doubt about it – Mount Elbrus is a tough old challenge. But, like every expedition, if you're prepared and ready, you can easily take it on. If you're wondering if you need special equipment to climb Mount Elbrus, this is what you should definitely include in your packing list…
Synthetic Double Mountaineering Boots
If your feet get extremely cold, it becomes impossible to walk and the risk of frostbite is very real. To avoid having to turn back from a summit attempt due to cold temperatures it is imperative that your boots are warm enough. Synthetic double boots come with a separate insulated liner 'bootie' that is worn inside the outer 'shell' of the boot. This construction allows for warmer boots as the insulation is not stitched to the outer shell, thus eliminating cold bridges and importantly allowing the bootie to be removed and the insulation easily dried when not in use. Suitable models for Elbrus should be described as boots for mountaineering at 6000m.
Examples are 'La Sportiva G2', 'Scarpa Phantom 6000', 'Zamberlan Karka 6000'. All of these boots are also suitable for Mera Peak, Island Peak, Aconcagua and Denali.
Crampons
On Elbrus the trekking above the upper camp is almost entirely on snow, ice, and glaciers, so crampons will be needed. Mountaineering crampons rather than technical ice climbing crampons are ideal. They are available with 3 types of binding to attach them to the boot – automatic, semi-automatic, or strap bindings. While all are suitable, semi-automatic or strap bindings tend to work with a greater variety of boots. They're usually cheaper and lighter than automatic crampons, too. If you already have your boots it is a good idea to check the fit of crampons on the boots before purchasing, especially of you have feet larger than size 12.
Harness
As we will be travelling on a glacier we will need to rope-up in the crevassed areas. For this you will need a climbing or mountaineering harness. A basic lightweight model is ideal for the type of terrain encountered and would also be suitable for glacier travel in other mountain areas.
Examples are – Petzl Tour, DMM Alpine, Edelrid Joker.
Walking/Mountaineering Ice Axe
The ascent of the Elbrus does require trekking on some steep slopes where it will be necessary to use an ice axe for security in the event of a slip. You will need a 'Walking' or 'Mountaineering' ice axe. Typically these are 60-70 cm in length and need to be 'fitted' to a trekker's height. The shop assistant or manufacturer's website should help you choose the correct size.
Examples are – Petzl 'Summit', Edelrid 'Attilla', Grivel 'Nepal'
Other Glacier Travel Equipment
You will also need two 120cm climbing slings and two HMS carabiners. These are available from shops selling rock climbing equipment.
All of the above equipment is available to rent locally during the expedition
Trekking Poles (with Snow Basket)
Much of the glacier travel is relatively easy-angled and on this terrain trekking poles are extremely useful. While they may be optional on other treks, I would consider them to be essential on this expedition. Good quality walking poles with snow baskets fitted at the end (often available as an accessory if you already have poles) should be brought.
Ski Goggles
In windy conditions the spindrift/powder snow blowing into your eyes can make progress very difficult. A pair of ski goggles (sun category 3 or 4) will great increase your chances of summiting in poor weather conditions.
Expedition Quality Down Jacket and Mitts
If you cannot stay warm (especially your hands) in poor weather you may have to turn around from your summit attempt. While recommended for trekking on many 5000-6000m mountains, on Elbrus an expedition quality down jacket with a hood, and down mitts, are essential. Jackets suitable for Elbrus are also suitable for Mera Peak, Island Peak, Aconcagua and Denali. Jackets and mitts are available to rent in Ireland and in Russia.
A suitable jacket should have 200-300 grams of 800-900 fill power down. Examples are Rab 'Infinity', Mountain Hardwear 'Phantom'
Don't be intimidated by the list of equipment! Once you're booked on to our expedition to Mount Elbrus we will tell you exactly what you'll need to pack. For more information about the trek, click here.
How do I train for Elbrus?
Climbing Mount Elbrus is an extreme physical challenge. It's hugely important to make sure your physical fitness is at a very good level before you take it on.
HOW FIT SHOULD I BE TO CLIMB ELBRUS?
To summit from the Northside, you need to have an excellent level of physical fitness.
The best way to train is a combination of hillwalking and cardiovascular training. You need to make sure that you are as strong and fit as you can be. There is no fixed training schedule or technique that will work for every person. But mixing both hillwalking and cardio training is definitely your best bet.
HILLWALKING
We would recommend hiking at least twice per month in preparation for this expedition. In the three months prior to departure try to include two long training hikes (6-8 hours at a comfortable, steady pace) on consecutive days with an 20kg rucksack.
CARDIOVASCULAR TRAINING
Your main aim with cardio training is to raise your heartbeat for 45 minutes to an hour. You should aim to complete at least three cardio training sessions per week. How you do this isn't important, so choose what you love! If you have weaker leg muscles, it's important to mix in some strength training, too. Developing muscle mass will protect your joints and this is very important especially on long descents.
TRAINING WEEKENDS
When you sign up to an Earth's Edge expedition, there is a training weekend included. This takes place in Wicklow, and you will meet all of your fellow climbers, as well as your expedition leader and doctor. It's a great way to suss out your skills, swap tips and get excited for the adventure that lies ahead of you!
When can I climb Elbrus in 2022?
We currently have three expeditions planned for 2022, on the following dates…
6 July 2022 – 19 July 2022
3 August 2022 – 16 August 2022
19 August 2022 – 1 September 2022
At the moment, the first two dates are fully booked, but there are still places available on the third trek, and also dates for 2023.
Read all about our expedition to climb Elbrus in 2022 here.
*Prices are subject to change.