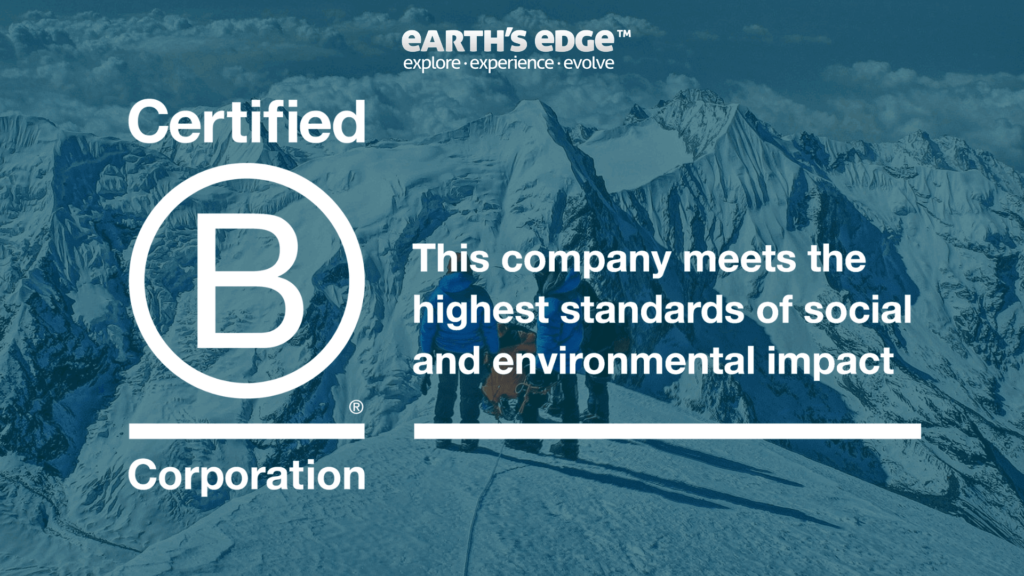 What B CORP means to us
At Earth's Edge, we've always cared deeply about the planet and how we explore it. We know the impact that non-sustainable travel can have on the world, and we knew from the beginning that's not how we were going to operate. How can we travel this beautiful earth, connecting with such fantastic people along the way, and not want to do everything we can to keep it as safe as possible? That's why we decided to become a B Corp. And we're thrilled to announce that we have been successful. In fact, we're the highest scoring B Corp business in Ireland.
What is a B Corp?
Put simply, a B Corp certified business "meets the highest standards of verified social and environmental performance, public transparency, and legal accountability to balance profit and purpose". It's a status that's hard to get, but proves the sustainability and environmental ethics of a company.
The B Corp status recognises businesses that balance purpose with profit, putting environmental and social responsibilities to the forefront of how they operate. B Corps are committed to using business as a force for good, ensuring they are actively benefiting the planet and all those that inhabit it, through sustainable business practices and creating environmental awareness.
The process of getting certified is long and tough. Every single element of your business is taken into consideration, and the process takes many, many months.
Why did we want to do it?
There are so many issues that we simply can't ignore, from climate change to social inequality. While we've always strived to keep these issues at the forefront of our business, it's also important to identify how we can do better. We want to make sure that we're improving our environmental and social impact, implementing better governance structures, empowering our employees and looking after our customers. By gaining B Corp status, we're not only confirming that we're doing the right thing, but we're seeing how we can actively improve, every step of the way.
At Earth's Edge, we've always been incredibly passionate about sustainability, responsible travel and community development. However, by taking the time to complete this rigorous assessment, we have secured a globally recognized stamp of approval acknowledging our commitment to the environment and the community. This is an achievement that we are incredibly proud of. It's a testament to the hard work and dedication of our entire team.
What are our goals?
As we said, the B Corp status isn't just about what we've done; it's about what we can do in the future. Here are just some of the goals that we have…
Becoming 100% carbon neutral
Becoming a more transparent business
Partnering with other B Corps to increase awareness around businesses responsibility to the community and the environment
Growing and increasing our social development projects
Why is a B Corp so important?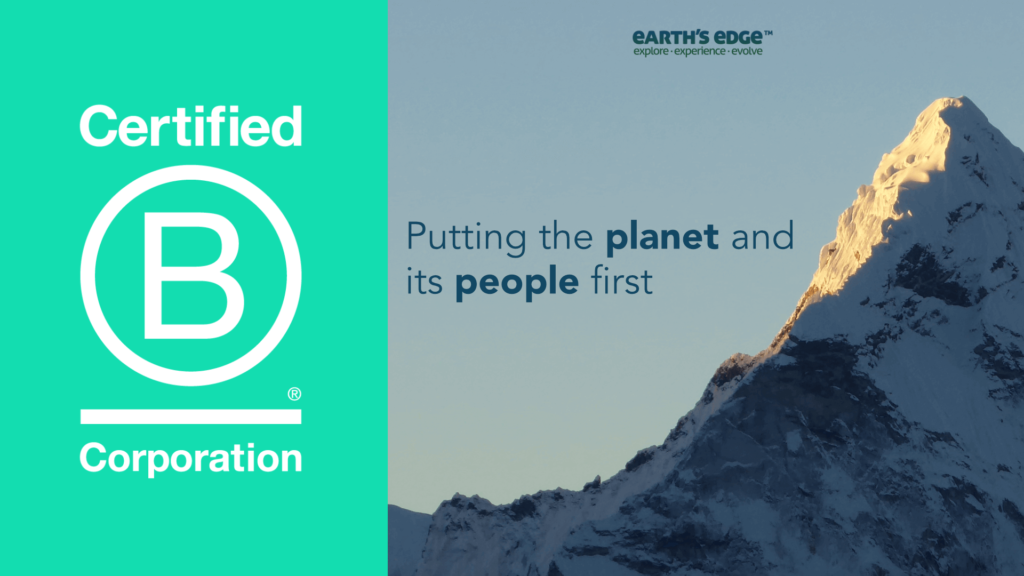 This isn't just about our own achievement. We believe that the more businesses that achieve certification, the better it is for us all! If we're all working to one common goal, that can only mean a better world for everyone. The more B Corps there are, the better for the people, the planet, and the environment.
We want to encourage as many other companies as we can to take the assessment. That way, everyone from large corporations to small businesses are all held accountable for their social and environmental actions and practices.
There are so many ways in which a business can be more climate conscious, and supportive of vulnerable communities worldwide. The B Lab (the people behind the assessment) recently released Climate Justice Playbook for Business which provides valuable insights, information and advice for businesses looking to have a more positive impact on the environment and affected communities.
If you or your company is considering becoming a B Corp, don't hesitate to contact us for support! If you'd like to know more about our certification, you can visit the B Corp page on our website.