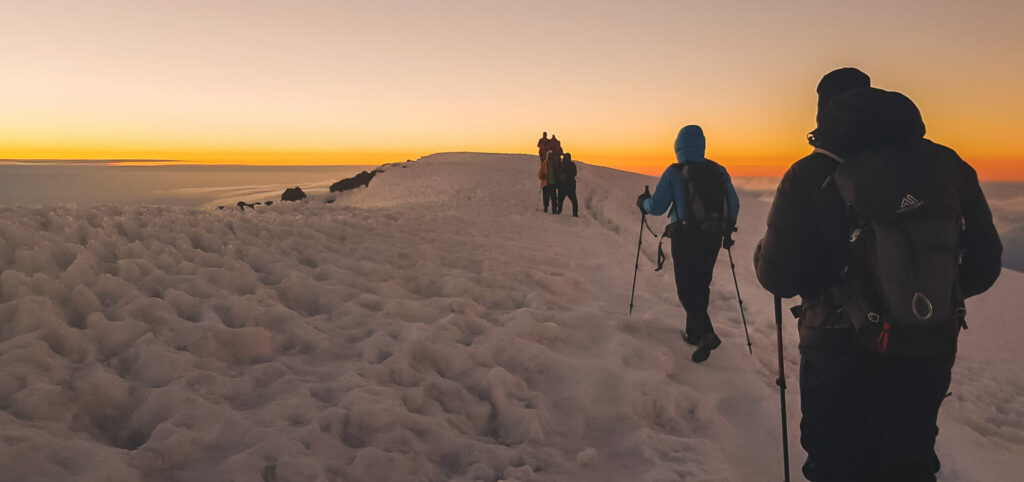 Think of Tanzania, and you'll probably think of sun-scorched plains, safari drives and white sand beaches. But on top of the country's highest mountain, things are a lot chillier! If you're planning a trek to the 'Roof of Africa' but are wondering 'How cold is Kilimanjaro?' this post has the answer…
How cold is Kilimanjaro?
At the base of Kilimanjaro, the temperature is typically quite warm – usually between 21 and 30 degrees. But the higher you climb, the colder it gets. By the time you reach the summit, the nighttime temperatures can be exceptionally cold, between -20 to 10 degrees. However, it can still reach 30 degrees during the day. Remember, the summit day on Kilimanjaro starts in the middle of the night at 12.30am, so you are hiking at the coldest time.
Temperatures vary hugely between day and nighttime. Usually the days are hot and the nights are cold. This means you'll need to pack carefully and bring layers in clever fabrics. Remember also that you should be ready for any change in weather – when you're climbing at high altitude, the conditions can change in a heartbeat. But hey, we're used to that in Ireland!
Is there snow on Kilimanjaro?
Technically, it can snow at any time of the year on Kilimanjaro. But usually, there is snow on the mountain during the wet season, which is from March to May and then November to December.
Best time to climb Kilimanjaro
In Tanzania, there are two wet seasons and two dry seasons. The "long rains" run from March through May and the "short rains" run from November to mid-December. Outside these times is considered the dry season. It can still rain during the dry season but statistically, it is much drier. This makes January, February and June through to October the best time to climb the mountain. At Earth's Edge, we are running expeditions to Kilimanjaro in February, June, July, August, September and October in 2022.
To read all about our expedition to Kilimanjaro, click the link. You can also read our Ultimate Guide to Kilimanjaroto answer all your questions.