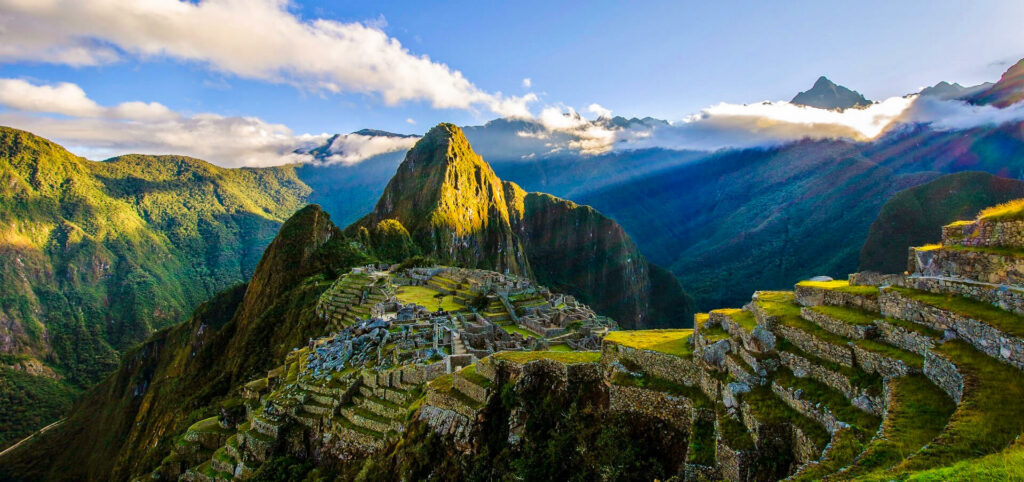 The sacred Incan site of Machu Picchu is one of the greatest sights you could ever clap your eyes on. This 15th century citadel is instantly recognisable, and fabled even more for its remoteness. After all, this isn't a spot you can hop to easily! If you're wondering: How do I get to Machu Picchu? Then let us help…
How do I get to Machu Picchu?
First off, a bit of geography. Machu Picchu is located in the Eastern Cordillera of southern Peru, above the Sacred Valley. It's tucked away within a mountain range, which means it's not the most accessible. To get there, you have three choices…
Take the train
You can take a train to Aguas Calientes from Cusco. From there, you can take a bus right to Machu Picchu, or trek to the entrance, which takes around 2 hours.
Hike the Inca Trail
This is the most common way for hikers to get to Machu Picchu. Hiking the Inca Trail to Machu Picchu takes around 4 days.
Hike the Earth's Edge way
We don't think a 4-day trek is enough to do this region justice. Which is why our own expedition to Machu Picchu is an incredible adventure that also includes Choquequirao. This is a site that's twice the size of Machu Picchu but receives less than half the visitors. Our 16-day itinerary includes 9 days of trekking. You get to see the Peruvian Andes in all their glory, without jostling with loads of other trekkers. In our eyes, it's the best possible way to get to Machu Picchu.
Where to fly
To get to Peru from Dublin, we fly to Lima then onwards to Cusco. This is only a short flight. We then have the day to explore Cusco and slowly acclimatise to the higher altitude (3,400m). Our trek begins the following day, after breakfast. You can read all about our expedition to Machu Picchu here. We also have the Ultimate Guide to Machu Picchu, which answers all your questions!