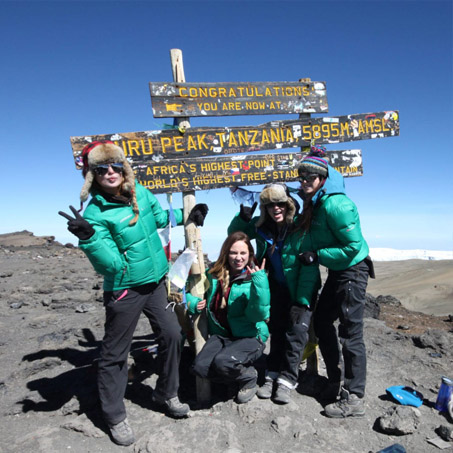 Reaching the summit of Mount Kilimanjaro takes time. As well as it being a pretty big mountain (uh, try the tallest mountain in Africa!) the challenging altitude means that you definitely shouldn't race to the top. We have been taking people to the summit of Kilimanjaro for years, and know the best way to get there. If you're wondering "How long does it take to climb Mount Kilimanjaro?" here are the answers…
How long does it take to climb Mount Kilimanjaro?
The Earth's Edge expedition to Kilimanjaro is 12 days long. That includes travel to Tanzania from Dublin, onward travel to Arusha and a spare day of leisure at the end. The trek itself takes 7 days, which includes one day descending back to Arusha from Millennium Camp.
Can you climb it faster?
Beware the companies that only take 5 days to climb Kilimanjaro. For the best chance of reaching the summit, you need to trek slowly. That's why you'll often hear the porters saying "pole, pole" to trekkers. That means "slowly, slowly". Hiking at a slow and steady pace means you acclimatise much better. We gain height quickly on this trek. Climbing too quickly increases the risk of altitude sickness.
What's the fastest time someone has climbed Kilimanjaro?
The current record holder is the Swiss-Ecuadorian climber and elite athlete Karl Egloff, who reached the summit of Kilimanjaro in an astonishing 4 hours and 56 minutes. Can you believe it? His total journey time including descent was 6 hours and 42 minutes. He accomplished this goal on Aug 13th, 2014. You can read more about his other records here. His time for summiting Aconcagua is particularly mind blowing…
If you want to read more about our expedition to Kilimanjaro, including 2022 dates, click here. You can also read our Ultimate Guide to Kilimanjaro here.