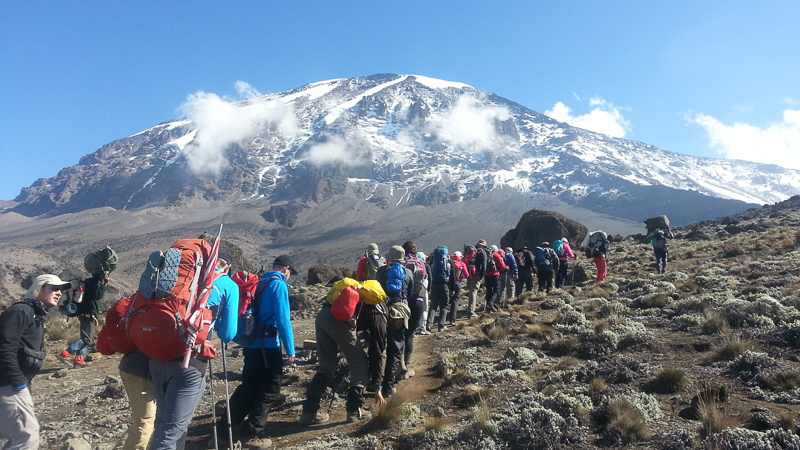 When you're planning a trip to hike to Kilimanjaro, there are a number of costs to consider. Between international flights, the cost of a guide, porters and fees, there's a lot to think about. If you're wondering: 'How much does it cost to climb Kilimanjaro?' here's the answer…
How much does it cost to climb Kilimanjaro?
Remember, when you climb Kilimanjaro you have to trek with a registered guide. This means you cannot buy a permit and trek on your own. In many ways, this makes life a lot simpler in terms of cost. When you book with a tour operator or trekking company, it's more likely that all of your costs will be included.
At Earth's Edge, our expedition to climb Kilimanjaro currently costs €4,699*.
What is included?
Return international flights from Dublin to Kilimanjaro (UK flights not included)
Experienced Irish/UK expedition leader
Experienced Irish/UK expedition doctor
Training Weekend
Local guides, porters and support staff
All accommodation
All meals (except in Arusha where accommodation is based on B&B)
A celebratory dinner at the end of the expedition
Transport throughout the expedition
National Park fees & local VAT
All group gear consisting of first aid kits, mountaineering equipment, cooking equipment etc.
Use of state of the art tents and thermarests
what are the Additional costs
Personal travel insurance.
Medical vaccinations.
Tourist visas.
Personal equipment.
Personal spending and tips.
Any personal expenses like laundry, phone calls, alcohol, excess baggage charges and any costs arising out of unforeseen circumstances such as; bad weather, landslides, road conditions and any other circumstances beyond our control.
You will need to budget for your personal gear, like hiking boots and clothing. But remember, if you book one of our expeditions you get a 15% discount with Great Outdoors, where you can buy everything you need.
You can read all about our expedition to Kilimanjaro, click the link. You can also read our Ultimate Guide to Kilimanjaro to answer all your questions.
*The pirces reflected in this blog are the prices of the expedition at the time of when the blog was written in October 2021. These prices are subject to change