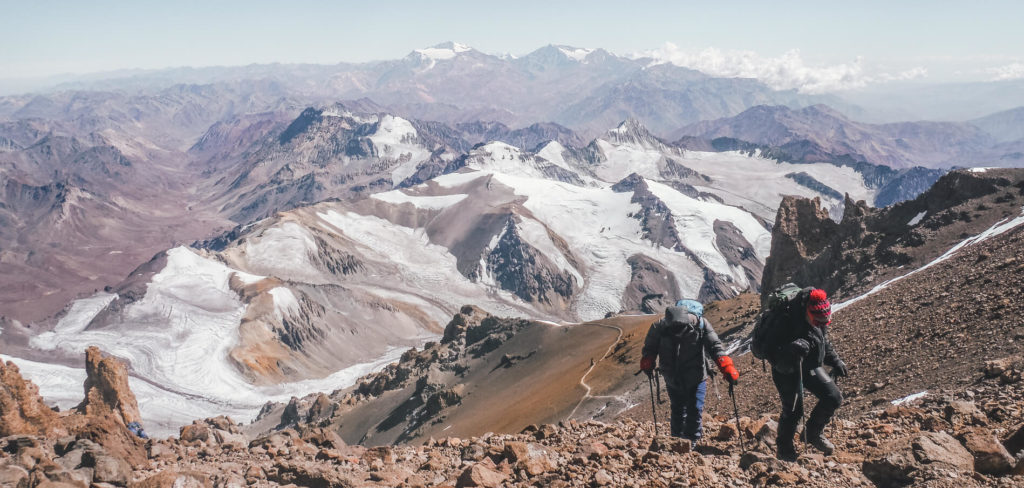 As one of the Seven Summits, Aconcagua is a mighty mountain. In fact, it's the highest mountain in both the Western and Southern hemispheres, and the highest mountain outside of Asia. As such, an expedition to climb Aconcagua is a little more expensive than other, shorter expeditions. If you're wondering how much it costs to climb Aconcagua, we've got all the information you need…
How much it costs to climb Aconcagua
The Earth's Edge expedition to Aconcagua currently costs €6,999*, including flights from Dublin. Our 21-day expedition includes…
International flights from Dublin to Buenos Aires return economy class.
Internal flights in Argentina.
Experienced Irish/UK expedition leader.
Experienced Irish/UK expedition doctor.
Training Weekend.
Local English speaking guides and a full support team.
All accommodation based on twin sharing in hotels in Penitentes/Mendoza and camping elsewhere.
All meals and drinking water are included except in Mendoza where accommodation is based on B&B.
A celebratory dinner at the end of the expedition.
All transport throughout the expedition.
All group gear consisting of first aid kits, mountaineering equipment, cooking equipment etc.
An Earth's Edge bandana for all participants.
Climbing Aconcagua from the UK
If you're joining us from the UK, you can simply choose to book the expedition without flights, and book your own international and internal flights to Mendoza. The expedition costs €5,899* if you want to book it without flights. We can also arrange airport transfers for you.
What's not included?
There are a few elements excluded from the trip fee. As well as medical vaccinations, visas, personal travel insurance and spending money, you'll also need to bring money for porters and park entrance fees. Park entrance fees, which must be paid for in person in Mendoza. Entrance fees for the coming year are yet to be confirmed but will be approximately USD$900-$1000 per person. You'll also need additional money if you want porters to help you carry your equipment on the upper mountain.
How much cash do I need to bring?
We recommend that you carry $700 and the money for the park fees in cash ($945 approximately). If you feel you might need to hire a porter to help on the mountain, you'll need more cash. The amount above includes the tip amount for the local team. The recommended tip for Aconcagua is $150 per person.
Can I pay in instalments?
Of course. An initial deposit of €399 will secure your place on the expedition. After that, you can pay in segments in your account as frequently as you'd like. The full amount is due three months prior to the expedition.
So that's how much it costs to climb Aconcagua! Click here to read more about our expedition.
*Prices are subject to change