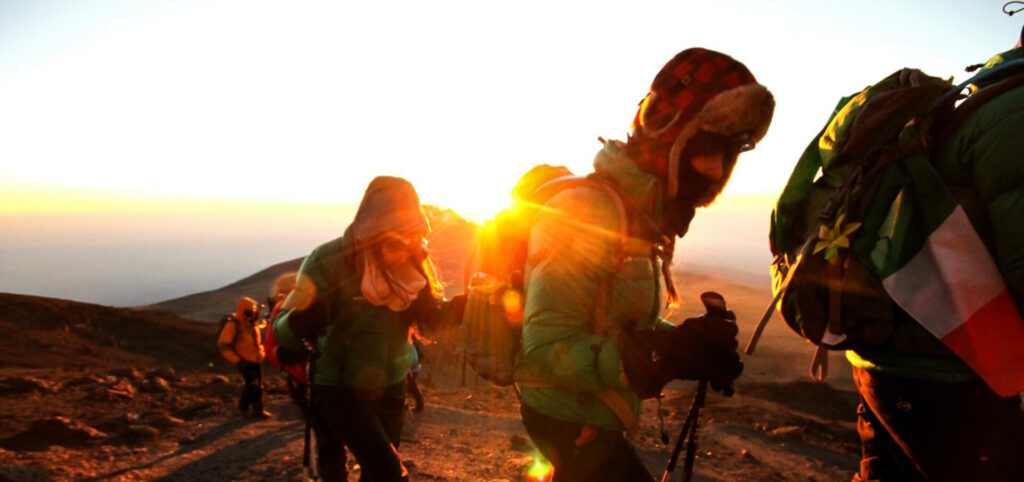 The highest point in Africa, Kilimanjaro is a magical mountain. Climbing it is on many a bucket list, and the view from the summit is simply incredible. But how do you go about getting to the top? Can you do it alone, or do you have to be guided? Where is Kilimanjaro, and how do you get there? If you're wondering how to climb Kilimanjaro, we've got some useful info for you below…
How to climb Kilimanjaro
There are a few different routes to the summit of Kilimanjaro. All but one of them have camps along the way where you sleep each night. At Earth's Edge, we climb the Machame Trail. Our expedition is 12 days in total, with the actual climb of Kilimanjaro taking 7 days. This route and length is chosen carefully to make sure that we ascend properly and acclimatise to the altitude. We also climb with a team of porters, who carry our bags and set up camp.
Can I climb Kilimanjaro on my own?
No. You cannot climb Kilimanjaro without a licensed guide. This is for your own safety and also to protect the mountain. Also, providing income for the porters and guides on Kilimanjaro is hugely important. But really, climbing as part of a team is half the fun! You get to meet a great gang of fellow climbers as well as the Earth's Edge crew and porters.
Do I need a permit?
Yes, but these are purchased by your licensed guide. On an Earth's Edge expedition, all of the permits and fees are included in your expedition.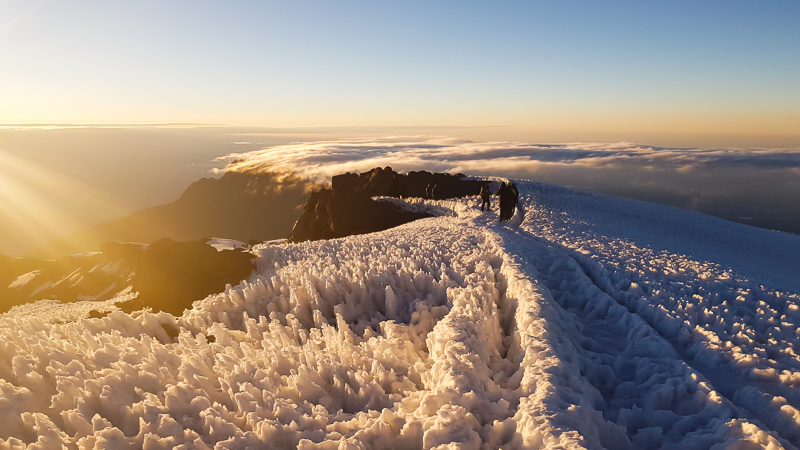 Where is Kilimanjaro?
Kilimanjaro is in North East Tanzania, and is part of the Kilimanjaro National Park. To get there from Ireland, you fly to Tanzania and then transfer to Arusha. We then drive to Machame Gate and begin our trek from there. On an Earth's Edge expedition, your international flights from Dublin are included. However, you can also join us from the UK and book your own flights.
What should I look for in an expedition?
When booking an expedition to Kilimanjaro, there are lots of things to think about. Number one is safety. You need to ensure you are trekking with a reputable company, not only for your own safety but for the safety of their team. It's really important to make sure local porters are paid fairly and treated well. At Earth's Edge, we pride ourselves on our relationships with our porters and the work we do to support them.
We also send an international doctor on every one of our expeditions. If you need medical assistance, from blisters to altitude sickness, the doctor is there for you. We also have an international leader as well as our local guides and porters.
It's also important to double check what's included on your expedition. On our trip, the fee includes almost everything, besides personal expenses like insurance and tips. Beware a bargain expedition price – this isn't where you want to cut corners!
To read more about the Earth's Edge expedition to Kilimanjaro, click the link. Or click here to read our Ultimate Guide to Kilimanjaro.