Nepal is a country filled with the most incredible mountains. And Mera Peak is one of the most beautiful. Standing at 6,476m, Mera Peak is the highest trekking peak in Nepal and makes for an exceptional climb. But it's tough! If you're thinking of climbing it but want to know how to train for Mera Peak, this blog post has the answers…
How to train for Mera Peak
Whenever you're training for an expedition, you need to find a way of training that suits you. There's no point working off of someone else's training plan if it won't work for you! If you love to run, that's great. If cycling is your bag, that works too! Most importantly, you need to hill walk regularly to get used to trekking life. There's no substitute for a day spent in the hills!
How fit should I be to climb Mera Peak?
We classify Mera Peak as a level 7 expedition. While Mera Peak is not a technically straightforward mountain to climb, there are challenges. Altitude is a big consideration, as well as weather. But while you don't need specific mountaineering skills, it's important that you are as fit as you can be. After all, the fitter you are, the more enjoyable it will be!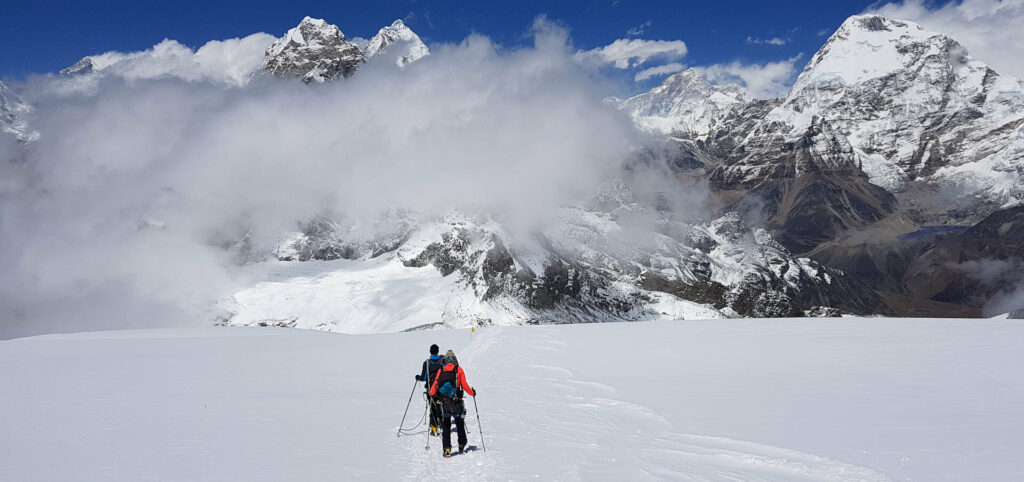 How should I train for Mera Peak?
When training, you need to combine two elements – hillwalking and cardio. The hillwalking element is super important. You need to get used to long days hiking, with a bag on your back. But getting your cardio fitness tip top is important as well…
Hillwalking
We would recommend hiking at least twice per month in preparation for this expedition. In the three months prior to departure try to include two long training hikes (6-8 hours at a comfortable, steady pace) on consecutive days with an 8kg rucksack.
Cardiovascular training
This one is up to you! You can go running, cycling, take a HIIT class, do a boxing workout… whatever you like. We recommend 3 cardio sessions a week, between 45 minutes to an hour in length. You need to make sure you elevate your heart rate.
Training weekends
Prior to setting off to Nepal, we have an Earth's Edge training weekend in Wicklow. These are a fantastic way of getting a taste of the trek life with your group. You'll also meet your expedition leader and doctor, and get some pre-trek bonding time in!
To read more about our expedition to Mera Peak, click the link!