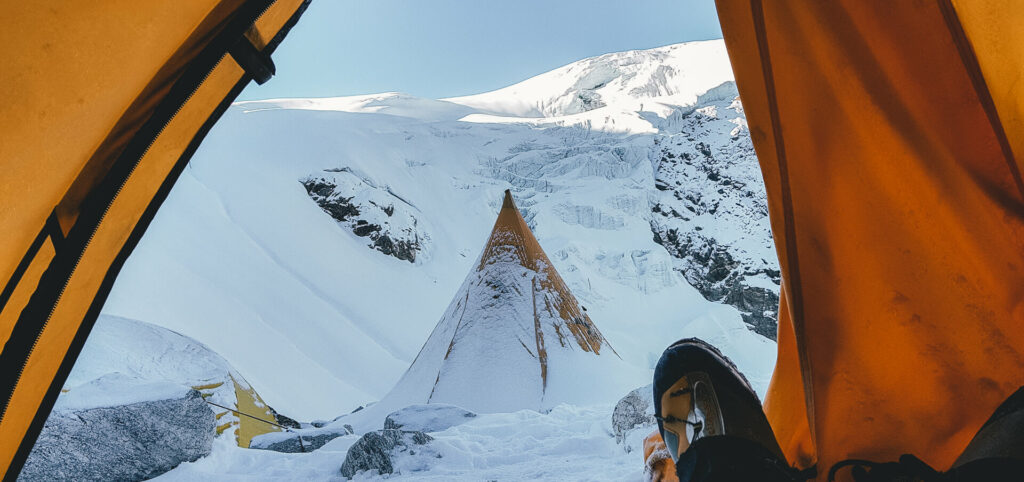 When you undertake any expedition, safety should be your number one priority. It certainly is at Earth's Edge! Every decision we make is based around the safety of both our clients and our team. With any mountain expedition there is a certain amount of risk, but if you plan accordingly and climb responsibly (with an excellent team) those risks are minimised. But what about specific mountains – is it safe to climb Mera Peak? Here's some information that might help answer that question…
Is it safe to climb Mera Peak?
Standing right on the edge of Khumbu region, Mera Peak is the highest trekking peak in Nepal. An incredible mountain that towers 6,476m above sea level, Mera Peak is the kind of location that mountaineers dream about. Stand at the summit on a clear day, and you'll see hundreds of huge peaks around you, including Everest.
But that height makes it a challenge. While it is a technically straightforward mountain to climb, it's physically demanding. Snow conditions add to the challenge, as do acclimatisation. To climb the mountain in the safest possible way, you need to surround yourself with a good team. Ensure that you are trekking with an experienced and qualified company.
Choosing a good team
At Earth's Edge, we not only send an international doctor and expedition leader on every trek, we also have an excellent team on the ground in Nepal. We've worked with our porters and guides for years, and they know this landscape inside out. That means they make decisions based entirely on the safety of their clients and team on the mountain.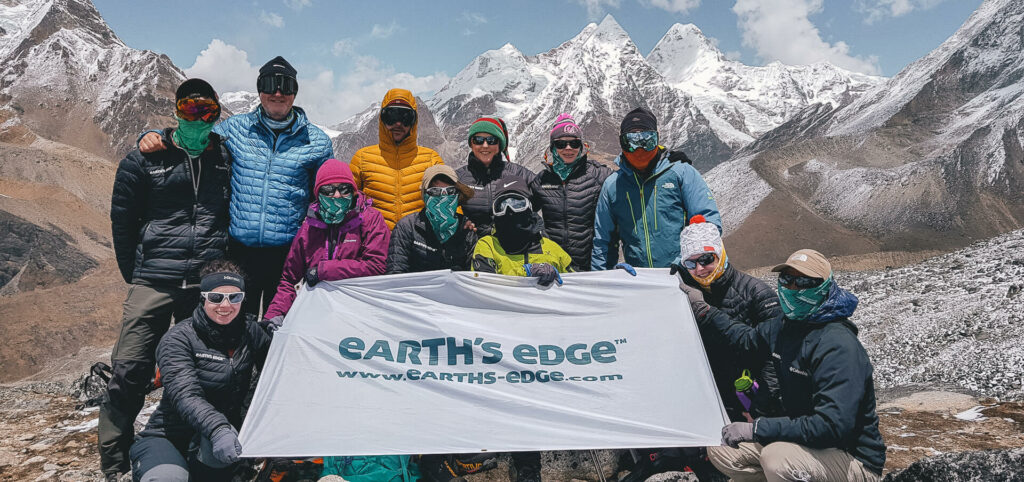 The physical challenge
While it isn't a technical mountain to climb, you need to have a very good level of fitness to climb Mera Peak. Put simply, if you aren't fit enough, you're putting yourself (and those around you) at risk. When you book an expedition with Earth's Edge we tell you what kind of training you need to do, and there's also a training weekend prior to your trip. Which means you can meet your group ahead of time, too!
Previous experience on mountains above 5,000m is essential. Treks like Kilimanjaro, Elbrus, or Everest Base Camp are ideal experiences for this.
What about altitude sickness?
Acute Mountain Sickness (AMS) is a concern on many expeditions. At an altitude of 6,476m, Mera Peak does present a challenge when it comes to acclimatisation. Here are some tips to help…
Stay hydrated (at least 3 litres of water a day, preferably 5)
Keep eating (even if you're not hungry, you need to maintain calorie input)
Rest (this means a good night's sleep as well as plenty of breaks)
Take your time (this isn't a race – going slowly helps you acclimatise)
Remember, our expedition doctor is there for a reason. If you tell the doctor as early as possible if you don't feel well, the solution will likely be simple. The longer you wait, the worse it can get.
What if I can't go on?
Altitude affects people in a myriad of ways. It has nothing to do with your physical fitness or abilities. The methods above will help you, as will our doctor, but if you cannot go on for any reason, you will be supported. You will never be left behind. We have a support team for a reason – our sherpas and guides are there to take you down the mountain if needs be.
If you want to read more about the Earth's Edge expedition to Mera Peak, click here!