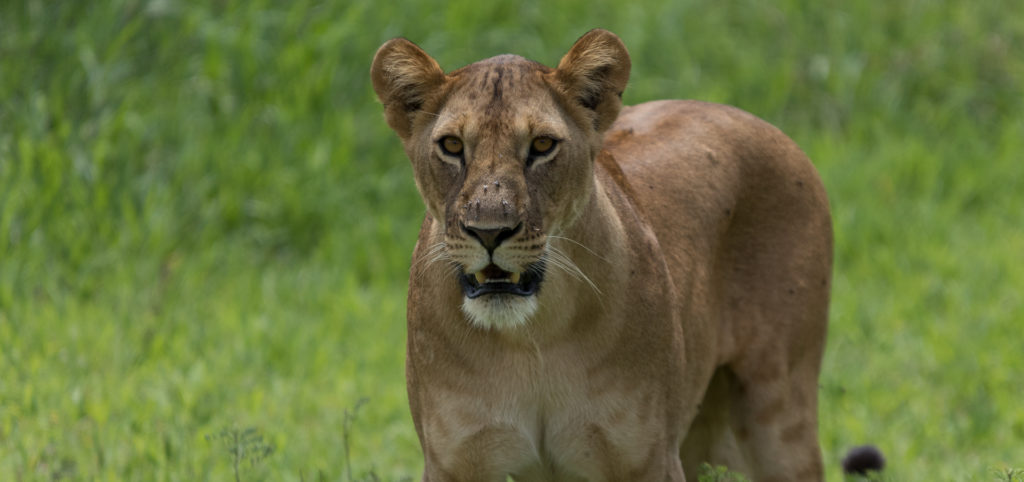 When you're going all the way to Tanzania to climb Kilimanjaro, it would be a shame not to tag on a safari drive as well. After all, Tanzania is one of the best places in the world for safari. In utterly beautiful locations, you can go and see the Big Five (lions, leopards, black rhinoceros, African elephants and buffalo). But you can also see all of the other wonderful animals native to the region, like giraffes, zebra and antelope. Plus, it's easier than you might think to sneak in a quick safari before you leave… If you fancy doing a safari drive after Kilimanjaro, here's all you need to know.
Safari drive after Kilimanjaro
On the Earth's Edge expedition to climb Kilimanjaro, we have a free day at the end of the trek. After arriving in Arusha the day before and relaxing by the pool in the afternoon, the next day is completely free. If you like, you can carry on with your poolside relaxation. Or you can head out and explore Arusha.
But you can also slot in a one-day safari drive, and see a multitude of wildlife without extending your trip.
Tarangire National Park
On the one-day drive, we head out to Tarangire National Park. This is a wonderful park for safari. Not only is it packed with wildlife, but it's off the traditional tourist track, so it's not as crowded as some of the other Tanzanian national parks. This means you won't be battling with other safari vehicles to spot the wildlife, and the animals are generally a little more relaxed.
The landscape is spectacular, with the baobab trees lining the horizon and a wild array of birdlife, too. It's particularly great in the dry season, as the Tarangire River is the only water source for local wildlife. At this time, there's a mini-migration in which 250,000 animals enter the park. And handily enough, that's exactly when we climb Kilimanjaro! It's also a fantastic park for elephant sightings – there can be up to 300 in one herd.
How much does it cost?
Currently, the safari add-on costs €250/£219/$279. This includes transport, an expert safari guide, lunch, bottled water and entrance fees to the park. This must be booked and paid for in advance of your expedition.
If you want to read more about climbing Kilimanjaro, click the link to head to our expedition page. We also have an Ultimate Guide to climbing Kilimanjaro, which gives you all the info you need!