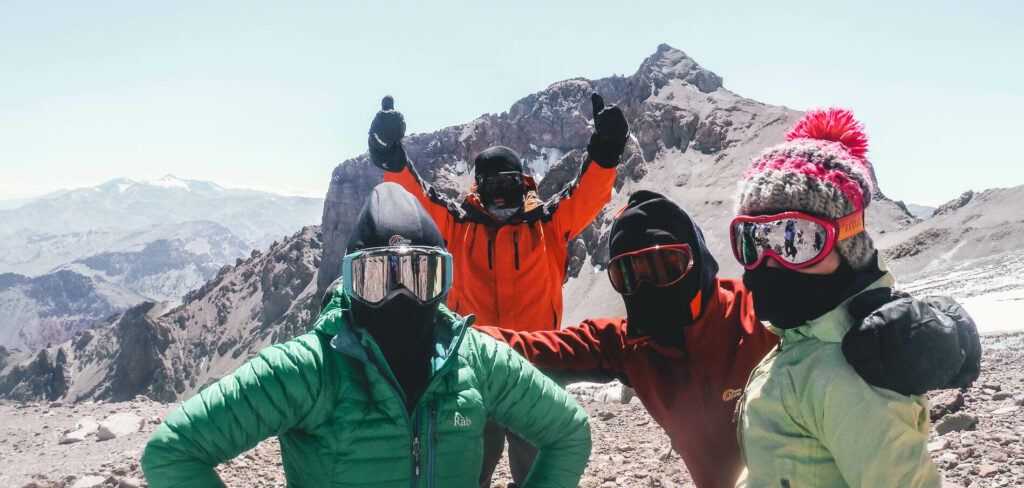 If you're going to climb Aconcagua, there's a lot to think about. You've got to make sure you're fit enough, and plan months of training. But one of the big things to think about is what on earth you've got to pack! After all, the expedition is 21 days long, with high winds and extreme cold to deal with. But fear not – when you book on to the Earth's Edge expedition to Aconcagua, we provide a full and very comprehensive list of what you'll need to bring. To give you a taste of it, here's our Aconcagua packing list to get you started.
Aconcagua packing list
Footwear
12 point crampons*
Climbing helmet*
Trekking boots (make sure they're well broken in!)
Sandals
Down booties or runners, to wear at high altitude camps.
Mid-weight hiking socks x 3 pairs
Heavyweight hiking socks x 2 pairs.
Lightweight liner socks (for summit night)
*these may be available to rent upon request
Clothing
Underwear! We recommend synthetic rather than cotton
Shorts x 1 pair
Lightweight trousers to wear as far as basecamp x 1
Softshell trousers x 1
Synthetic/wool long johns x 2 (for night time use and summit night)
Waterproof trousers
Long sleeve base layer x 2 (silk, wool, or synthetic)
Short sleeve base layer x 2 (as above)
Mid weight fleece, down or soft shell jackets x 2
A down jacket – it must be heavy weight with a hood (at least 900 grams in weight)
Waterproof jacket
A fleece hat to wear in the mornings and evenings
A buff
Accessories
Category 3 or 4 sunglasses
Category 3 or 4 ski goggles
A sun hat with a wide brim to cover the face and neck
A pair of thin synthetic liner gloves for use as a base layer and sun protection
One pair of heavy mountaineering gloves
A pair of heavy down mitts
Equipment
Walking poles
Rucksack (75+20 litres)
Duffel bag (120-150 litres)
Small duffel bag (30 litres)
Dry bags
Water bottles: Three wide mouth 1-litre water bottles (a water bladder won't work at higher elevations)
Water bottle insulators for each of your bottles
A 500ml thermos flask
A warm sleeping bag (comfort rating of -20°C or lower)
A sleeping bag liner
There are plenty of other things to bring, like medication, toiletries and wash towels. But that Aconcagua packing list should be enough to get you started! For more information about the Earth's Edge expedition to Aconcagua, click here.