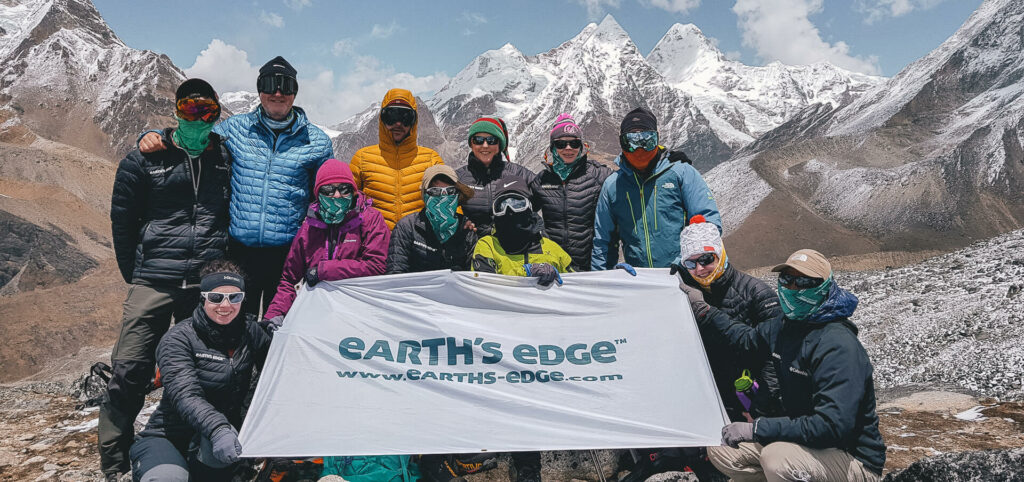 The highest trekking peak in Nepal, Mera Peak is an incredible mountain. Right on edge of Khumbu region, this mountain is steeped in mountaineering history and in a breathtaking location. Standing at a height of 6,476m, Mera Peak is a tough physical challenge. If you're wondering what summit day is like on Mera Peak, read on for all the info you need…
What summit day is like on Mera Peak
From a technical point of view, summiting Mera Peak is fairly straightforward. However, poor snow conditions can make the summit day very challenging. But it's worth it… the view from the summit is one of the best in all the Himalayas.
How long does it take to summit Mera Peak?
Summit day is around 12 to 14 hours long. This includes the descent. The day begins early, at around 3am.
How long does it take to get to summit day?
Our expedition is 23 days in total, including travel time. We spend 12 days hiking in the run up to our first attempt at making the summit. That includes two rest days.
Do you need spare summit days?
Yes. The weather is the biggest challenge on Mera Peak. We have two spare summit days built into the itinerary, so we have extra options if the weather isn't playing ball.
What happens if I can't summit?
Mera Peak is a tremendous physical challenge. It's also a mountain with one of the toughest success rates when it comes to reaching the summit. If you or your leader feel you shouldn't continue, a porter will accompany you to lower ground. You will never be left behind, or feel like you're holding anyone back. Safety is paramount.
How it feels…
If you want to know how it feels to summit Mera Peak, here are some of our trip reports that reveal all…
"We rose at about 2am to leave for the summit and got moving at 3 am. The weather for the summit was amazing with very little wind all the way to the top. Once the sun starts to come you get these amazing panoramic views of the Himalayas.
"We managed to get 10 of our team of 11 to the summit. Niamh decided to stay in high camp and not to attempt the summit. She was injured leading up to the trip and didn't manage to do as much training as she wanted prior to departure. Considering this she did an amazing job getting to high camp and has great potential as a high-altitude mountaineer.
"The success rate on Mera Peak isn't very high so I was delighted to get over 90% of my team to the top. I was particularly impressed with Rachel and Grace who were on their first trek ever! They were both very strong throughout the trip and reached the top with relative ease.
"I have to say the view from the summit was truly magical, you really get the perfect view of Everest, towering impressively over the other 8,000m peaks in the area."
MD of Earth's Edge James McManus, who led the expedition in 2018. Read his full trip report here.
If you want to read more about the expedition to Mera Peak, click here.