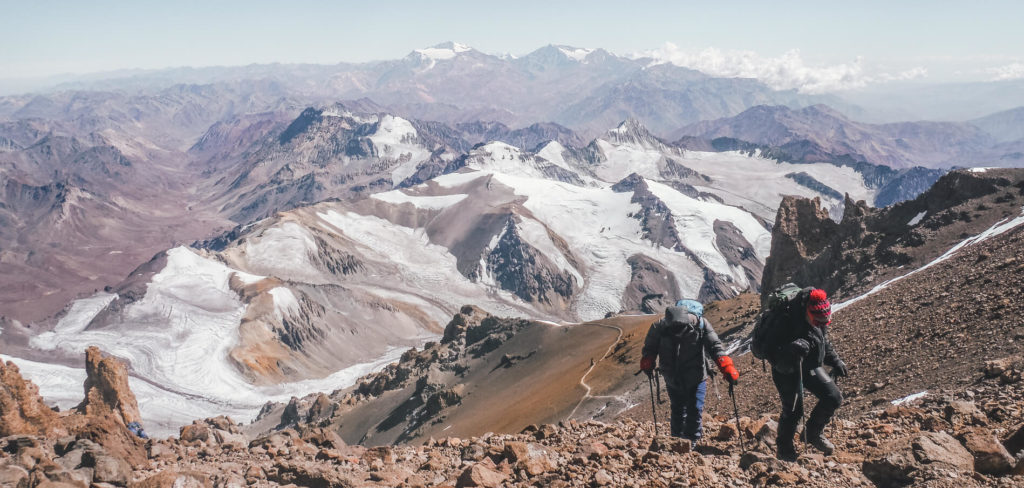 Standing at a height of 6,962m, Aconcagua is the highest mountain outside of Asia. An absolute beast of a peak, when you stand on its summit you'll be standing at the highest point in both the Western and Southern hemispheres. It's a tough climb, with high winds and extreme cold as well as the challenge of acclimatisation to deal with. All of which means you need to pick the most opportune time to trek. If you fancy the challenge but are wondering when the best time to climb Aconcagua is, here's the information you need.
Best time to climb Aconcagua
The best time to attempt your Aconcagua trek is in November through to February. The final day to enter the Aconcagua Provincial Park is the last day in February. At Earth's Edge, we generally run our expeditions in January.
Temperatures on the expedition may vary from 0 to 30 degrees during the day and -30 to 10 degrees at night. It's best to be prepared for lower temperatures due to wind chill or the weather turning bad. Usually the days are hot and the nights are cold.
What equipment do I need?
As well as all the usual clothing, boots and sleeping bag, you need a bit of specialist kit when you're climbing Aconcagua. You'll need synthetic mountaineering boots, like La Sportiva G2SM, Scarpa Phantom 6000 or similar. As well as that you'll need 12 point crampons and a climbing helmet. All of those may be available to rent, so you may not need to buy them in advance. You can read our full packing list here. Don't forget, when you sign up to an Earth's Edge expedition you are entitled to a loyalty card with our equipment partner, Great Outdoors. The loyalty card entitles you to a 15% discount until the day your expedition departs.
When can I climb Aconcagua in 2022?
We currently have two expeditions to Aconcagua scheduled for 2022, on 6 January – 26 January and 27 January – 16 February. There's also an expedition scheduled for 12 January – 1 February 2023, though that is currently fully booked.
To read all about our expedition to Aconcagua, click the link. You can also read our Ultimate Guide to Aconcagua, which answers all the questions you may have.