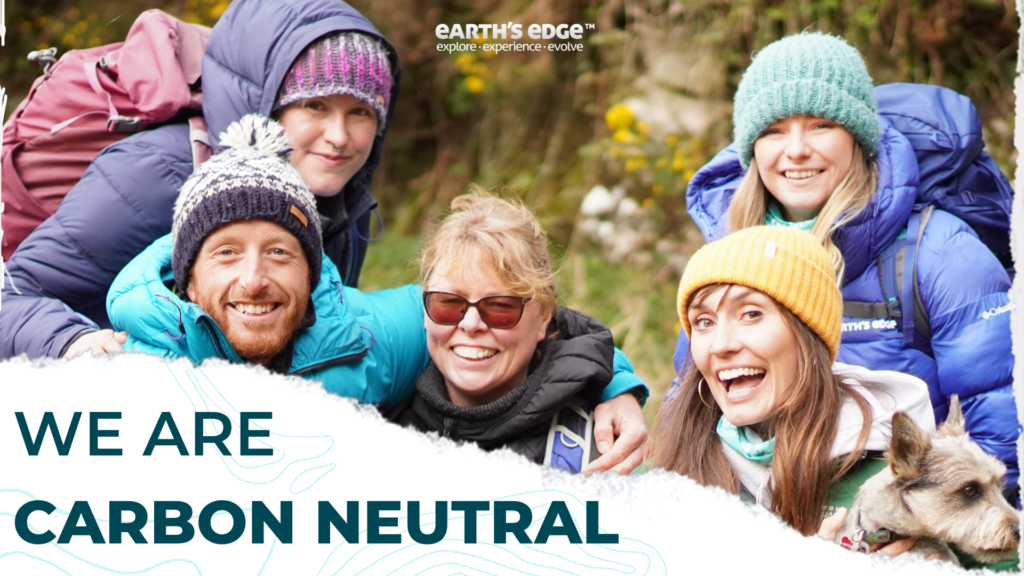 At Earth's Edge, we are all extremely passionate about exploring the world in the most ethical and sustainable way we can. Which is why our decision to become carbon neutral was an extremely easy call to make. And we are extremely proud to announce that, as of September 2021, Earth's Edge officially became a carbon neutral company!
We are well aware of the environmental impact that international travel can cause. But as a company taking people off on adventures all around the world, we wanted to make sure that we were exploring the planet in a way that was positively impacting the environment and our communities.
Sustainability starts at home
There were a number of steps we had to take. First off, we looked to our own homes. While we're all working remotely, we focused on ways we could collectively reduce our emissions as a company. Some of the steps were smaller, like switching our office practices completely online, using digital diaries and sticky notes in our day to day business.
Other steps were larger – our MD James switched his energy provider to Community Power Ireland, the first community-owned renewable electricity provider in the country. Our Marketing and Wellbeing Wizard Aislinn put together a Virtual Office Stewardship policy to ensure we all continued to act responsibly while we worked remotely. This policy includes various ways we can reduce our carbon footprint while working from home, from dealing with food waste to sustainable transport methods.
One of our expedition leaders, Louise, makes her own hand-made soap and face cream, cutting down on plastic waste. Arianna, our Environment and Digital Design Diva, created a list of local environmentally-friendly vendors to encourage the team to shop locally and sustainably.
In short? It's a team effort.
becoming carbon neutral
But then it was time to broaden our horizons. We worked alongside Carbon Footprint Ltd to measure our unavoidable emissions, like the international flights for our clients. Using a carbon calculator we were able to measure how many tonnes of carbon were emitted in 2020 from air travel. Once that figure was verified, we looked at how we could use specific programmes to offset our emissions.
How does carbon offsetting work?
Carbon offsetting is a way to balance out your greenhouse gas emissions by funding sustainable development programmes, such as renewable energy projects. Many of these programmes are situated in the Global South to enable communities in the developing world to adapt to climate change and grow in a more sustainable way.
We chose to support and fund a solar energy project in Tanzania with Gold Standard, an organisation that links businesses with offsetting projects around the world, and ensures any offsetting projects are run with the utmost integrity. The aim of Mobisol is to "plug in the world" and bring sustainable, solar energy to the people who would otherwise be living off the grid. As Kilimanjaro is our most popular destination, it made perfect sense to fund a project in Tanzania.
Why it matters
''Becoming a carbon-neutral company is really important to me and all the stakeholders in the business," says James, our MD. "I'm very happy to offer our clients and staff the peace of mind that travelling and working with us is having a minimal impact on the environment and that we are doing our part to save guard the planet for future generations''
What are the benefits?
There are so many benefits to becoming a carbon neutral business, for us as a company but more importantly for the planet. For us, it means that we can stand proudly behind our ethics and assure our clients, staff and stakeholders that we are doing absolutely everything we can with regards to sustainability.
The benefits for the planet are clear to see. Steps like the ones we are taking mean reduced environmental pollution, healthier communities, a more circular economy and an increase in economic growth in environmental protection jobs (green jobs).
The benefits are numerous but the positive impact on the environment is monumental. Climate change is rapidly increasing. In order to stop irreversible damage being done to the planet, it's never been more important for businesses to act urgently and responsibly in the interest of the planet and its people.
We are so proud of what we've achieved, but we're also excited to keep on this path and see where it takes us. After all, we've got a lot more plans for the planet on the horizon…