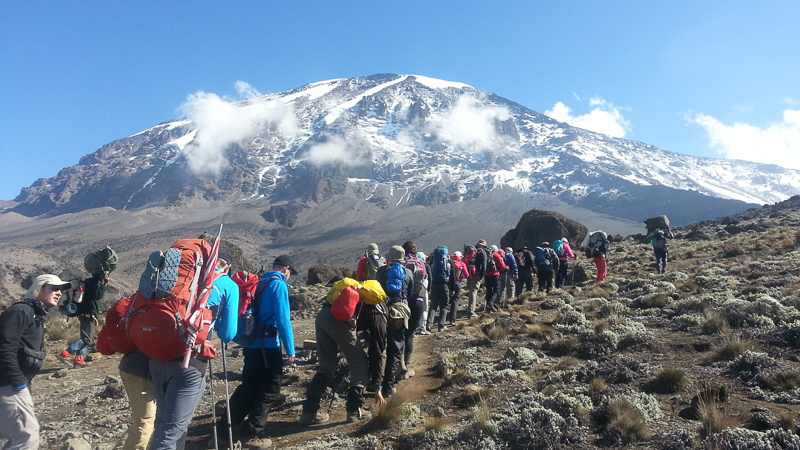 The highest point in Africa, Kilimanjaro is a beast of a mountain. Standing at a height of 5,896m, it's actually the tallest freestanding mountain in the world. Reaching the summit is no doubt a tough physical challenge. For some people, it'll be the toughest challenge of their lives. But that doesn't mean it's out of your reach! If you're wondering: "How difficult is Mount Kilimanjaro to climb?" this post has the answers…
How difficult is Mount Kilimanjaro to climb?
There are a few factors to think about when climbing Kilimanjaro. You need to make sure that you are physically fit, as it's a multi-day trek. On our expedition, we spend 7 days trekking on the Machame Trail. That's something that you need to be ready for. You can read our post about how to train for Kilimanjaro here.
Do I need technical skills?
While the mountain is a physical challenge, you don't need to have any snow or ice skills. There are parts of the climb that are a bit of a scramble, but you won't need to use crampons or ropes.
What about altitude sickness?
Perhaps the biggest challenge on Kilimanjaro is the altitude. We gain height quickly on this climb. And AMS is something that can affect anyone, no matter how fit or experienced you are. There are a few ways we tackle this. First off, we have designed an itinerary that allows us time to acclimatise to the increasing altitude. Secondly, we recommend that everyone follow our advice for how to deal with altitude. You can read our post about dealing with altitude sickness here. Thirdly, we send an international doctor on every single one of our Kilimanjaro expeditions. This means that you can be treated as soon as the AMS symptoms appear, which is key to a speedy recovery. Catch it quickly enough, and the answer may just be some paracetamol and water.
If you want to read more about our expedition to Kilimanjaro, including 2022 dates, click here. You can also read our Ultimate Guide to Kilimanjaro here.