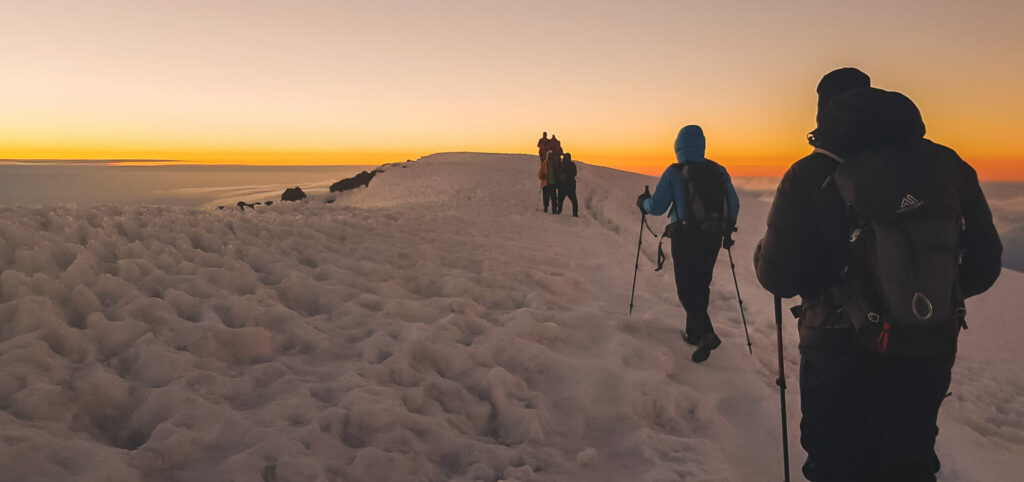 So, you've done all of your training. You've head out on the hills and gone for long treks a couple of days in a row. And you've got all your gear ready to go. You're ready for the trek of a lifetime! But your mind is wandering, thinking about the toughest bit of the expedition – the summit. But just how hard is summit day on Kilimanjaro? Here's what you need to know…
How hard is summit day on Kilimanjaro?
Without a doubt, summit day is the toughest part of the Kili climb. It's long, it's arduous, and it's a big challenge both mentally and physically.
How long does summiting take?
The whole summit day is roughly 14 hours long. After a rest/sleep, we get up just before midnight. We eat breakfast (or whatever you call a midnight meal!) with coffee and tea. Then we head off at around 12.30am. At this point, we are at very high altitude. Taking each step is slow and tough and we're walking in the dark. This is where the mental challenge part comes in! We reach Stella Point at sunrise, where we stop for tea and an incredible view. At that point, there's only an hour of trekking left before you're at the summit.

When do you get back down?
After the all important photos at the summit, we head back down the mountain. We stop at Barafu Camp for a hearty lunch, then we descend to Millennium Camp where we sleep for the night. That dinner and bedtime is going to be one of the best earned moments of your life! The next day, there's a six hour trek back to Arusha. And there? You'll have a hot shower. However tough the trek may be, that hot shower will feel like paradise! And we haven't even mentioned the swimming pool yet…
If you want to read a few examples of what summit day on Kilimanjaro is like, have a read of our blog post. We have some quotes from previous trip reports so you can see just how people feel at the top. Sure, summit day is tough. But when you stand on the roof of Africa, there's just no feeling on earth like it.
To read more about our expedition to Kilimanjaro, click here. Or you can read our Ultimate Guide to Kilimanjaro.