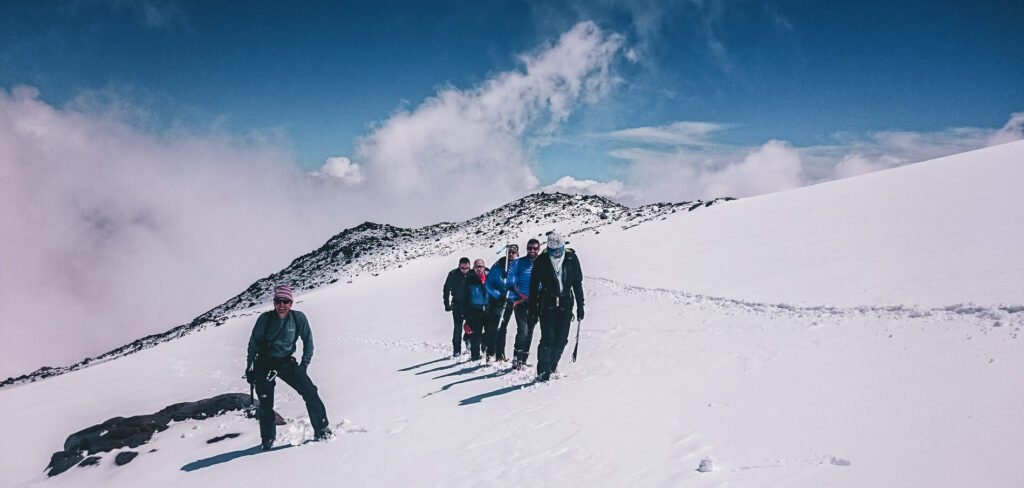 When you're planning the trip of a lifetime, you need to know exactly what it will cost you. And when you're planning an expedition, that's even more important. Between international flights, permits, accommodation and guides, there are many different elements that make up the final cost. That's why, at Earth's Edge, we keep things simple. The expedition cost includes almost everything you'll need, with no nasty surprises. If you're wondering how much it costs to climb Mount Elbrus, here's everything you need to know…
How much it costs to climb Mount Elbrus
The Earth's Edge expedition to Elbrus currently costs €3,999, including flights from Dublin. Our 14-day expedition includes…
International flights from Dublin to Moscow (Economy Class) (UK flights not included)
Internal flights in Russia
Experienced Irish/UK expedition leader
Experienced Irish/UK expedition doctor
Training Weekend
Local guides, permits and park fees
All accommodation based on twin sharing in hotels in Moscow and Pyatigorsk and camping elsewhere
All meals and drinking water except in Moscow and Pyatigorsk where accommodation is based on B&B
A celebratory dinner
All transport throughout the expedition
All group gear consisting of first aid kits, mountaineering equipment, cooking equipment etc
Climbing Mount Elbrus from the UK
If you're joining us from the UK, you can simply choose to book the expedition without international flights, then book your own. The expedition currently costs €3,499 if you want to book it without international flights. We'll then tell you exactly what flights you'll need to book from the UK. Your internal flights in Russia are still included in the expedition cost.
What's not included?
There are a few things that aren't included in that fee. That doesn't include your own personal travel insurance, vaccinations, and tourist visas. It also doesn't include your own gear, like hiking boots etc. You'll also need to bring a bit of spending money, too…
How much cash do I need to bring?
We recommend you bring €300 in cash, in mixed notes. This will cover any personal expenses (like treats and alcohol at the end) as well as tips. We pride ourselves on the ethical relationship we have with our team of porters and guides. As such, the recommended local tip is €70, which is included in that amount of €300 we suggest bringing.
Can I pay in instalments?
Of course. An initial deposit of €399 will secure your place on the expedition. After that, you can pay in segments in your account as frequently as you'd like. The full amount is due three months prior to the expedition.
So that's how much it costs to climb Mount Elbrus! Click here if you want to read more about our expedition.