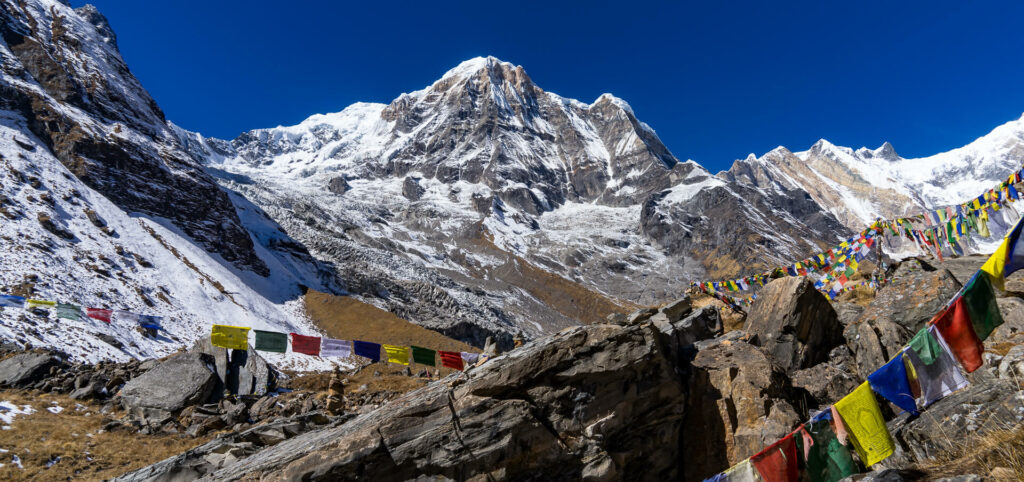 Annapurna is one of the world's most beautiful mountains. At 8,091m, it's also the tenth highest mountain on the planet. That makes it a serious climb for experienced mountaineers. But if you don't fancy that, luckily the trek to Annapurna Base Camp is every bit as beautiful. You'll hike right to the camp used by those about to climb the mountain and be surrounded by some of the most beautiful mountains in the world. But how exactly do you get there? Here's our post about how to get to Annapurna Base Camp…
How to get to Annapurna Base Camp
Our expedition to Annapurna Base Camp takes 16 days in total, with ten of those days spent trekking. This is how the expedition breaks down…
Fly to Kathmandu
From Dublin we fly to Kathmandu, where we have some time to relax, unwind or sightsee. The next day we fly on to Pokhara, where we also have a bit of free time to explore before the trek begins the next day.
Trek to Base Camp
We spend 7 days trekking to Base Camp and see some incredible sights along the way. Our first stop is taking the bus to Nayapul and trekking to Ulleri. The next day, we pass waterfalls, small villages and several tea houses to reach Ghorepani. The next morning we rise early and trek to Poon Hill, just in time to see the sunrise over the mighty Himalayas. After breakfast, we follow the trail to Tadapani where we spend the night. The next few days we hike to Chhumrong, then Bamboo, then Deurali. From there, it's on to Annapurna Base Camp!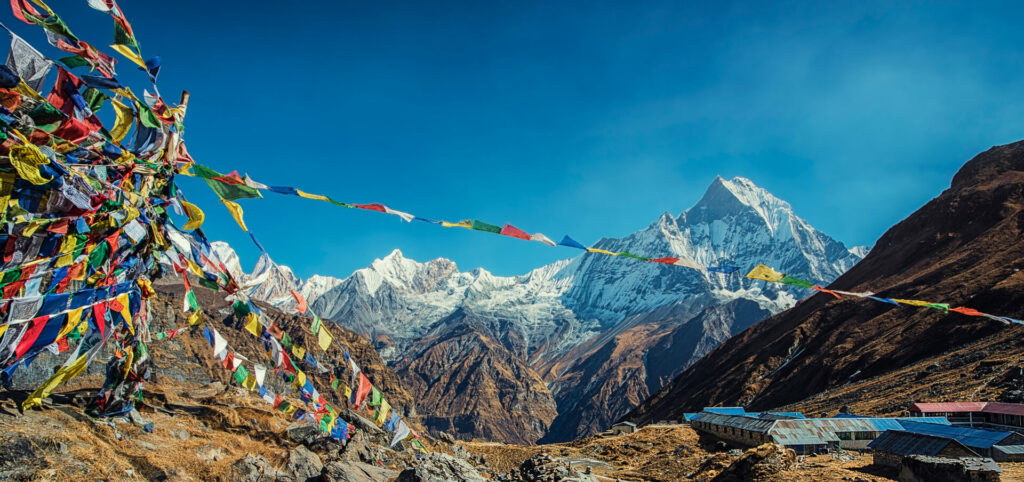 The final stretch
On the day we trek to Annapurna Base Camp, we meet some of the best views of the trek. We'll see Hiunchuli (6,441m), Annapurna South (7,219m), Annapurna I (8,091m), Annapurna III (7,555m), Gandharva Chuli (6,248m) and Gangapurna (7,545m). We also get lots of time to soak up the views at base camp and also to see the sunrise there the next morning.
Leaving base camp
After our time in Annapurna Base Camp, we head back to Dovan, which is just beyond Bamboo. The next day we head to the little village of Jhinu Danda. Then we trek to Siwal where we drive to Pokhara.
Back to Dublin
After a bit more time in Pokhara, we fly back to Kathmandu, then on to Dublin.
You can read all about our expedition to Annapurna Base Camp here, or read our blog post all about it here.